James Harden and Giannis Antetokounmpo: A Timeline of Their Feud
James Harden continues feud with Giannis Antetokounmpo following the All-Star Game insult and latest interview. Here's a complete timeline of their rivalry.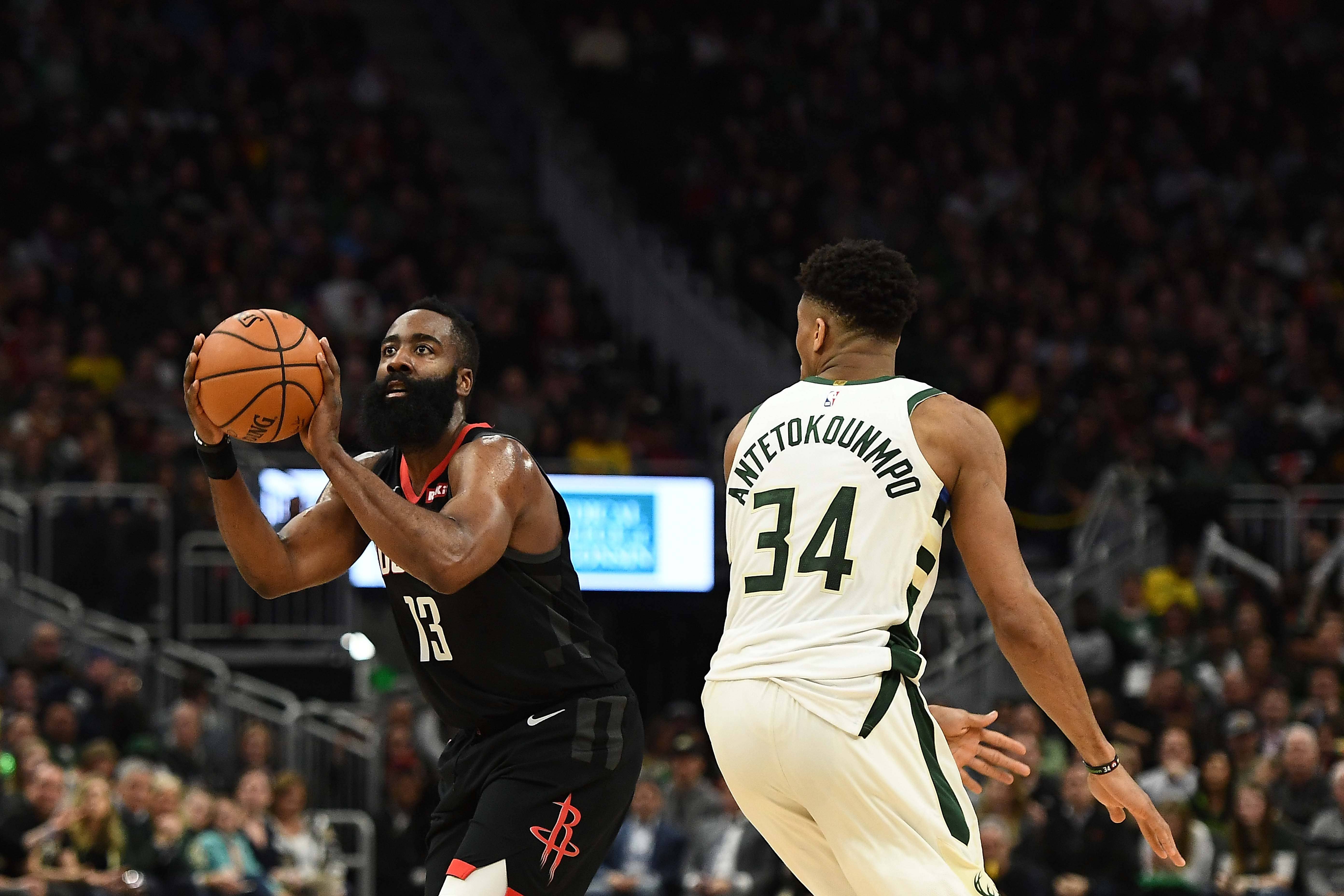 Getty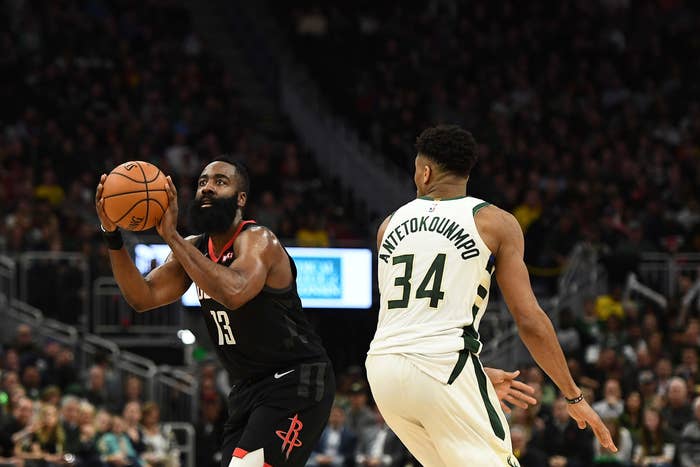 Oh, you haven't heard? This is what the internet is for. This is what we live for, tbh. 
Vital news, NBA fans: two of the biggest names in the league (Giannis Antetokounmpo and James Harden) appear to have developed beef. As far as sports feuds go, given the star power involved, this one is 100% USDA choice (chef kiss). Their competition for status as the NBA's best player appears to have gotten personal. We all know that the NBA is built around this sort of thing, and it's fun to see two of the league's top players take the gloves off a bit. It's cool to see all the top players in the NBA be friendly, but getting back to those old school rivlaries are fun. Harden and Giannis are really restoring the feeling. 
So, what's the story here? How did we get here? We've got you covered on everything surrounding the James Harden and Giannis Antetokounmpo beef.
Pass To the Head
In January 2019, Giannis hit Harden in the head and knocked him over with a bullet pass. It appeared to be completely unintentional, though. Giannis apologized after the game, telling Harden, "my bad." Though seemingly innocuous, this is the first sign of trouble. People don't just forget when they get hit in the head.
Giannis Beats Out Harden for MVP
At the end of last year, Giannis -- following his real come-up campaign -- beat out second-place Harden in MVP voting, claiming 77% to Harden's 23. He delivered a touching acceptance speech. 
It seemed well-deserved. However, only a few minutes after Giannis' speech, the Rockets pointed out -- in two since-deleted tweets -- that they "respectfully disagreed" with the decision. They thought Harden should've been the winner.
The year prior, Harden won the award, with the up-and-coming Greek Freak clocking in sixth. They're considered two of the top contenders for the prize again this season, with Giannis the Vegas favorite and Harden fourth.
Harden Thinks He Should've Won MVP
It wasn't just the Rockets social media team who disclosed their chagrin. Harden was also outspoken in his belief that he deserved the prize.
In August, Harden suggested the media "narrative" led to Giannis win.
"I think once the media, they create a narrative about somebody from the beginning of the year, I think they just take that narrative and run with it the entire year," Harden said. "I don't want to get into details. But all I can do is control what I can do, and I went out there and did what I was supposed to do at a high level. You know what I'm saying?"
Hmmm. That's some shade. But he wasn't done.
In September, Harden added: "A 32-game 30-point streak, eight 50-point games, two 60-point games ... and all the talk was about [Giannis]? There's no way.
"You can't pout or be mad, and the kid had an unbelievable season, so did his team. But the things I was putting up were legendary. You going to look back in 10, 15 years from now and be like, is that really true? Did that really happen?"
Giannis Addresses the Drama
Giannis offered a measured response that seemed wise beyond his years.
"That's their opinion. They're gonna have James' back," the 25-year-old Antetokounmpo said. "I'm never gonna say I'm better than James." But, Giannis also added: "The trophy's in my house."
The steam began to percolate.
All-Star Draft
For the second year, the NBA facilitated a captains' draft of their rosters ahead of the All-Star Game. The top two vote-getters -- Giannis and LeBron James -- picked their rosters, playground-style (if your playground game happened to be nationally broadcast and featuring the best players in the world).
The first five picks went like this: Anthony Davis (LeBron), Joel Embiid (Giannis), Kawhi Leonard (LeBron), Pascal Siakam (Giannis), and Luka Doncic (LeBron). Wait, so the perennial MVP candidate hadn't been picked? The guy averaging 35.2 TK PPG? Geez. This had to be his moment.
But Giannis chose Kemba Walker over Harden. No disrespect, but...Kemba Walker? Giannis said he decided to choose "somebody that's going to pass the ball." Got 'em!
Elbow During the All-Star Game?
The game was hard-fought, with Team LeBron clinching a 157-155 win on a late Davis free throw. Things got chippy, and it was clear the best of the best were showing out -- in the name of Kobe Bryant -- for this game, which had sometimes been treated as a joke in the past. 
At one point, Chris Paul stripped Giannis of the rock. During a battle for the loose ball, it looked like the Greek Freak extended an elbow toward Harden's face.
After the All-Star Game
So, when the moment was biggest and the two teams were going back-and-forth, what was Giannis instructing his team to do? He explained his strategic thought process during the postgame press conference.
"Offensively, we were just trying to find whoever James Harden was guarding," Antetokounmpo said. "That's who we thought we had an opportunity to score on."
Damn, son! So he started All-Star Weekend by calling Harden a ball hog, then hit him with an elbow, then ended the weekend by criticizing the man's defense?
Analysts love to come at Harden for his famous defensive ineptitude, but it's not like Harden struggled on that end in the big game. In fact, Giannis' strategy proved futile as Harden did his best Kawhi impersonation and played sound D.
Harden Fires Shots at Giannis
The Beard wasn't about to sit there and let Giannis keep issuing body blows -- no one takes more shots than James Harden, dammit.
In an interview with Rachel Nichols released by ESPN Friday, Harden offered a rebuttal.
"I average more assists him than [Walker], I think," Harden said. "I don't see what the joke is. I don't pay attention to stuff like that. I just know that none of them can mess with me."
He's right. Harden is averaging more assists this season than Walker and Giannis: 7.3 APG to Giannis' 5.8 and Walker's 5.0. For their careers, Harden averages 6.3, Giannis 5.8, Walker 5.4. 
In the All-Star Game -- where Giannis claimed to want "somebody that's going to pass the ball" -- Harden had six to Giannis' four and Walker's three.
So, his point about passing is fair -- why the hate about hogging the orange? It ain't justified. But the Beard didn't stop there. He went for the jugular!
"When [my career] is all said and done, they'll appreciate it more," Harden said. "But I wish I could just run and be 7 feet and just dunk. Like that takes no skill at all. I gotta actually learn how to play basketball, how to have skill. I take that any day." Shit-just-got-real!
Could This Be a NBA Finals Preview? 
No, we aren't talking about a celebrity boxing match. (Though, while we're on the subject, check out our Load Management podcast with Antonio Brown on this Logan Paul thing.)
Giannis' Bucks are No. 1 in the East at 50-8 and on pace to win 70 games. Harden's Rockets are surging, having won five straight, and are No. 4 in the West at 38-20. Could we see Milwaukee-Houston the NBA Finals?
The Bucks currently have the best Vegas odds of winning the NBA title, while the Rockets are at No. 4 overall, trailing the two L.A. teams.
The tension in the finals is always real. Imagine how lit this year's iteration could get if these two superstars were squaring off in June.
We're talking 'LeBron swatting Steph and talking trash over his shoulder' level drama...or maybe even a level above.