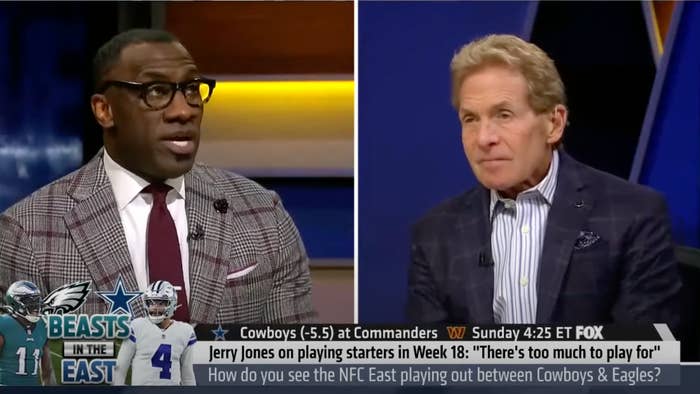 Skip Bayless has been one of the pioneers and innovators of sports debate television. Bayless along with his former ESPN partner Stephen A. Smith brought a new category and dynamic to sports coverage with 'First Take.' Over the years, we've seen sports media grow into coverage beyond just telling the story of the game or box score. It's turned into an entertainment spectacle for sports fans everywhere. There's no questioning what Skip has done in the past to build up this avenue in media but recently, fans have a right to question whether Skip still deserves the respect he's garnered over the years.
In 2016, Bayless made the move from ESPN's First Take to Fox to start a new debate show, Undisputed, with NFL Hall of Famer Shannon Sharpe. While many were surprised by the breakup between Bayless and Stephen A. Smith, there were a lot of folks who were intrigued to see how the new duo would play out on FS1. While Skip was initially the pillar and so-called needle mover for the program, Shannon Sharpe quickly emerged as a rising star in media and an eventual superstar in his own right working on that show.
With sports debate shows especially ones like 'First Take' and 'Undisputed', they are built and programmed to last on television so at times, hosts will embellish arguments and act out of character for the sake of ratings. Sports fans tend to forget that these television personalities have long production meetings game planning each show from start to finish so more often than not the shouting matches during the show are scripted. We certainly can't be oblivious to that but at the same time, you can sense when tension arises and things go far beyond a typical bit. In the case of Shannon and Skip, debates have stretched past acting and have sometimes reached a personal level. While Shannon surely had his moments of triggering Skip, rarely did those moments reach levels of disrespect. For Skip, that same sentiment does not hold true. He tends to cross the line and does it with a condescending tone with little remorse. We've seen in the past month that Shannon has just about reached his boiling point with Skip's remarks and this may be culminating into the imminent break up.
The New York Post reported that Shannon Sharpe has reached a buyout agreement with FS1 and his final appearance on 'Undisputed' is expected to be after the NBA Finals.
We put together a timeline of notable moments of tension between the two that led to their eventual breakup.
Dec. 18, 2018: "You Crossed The Line!"
This argument was eerily similar to the recent one in December listed below. "You're going to question a Hall of Famer with three Super Bowls" was a recurring statement for Shannon and while it's Skip's role to play, this seemed like the beginning of the tension. Like the December outburst, Skip is siding with Tom Brady while discrediting Shannon's resume by comparing the duration of their career.
Sept. 30, 2019: "You're Trying To Argue Coverage With Me!"
Again, it's hard to argue specifics of football like coverage with one of the best tight ends to ever play the game but that wasn't going to stop Skip. Skip probably got away with that with Stephen A. Smith but you can't play that same role against someone who dedicated their life to playing the game of football. You can scroll back earlier in the video to see more of the debate but it's more of the same. Shannon was clearly bothered.
Aug. 24, 2020: "I'm Making a Point & Then You Cut Me Off"
This is a common theme and the basis of the tension between the two. Skip consistently interrupts Shannon's points and doesn't allow him to speak. He continuously calls it out and it's been an issue since Day 1.
Oct. 2, 2020: "OK President Trump"
As stated earlier, Skip rarely allows Shannon to finish his points so Shannon was fed up at this point and compared him to Trump. Is that crossing the line? Maybe but it stemmed from Skip's actions.
Jan. 14, 2021: Once again, Skip Won't Let Shannon Finish His Sentence
This is one of the times Shannon was at his boiling point as you can see his frustration with the pen drop. Shannon typically tries his best to hide true emotion that's outside his show character but this is one of the moments, he couldn't hide it.
Jan. 24, 2022: "It's My Turn!"
Tom Brady seems to be the topic that triggers something between these two especially Skip. It's not out of the norm for Skip to be loud and emotional but he definitely lost his cool here.
Oct. 17. 2022: "This is Childish"
At times you can see when Skip is playing into his troll character a bit but he fails to read the room when it's starting to actually bother Shannon. Some might say Shannon is a bit sensitive here but there's clearly built-up frustration as we can see from this timeline, it's not the first time Skip does something like this.
Nov. 21, 2022: "You Gon' Let Me Talk?"
It's just more of the same issues here. Skip doesn't let Shannon get his point across and Skip trolls him with a "blah, blah, blah" while resorting to childish banter like mentioning Shannon's following or child-like responses to Shannon calling it out. This one seems a bit less harmful those most back-and-forths but it contributes to the built-up frustration from Shannon.
Dec. 12, 2022: "I'm In The Effin Hall Of Fame!"
This seemed to be the moment that revealed to the entire world there was serious turmoil between the two. This was the peak of Skip's disrespect toward Shannon as he went out of his way to belittle him and you can tell by the Shannon's reaction, this was not planned.
Jan. 3, 2023: Skip "Damar Hamlin" tweet & Shannon skips show
Shannon Sharpe reportedly refused to show up to work after Skip Bayless' tweet, which he received major backlash for, responding to Damar Hamlin's hospitalization. According to TMZ, Shannon was "upset" on how his colleague responded to the tragic situation.
Jan. 4, 2023: Skip & Shannon Clash Immediately
This felt like the nail in the coffin for the imminent break up of Shannon and Skip. Skip's stubbornness and ego caught up to him and Shannon was fed up. Not only did Skip lack respect for Shannon here but he essentially contradicted his initial apology of the situation the day before by saying he doesn't regret what he tweeted. If this is truly the end, it was a great 7-year run but it was a partnership that ran past its time.
May 31, 2023: Shannon Sharpe Leaves 'Undisputed'
After it seemed the two had resolved their issues and put the past behind them, Shannon Sharpe reportedly reached a buyout as reported first by the New York Post. Shannon's departure ends a 7-year run of one of the most popular sports talk shows on television.