Deebo Samuel has never been one to hold his tongue. From the social media back-and-forth with Jalen Ramsey to calling Eagles' corner James Bradberry "trash" when he was awarded All-Pro honors, Deebo will always let you know what's on his mind. If you told him that the Eagles and Chiefs were the best teams in the NFL last season, he'd tell you that would be incorrect. 
"We lost because we played with 10 people," Samuel on the Eagles beating the 49ers in the NFC Title. " I ain't going to keep going on about what could've happened and what would've happened but yeah, it would've definitely been a different outcome (if healthy). 
Samuel's teammate Brandon Aiyuk said the 49ers were hands down the best team in the NFL even after the loss to the Eagles. Now healthy, the 49ers will be looking to quiet the talks of the Eagles dominating the NFC again. With Deebo, Aiyuk, Christian McCaffrey, George Kittle, and healthy quarterbacks for a full season, the 49ers will without a doubt be the Eagles' biggest threat to represent the NFC in the Super Bowl this season. 
We sat down with Deebo Samuel to discuss the NFL team he hates the most, his partnership with Cheribundi, and the top five corners he's played against in his career. 
This interview has been condensed and edited for clarity. 
How did this partnership with Cheribundi come about?
Actually back in college, we had a nutritionist.You know, back in the college days you don't know nothing, you just eat whatever and do whatever. She kind of brought it to my attention and ever since then, it's been something I've been using as far as recovery. It was just good to hear from them and get the partnership.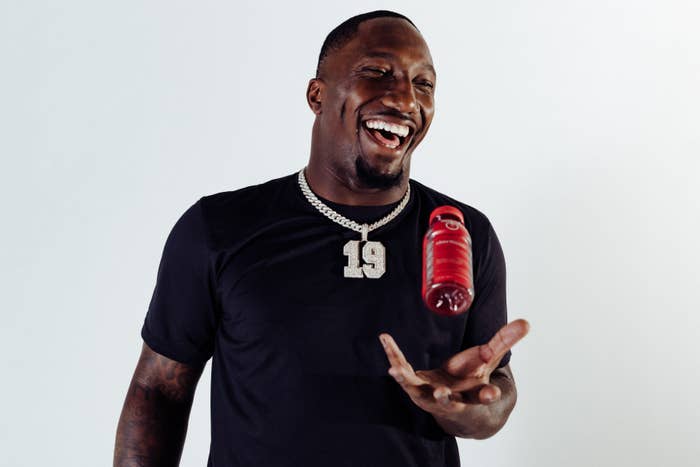 Have you used it in your offseason preparation this year?
For sure, after I'm done with all my workouts. I probably go once or twice a day to the gym, three when the season gets closer but it's definitely a part of my recovery when I'm done working out. 
As we are in the offseason and reflect on the 2022 season, do you think things are different in the NFC Title Game if you guys are healthy? 
100 percent. I ain't going to keep going on about what could've happened and what would've happened but yeah, it would've definitely been a different outcome. 
Brandon Aiyuk said you guys were the best team hands down even after losing. I'd assume you agree? 
No question. 
Even with the Chiefs beating the Eagles, the team that beat y'all? 
We lost because we played with 10 people. 
Everyone has been quick to crown the Eagles as a lock to win the NFC again. When you see that, what's your reaction, knowing you guys were right there with them and maybe better last year if healthy?
See, I ain't know nothing about that until you just said something. I barely watched the draft to be honest with you. I seen a couple of guys that I knew get drafted and at the end, I was just off of it. How we move as a team, we don't even pay attention to the noise. It's just crazy how you just said this and I ain't heard nothing about it. We just a team that's focused on the things we have and the people we have in our building. We're not worried about the outside noise. 
You've been to the NFC Championship three times, the Super Bowl once, what's is going to take for you guys to finally break through and win it all? 
We just gotta stay healthy man. We stay healthy and the sky's the limit.  
What have y'all done this offseason to avoid that happening again. Adversity is going to come in some form, how have you prepared to overcome it this year? 
I mean the people upstairs from John Lynch and company. Brock (Purdy) is still recovering from his surgery. Trey (Lance) is fully healthy. We went and got another quarterback in Sam Darnold. That was the only piece we were missing, If we had another quarterback, we would've been alright. In that situation, what could you do? The front office is doing a good job of making sure we'll be alright. 
You've been one of more dynamic offensive players in the league but people tend to keep you out the top receiver convo because you run the ball as well. How do you feel about people being hesitant to place you amongst the top receivers because you're not just a wideout?
I mean they don't make the checks clear so I don't really pay attention to that either. I'm all about the team and what it takes to win. I don't care about no rankings.
You said recently the Rams are the team you hate the most. Jalen Ramsey left, will you be disappointed to not match up with him twice a year anymore? 
I mean it's cool. A lot of people think we got beef but in real life, that's my dog. That's my partner but on the field, there ain't no friends. It's cool, I was happy to see he was excited to move on and go to a different team but going back to your question, (my) most hated team is the Eagles right now. 100 percent. 
Oh so it's different now. Why did you change your mind to the Eagles? 
I mean hey man, we done wiped the Rams so many times. All the trash talk coming from the Eagles fan base and the players, you just get tired of that. 
There's some talkers in Philly for sure especially in that secondary, if you had to rank the five best corners you've played against. 
I can go back to my rookie year, a healthy Marshon Lattimore is legit. Pat Surtain II is straps. You got Ramsey when he really wants to play. Jaire (Alexander) from the Packers, he's solid. 
NFL fans joke a lot about how you and CMC are opposites. He's the running back that can play receiver, you're the receiver that can play running back. How has it been having CMC on your team? 
When we got him, the team got excited. We didn't really know too much about it until it got really close to happening. Once we got another piece like that, just look at our roster from top to bottom. From (Nick) Bosa, Arik (Armstead) to Fred (Warner), we got youngins growing, Deo Lenoir. Then you go to the offensive end, you got (Brandon) Aiyuk, (George) Kittle, Trent (Williams), we got healthy quarterbacks, Christian (McCaffrey), me. From top to bottom, I feel like we the best team in the league. 
With all the Chiefs and Eagles talk, do you feel like you should be the favorites? 
We don't got to be anyone's favorites but ours. 
Before we get out of here, I got to ask about the 49ers' entrance. One of the best entrances in sports. How did it start? 
It kind of came about when played we played the Saints in 2019 when we was playing Roddy Ricch when his first album came out and then I think COVID hit after that. But it kind of really took off these past two years. As for as the song, nah we just be like whatever the locker room feeling we'll play it until like we lose. Once we lose, the song changed all over again. So we never know what we gon' play. 
I remember the clip of Future performing for the 49ers before a playoff game… 
Tony Montana
Yup, why didn't you guys bring out Kodak this year? 
Last time we played Kodak we lost, so like I said we got to change the song.