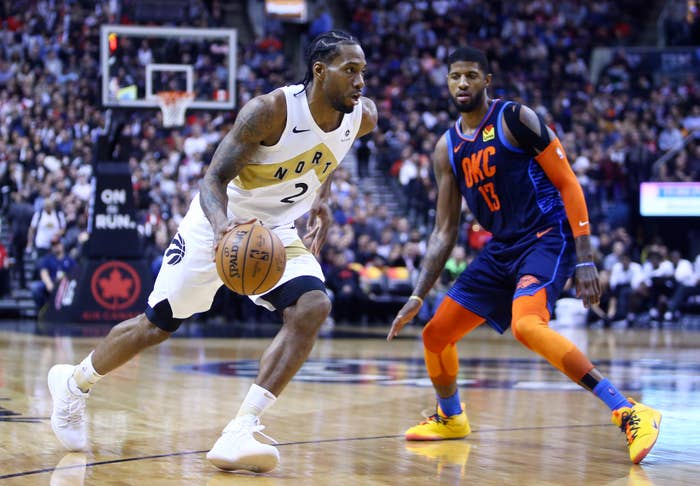 So, that just happened. Was that the craziest 25 minutes in NBA history? Kawhi Leonard and Paul George are going to the Los Angeles Clippers. I think we can safely say that NOBODY saw that coming. There was Lakers smoke. There was Raptors smoke. Woj and every plugged-in person said don't count out the Clippers, but everyone did anyway. Now look at them. I'm shook. 
My immediate thought is that the NBA has never been more wide open than it will be next season. The Clippers are a legit title threat. The Lakers still have LeBron and Anthony Davis. The East is stacked. The Thunder got a haul, but what does this mean for the future of Russell Westbrook in Oklahoma City? Think about this: the Los Angeles Clippers and Brooklyn Nets were the big winners of NBA free agency. Crazy. As always, we broke down some winners and losers in the deal and will have much, much more analysis of these moves in the near future. 
Winner: Kawhi Leonard 
What a power move by Kawhi. This man just won a championship and a NBA Finals MVP and then held the future of the NBA in his palm for an entire month. He gets his max deal with the Clippers and gets to go home with a star running mate in Paul George. It's weird to think of the Clippers as the favorites in the NBA, but here we are. All thanks to Kawhi Leonard. What a boss. 
Loser: Los Angeles Lakers 
However you want to spin this, you can't do so without calling it an L for the Lakers. Yes, they have LeBron and AD, but they went hard after Kawhi and came up short. And not only did they miss on Kawhi, but he picked the Clippers. He picked the same building that the Lakers play in half the year. That's cold. 
Winner: Los Angeles Clippers 
Bro, the Clippers. I still can't believe it. What a win for them. They basically stalked Kawhi to Toronto games all season, but it all paid off tonight. They're legit contenders and just changed the entire direction of their franchise. Bravo. 
Loser: Oklahoma City Thunder 
Yes, the Thunder got four unprotected first round picks in the Paul George deal, but still, having another star leave like this just doesn't look good for anybody. What happens with Westbrook now? Is he on the block? Do the Thunder try and use those picks for another star? Lot of uncertainty in Oklahoma City going forward. 
Winner: Danny Green 
Get ya money, Danny! Soon after the Kawhi news broke, it was reported that Danny Green got a 2-year $30 million deal from the Lakers. Not bad at all. Oh yeah, and he just won a championship. 
Loser: Drake 
I can't say that the Raptors are losers here because Kawhi won them a title, but we can surely put Drake in the loser category. There were rumors that Drake had a pitch for Kawhi to stay in Toronto, and well, that obviously didn't work. Maybe Drizzy can get some good seats for Clippers games next season. 
Winner: Parity in the NBA 
Have we ever gone into an NBA season with this many teams that could legit win a title? If Kawhi would have gone to the Lakers, it would have been a wrap. They had the title locked up. But with Kawhi going to the Clippers, it seems like it's legit up for grabs. We haven't seen that for years and it feels good. Going to be a wild year. 
Loser: Fake NBA Insiders 
Tough one for these fake insiders who thought they had sources. Maybe next year. 
Winner: The NBA Drama That Never Ends
Are you not entertained? There hasn't been a meaningful basketball game for weeks but here we are writing about the power of this league in the middle of the night. The NBA has never been stronger and next season is going to be so wild. Can't wait. 
Bonus Winner: The Knicks 
Hear me out...... The Knicks need to trade for Russell Westbrook. Goodnight.