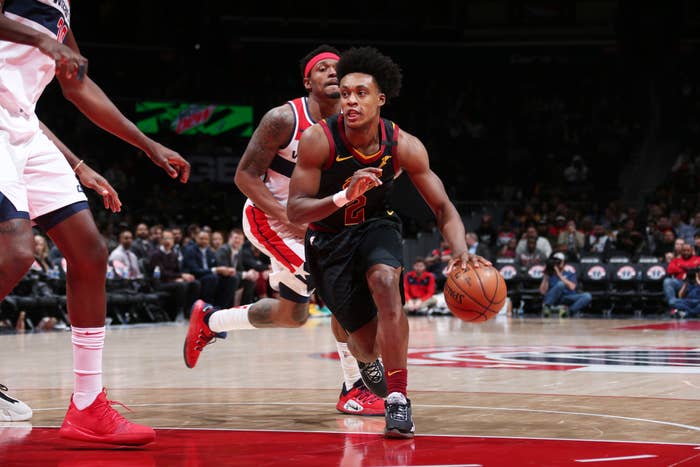 Collin Sexton is doing what every other NBA player is doing right now: trying to stay ready for when the NBA season returns. Of course, nobody knows when that will be after the spread of the Coronavirus halted not only the NBA, but basically the entire world last month.
For Sexton, who was hitting his stride in his second year in the league down the stretch, this time away from basketball is still an opportunity to get better. "I found a gym that I've been going to every day. No one's there, so that's something that's really good. It's just me every day," Sexton told Complex Sports. It's just about staying ready, because nobody really knows when the NBA will be back. 
We talked to Collin Sexton about how he's dealing with the lack of sports, his reaction to the NBA going on hiatus, what he's doing will all this spare time, and the future of the Cavs. 
(This interview has been edited and condensed for clarity.)
How are you passing the time with no NBA or sports?
I'm doing good. I'm doing good. I've been passing time while I'm at home just pretty much just watching film, watching a lot of games that I played in the past season. Just to pretty much see what I need to improve on. Just while I'm at home.
What was your first reaction when you found out that the NBA was going to get suspended?
My reaction was just like, "Wow, I can't believe it." I was shocked just because like you didn't think it could happen. I know I didn't think that that was going to happen. And I know a lot of NBA players didn't think it was going to happen. So when they said, "The NBA's suspended until further notice indefinitely," we were all shocked. As a team we all got on a call, and we were all just shocked.
You said you're watching a lot of film. Have you been able to work out the same? Like obviously you guys can't go to the facilities right now, but are you still able to like work out a little bit?
Yeah, I've been able to work out and stuff. My team, they sent me a lot of equipment and stuff like that. Like stationary bikes and different things like that, like weights. And also I found a gym that I've been going to, nobody is there, so that's something that's really good. It's just me every day. So that's it.
You mentioned like obviously watching a lot of film. Have you been filling the time with anything non basketball related?
Yeah, I've been just outside with my dad just throwing the baseball, throwing the football, and then also I've been inside playing video games a little bit here and there, just to pretty much pass time.
For you guys to get ready, do you think it would take four weeks to get back into game shape and everything?
Nah, I don't think it'll take us four weeks just because we're all going to be in there grinding it out. Just because we know the season will be right around the corner. I'll say it'd probably take about a week and a half, two weeks just to pretty much just get back in game shape. And once you out there playing, that's when you pretty much get in that game shape.
But you definitely think that there needs to be a little mini-training camp, right? You guys can't just go back out there right away.
Oh yeah, absolutely. It has to be something. There has to be something in play where when it is time for us to come back and play, they got to give us a heads up and stuff like that. Just so that guys bodies are ready to...
You were on a bit of a roll before everything shut down. Did that come into your mind going into the shutdown?
Oh yeah. It definitely did a little bit just because like I got into a rhythm that I felt like I was doing really good. I was playing and just pretty much just running the show and being the point out there. I was in a pretty much a good rhythm and it was tough when they said the NBA was canceled. And also we were coming to play home. We were coming here to play the Hawks on that Saturday and we had canceled it. I know I had at least well over 150 people that come to the game to support. It's tough there, too.
You mentioned getting into a groove. How much has that helped since JB took over as head coach?
I would say just JB, just being the coach that he is, he just told me to just go out there and play and don't worry about making any mistakes and just play my game. And as a team we all just fed off of JB's energy that he brought during practice, during games. And you could tell he was out there for us. Like he was on referees and you can tell, like when the coach is actually screaming at the referee, they actually really care. So it was stuff like that. And also he's been around the game, grew up around it, so he knows exactly how we feel. During tough stretches where we haven't won a game or like when we are getting more groove, he doesn't want to switch anything up. So just with JB as new head coach, you can tell everything has changed.
Have you put any thought into the idea that the NBA might skip right to the playoffs and the Cavs wouldn't get to finish the season anyways? 
Yeah, I did. Put thought into it just because like we would have 17, 16 more games left with the regular season. And we knew we weren't playoff contenders, but we just wanted to finish strong and wait, so that it could roll over to next season. And we'd be in a good rhythm, a good place, where we felt like you got good guys coming back for next year. So we knew what state we were in, but also we wanted to ruin teams' chances also. We wanted to get some game scare there.
Would you have interest in a play-in tournament to make the playoffs? 
That would be cool. That'd definitely be cool, just for us to pretty much just be back on tour. Everyone misses it. I know I missed it, because you've been playing this game for so long, and they just take it away from you. You're like, "All right, this never happened before."
A lot of NBA guys are really preaching social distancing and the importance of staying inside right now. 
Yeah. It's very important just because you can have it and not have any symptoms of it. And that's the one thing that has happened. A lot of players who have had it, they don't know. So just like being safe... Being on the safe side is a lot more than anything. And social distancing is big.
With the Olympics getting pushed back, have you put any thought into maybe now going to try and be included in that, now that they're going to be in 2021 rather than this year?
Absolutely. Everyone wants to make the Olympics. Everyone wants to pretty much just play on the team or at least try out. Like you'll play against the biggest selection. So I definitely thought about it. So we'll see.