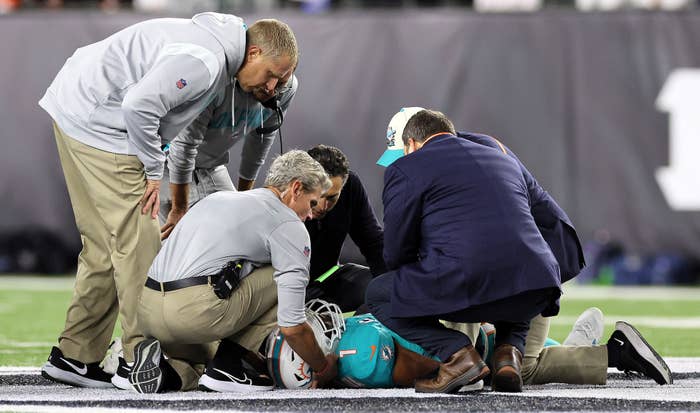 Tua Tagovailoa was taken off the field on a stretcher and hospitalized on Thursday night.
The Miami Dolphins tweeted that the 24-year-old quarterback was "taken to a local hospital for further evaluation," and conscious with "movement in all his extremities."
Later Thursday night, the team wrote on Twitter that Tua "is expected to be discharged from the University of Cincinnati Medical Center and will fly home with the team tonight."
Tagovailoa was sacked by the Cincinnati Bengals' Josh Tupou in the second quarter. Miami lost 27-15.
"[Tua] started in Thursday Night Football despite back and ankle injuries," ProFootballTalk noted. The outlet's Adam Beasley tweeted that Amazon—which broadcasts TNF—"says Mike McDaniel was able to talk to Tua Tagovailoa before the QB went to hospital, and Tua was actually asking about the play in question."
Local station WSVN7 Sports shared just after midnight, "After being released from the hospital, Tua Tagovailoa came back to the stadium to leave with the team. He was wearing a neck brace."
NFL.com highlighted the fact that the injury comes a mere four days after he temporarily exited a faceoff against the Bills. "Tagovailoa left Sunday's game with what was initially announced by the team as a head injury. The QB returned to start the second half of the game and finished out the win," the site writes. "Dolphins head coach Mike McDaniel said in the aftermath of the game that Tagovailoa had injured his back in the first half and the injury was exacerbated by the hit he sustained from Bills linebacker Matt Milano."
The NFL Players Association, meanwhie, tweeted, "Player health and safety is at the core of the union's mission. Our concern tonight is for Tua and we hope for a full and speedy recovery. Our investigation into the potential protocol violation is ongoing."
NFL fans, players, and commentators are sounding off about the frightening development, with many touching on Tua Tagovailoa's arguable unreadiness to be back on the field and the Miami Dolphins' culpability in the situation. See a selection of reactions below.