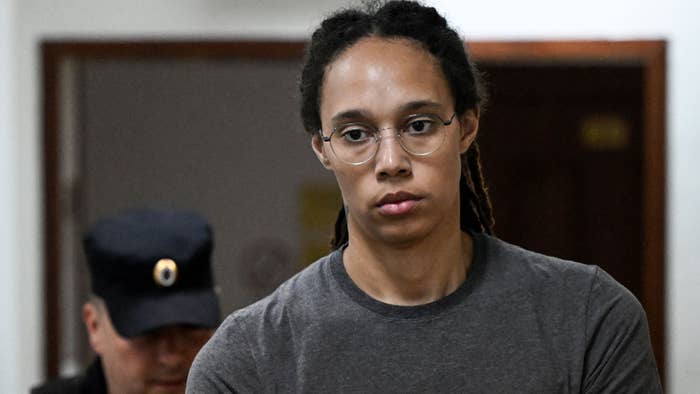 Brittney Griner has been freed from Russian custody as part of a prisoner exchange agreement with the U.S.
As first reported by CBS News early Thursday, Griner was freed in a prisoner swap that also saw the U.S. releasing Viktor Bout, a convicted Russian arms dealer. The swap is said to have taken place in the United Arab Emirates on Thursday, with negotiations having led to President Biden's approval over the last week.
In a tweet, Biden said he had spoken with Griner and that she was "on her way" back to the U.S.
"Moments ago I spoke to Brittney Griner," Biden wrote. "She is safe. She is on a plane. She is on her way home."
In a subsequent press conference, Biden reiterated that Griner was on her way home and thanked those who assisted in the negotiations.
"This is a day we've worked toward for a long time," Biden said, adding that Griner has lost "months of her life" and been subjected to "needless trauma" due to what the U.S. has maintained was a wrongful detainment. In the same speech, Biden also addressed the case of Paul Whelan, who remains in Russian custody after previously being mentioned amid speculation on how the U.S. might approach a swap. Per Biden, the U.S. is "not giving up" on also securing Whelan's release.
Cherelle, Brittney's wife, also spoke at Thursday's press conference.
"Today my family is whole. But as you all are aware, there are so many other families that are not whole," she said when delivering brief remarks.
See more below, including an aside from Biden confirming that Griner should be home within the next 24 hours.
In February, Griner was arrested at a Moscow airport after a bag search resulted in the discovery of "vape cartridges." Russian officials later alleged the cartridges contained hash oil, with the WNBA star ultimately pleading guilty while noting there was "no intent." Griner received a nine-year sentence in August, a subsequent appeal of which was rejected in Russian court months later.