A Candid Q&A With John Cena: WWE's Polarizing Company Man
From injuries to locker room divides to turning heel, WWE's veteran superstar John Cena is as fearless and open as ever. He tells us everything here.
Getty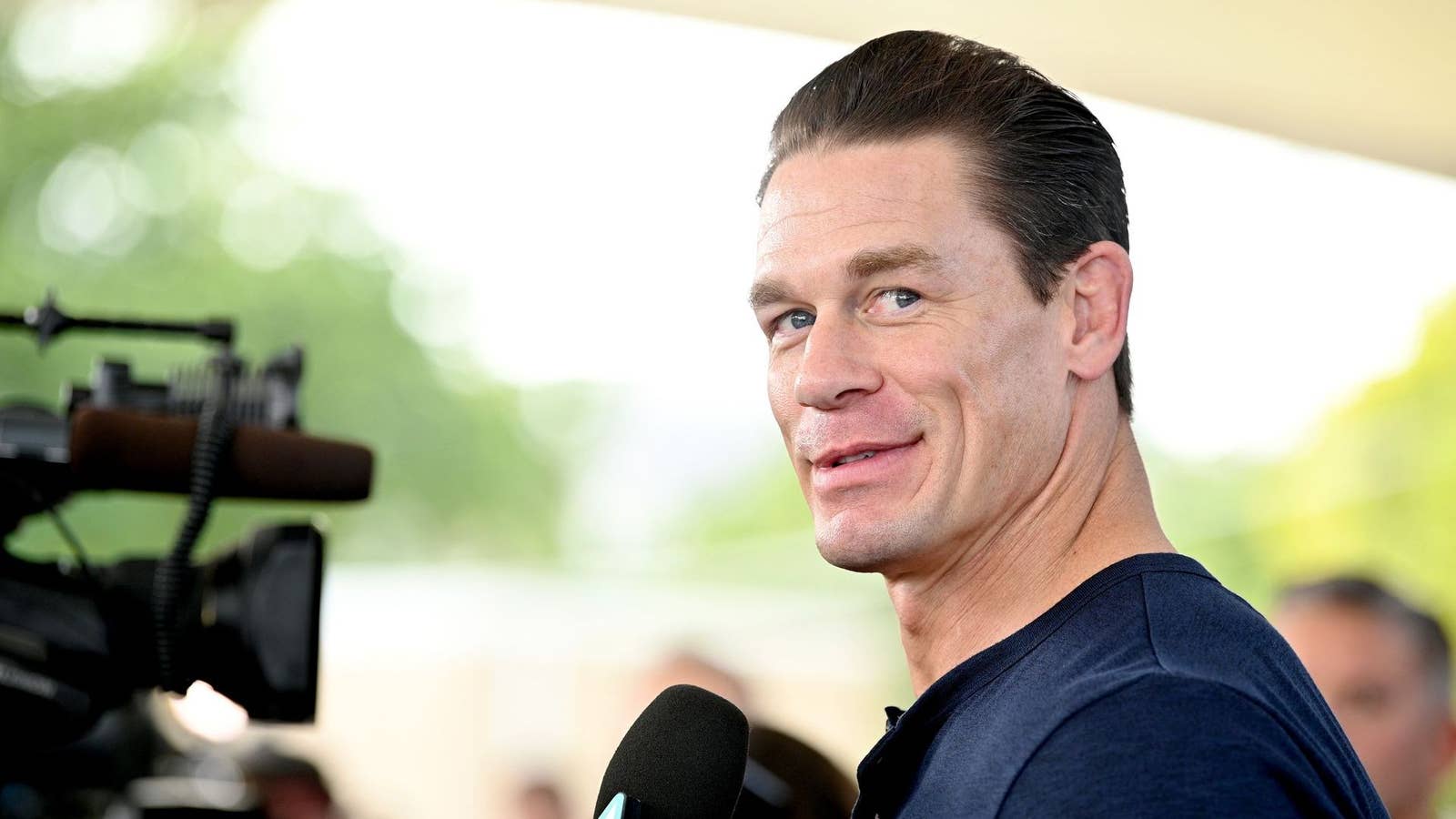 John Cena arrives at Complex's midtown Manhattan offices minutes after signing off from The Today Show, where he is co-hosting this week. It's WrestleMania season, and Cena, World Wrestling Entertainment's most popular superstar, is in full promotional mode even though he is not scheduled to wrestle this Sunday at AT&T Stadium in Dallas. A shoulder injury has kept him out of the ring—although he claims to be healthy enough to perform.   
Cena has spent his time on the shelf working on American Grit, an unscripted reality competition show debuting April 14 on Fox. It's the latest brand expansion for Cena, who stole scenes last year in Amy Schumer's Trainwreck and opposite Tina Fey and Amy Poehler in Sisters. But it all wouldn't have been possible without his work in WWE. 
For the glowing nostalgia surrounding Hulk Hogan, Steve Austin, and The Rock, Cena is now in the midst of the lengthiest main event run in modern professional wrestling history. Since 2005 he has been The Guy and he's now ready to talk about his time on top. During our 40 minute conversation Cena took us behind the WWE curtain for an "inside baseball" chat about everything from his role in the locker room to his thoughts on rising superstar Roman Reigns and the current WWE product. "Can you tell I genuinely like talking about this stuff?," he asks towards the end of the interview. "I love what I do. I very rarely get to have these conversations." 
The meme trumpets have hit. John Cena is on his way to the ring.
I'm not a fan of unscripted competition shows, but American Grit works because of the final challenge. Making someone quit is so cruel.  
Normally with shows of this nature there is an element of foul play or manipulation that involves you getting voted out. What I really like about Grit—especially being the guy who goes on TV every week and says "Never Give Up" and who truly tries to live his life to that credo—we recruited 16 people who said, "I will never give up." And the only way they can leave the contest is by doing the one thing they said they never would. But it's inevitable because these tests are tests of endurance. Eventually one person will fail. It really helped the show dynamic. You really get into these challenges at the end. 
How did you prep for the hosting gig?
Do your homework, know your contestants, know your military leaders, know the show. Because I helped create this thing, you can come in and read off a box on the TV if you want. I didn't use an ear piece. I didn't use a teleprompter. I wanted genuine real reaction. All of that takes genuine preparation. 
So, for example, you personalized each pep talk to the contestants? 
Those talks were 20 minutes edited down into two sound bites. Even though I could've been done within a minute, I wanted to know what makes them tick. The more I interact with them the greater understanding I have of the journey. I want them to do their best. It's something I love to do. 
Did you research any other competition shows like Survivor?
You can't even put this in the same vein. I wanted this to be new and I didn't want to try to copy anything, so I did not study those shows by design. 
The show celebrates military heroes, which is something I know is important to you. You seem to genuinely appreciate military structure and what it stands for. What is the appeal for you?
I think it's the respect that they have for their job. Every member of the U.S. Armed Forces knows what they signed up for and they know what their job is and they are proud of their job. I think that's where all the strong resolve and discipline comes from. They have to defend the freedom of this country and they are honored to do it. There is a certain sense of pride that they all have when they go to work. I feel the same way about my work, but it's great when I look at somebody who allows me that freedom. 
It's interesting though because the military promotes the team over the individual and to succeed in your line of work, you must stand out from the team. 
I'm a company guy. I believe in our brand and I believe that my success has come from believing in our brand. Entertainment is often a medium in which you can put yourself front and center. But just as we're doing a photo shoot now, there will probably be someone else in here an hour after me and an hour after that and an hour after that. We are easily replaced. The spotlight shines quick and then it shifts. My theory is if you can contribute and the brand can do well, then you will reap the benefits of a good brand rather than forcing the spotlight to shine on yourself. Although it's a contest of individual personalities, I've always stayed focused on how big the entity above me can get.
When will you be back on WWE TV?
Whenever they ask me to be. They call, I answer. 

"John Cena is easy: Goody-two shoes Superman. Easy. A four year old kid can tell you that. I don't necessarily know the heartbeat of Roman Reigns."
How close are you to returning to the ring?
If you ask me today, I should've been back two weeks ago. I've logged almost 400 hours of physical therapy. I got 111 visits in 12 weeks time. I go every single second I can. People say I have a Wolverine-like style of recovery. I was given a nine month quota to come back and after three months I can tell you that I am ready to do anything asked of me possible. It's a matter of when they call me.
Are you medically cleared?
Yes.
This will be the first WrestleMania since 2003 without you on the card. Are you angry? 
Not at all because it's not time. Like I said, they call and I answer. 
What do you remember about that WrestleMania? You were with the company but not on the biggest show of the year.
I hear stories sometimes of people being upset with their position on the grandest stage of them all. WrestleMania 19 at Safeco Field, I was a part of the pre-show. I wore a WrestleMania sweat suit, a matching Mitchell & Ness cap and rapped to cardboard cutouts of Fabolous and Jay Z. I was disappointed because my WrestleMania challenge was a battle rap and there had been some traction. Fabolous and Jay Z were going to take me up on my offer, but they both backed out for obvious reasons. It just didn't work, so my WrestleMania spot was gone. So I did the pre-show and went out and talked to 60,000 people. It was my first time in an outdoor stadium like that. I loved it. It gave me the proper introduction to the path of WrestleMania's going forward. Just like this year, you ask, "Are you angry?" No, I'm not. You know why? Because in a few years time this is going to be my permanent seat. I'm going to watch as a fan. Not only does it make me miss it and want to get back in the ring more, but it also allows me to view the product through a different lens. It allows me to be a fan again. 
As a fan, what match are you most looking forward to?
Shane-Undertaker because of what's at stake—the stakes are what determines how important a match is. Yes, we all want to be champion, but Shane returning after a seven year absence to only have one match and if he loses, he's gone. If he wins, things change drastically. If he beats the Undertaker I can confidently say that's probably the last time we are going to see the Undertaker because if the Undertaker is as good as he says he is, for him to lose to someone coming off a seven year sabbatical, maybe you've lost a step kid. Maybe its time to move aside. 
I think Triple H vs. Roman Reigns is the most fascinating match.
Talk to me. 
It's obvious that the company has been building Roman Reigns to be the next face—face of the company, but also "babyface" [good guy]… 
You're trying to go inside baseball. Wrong guy, but that's okay. 
[Laughs.] Why hasn't Reigns connected with the crowd as a…
I think he connects with every crowd. I study a lot of what we do. I study it very differently from most of my competitors. To say Roman Reigns isn't connecting with an audience means you're not listening. I've watched a lot of Roman Reigns and every single time I see him, I hear noise. He connects very well with our audience. 
You're not the only WWE superstar missing WrestleMania with an injury. Is that a coincidence or a sign that the WWE schedule needs to be reevaluated? 
No, I think its coincidence. Speaking as a guy who's 13 years into it, I don't think the schedule has anything to do with it. WWE is open about it: If you need time off, you just ask for it. I just never liked time off.  It's truly a coincidence. Injury is part of our profession. It's part of what we do. 

"Fabolous and Jay Z were going to take me up on my offer, but they both backed out for obvious reasons."
I think last year was your best year as an in-ring performer.
Firing a shot across the young ones.
Was it a conscious effort to show you could perform at a high level? 
No, it was knowing our group of superstars. We had a lot of new superstars, a lot of superstars seasoned with other promotions, a lot who rely heavily on their in-ring performance rather than their mic work. I go back to Hogan-Rock, one of the best matches I've ever seen. Go back and watch it without sound, it's a little different, but it's still one of the best matches ever and it's only because their characters are so well-defined. You get a bunch of new guys in the mix, a bunch of unidentifiable characters, the best way you can relate to the audience is through ability. So let's give them a hell of a show. I got the opportunity to become United States champion again and with that I wanted to make that something special and almost make it a showcase for anyone. If you aren't giving anyone an opportunity, send them to me, I'll take them. Give me your tired, your hungry and your poor. That's what the United States has always been about. 
As a competitor who has main-evented WrestleMania with a movie star like The Rock, is it the same working mid-card programs with young, ascending talent?
Man, now we're getting into my opinions. Yes, at every AC/DC show, AC/DC eventually comes out. That doesn't mean that as the opening act you can't fucking wail. The one thing that tries my patience is when people are upset of where they are on the show. I am healthy. I would love to do the WrestleMania pre-show if I could. I would love to get up there before the pre-show and do a dark match for the people just to get out there and give something. I'm not going to kick anybody's door down and say you got to put me on the show or if you do you have to put me in the main event. My job was to get healthy and if I get used, cool. If not, then it's not my time. I'm not of that, "Oh, I'm not in the main event anymore, ugh."  
So, placement on the card doesn't really matter. A performer can steal the show or make headlines no matter where their match is positioned? 
I absolutely 100% agree. A seven second match at WrestleMania with Sheamus [and Daniel Bryan] was proof positive of that. 
You've said in the past that the boos don't bother you. What about the "You can't wrestle" chants? 
No, because it's people's opinions and when you get a crowd of people who enjoy technical wrestling, I'm not Tiger Mask. I'm not Dean Malenko. I'm not William Regal. I'm not those guys. That ain't me. But I'll tell you I'm fired up, I'll get you excited to see what will happen and I will give you my best. Through that journey amazingly enough, the same people who are chanting that in the beginning of the match are on their feet at the end. That never bothered me. I know my strengths. I know my weaknesses. I know you pay money to come and see me. My job is to make you go afterwards, "Oh, that was awesome." Me trying to do something and failing miserably at it just to prove to some critic that I can "wrestle" in their interpretation is a waste of your money.
What are your weaknesses as a performer?
I'm certainly not the most mobile guy out there. I'm not really good with the high flying agility stuff. I'm good explosively. I'm good with energy. I certainly can take your best shot and get back up. And I certainly have that innate ability to get people interested because I am energetic about what I do. I have this conversation often with a lot of the superstars. They ask me why have I been able to do what I do for so long, it's because I believe in who I am. Here I'm just a dude in a suit talking shop, inside baseball stuff about WWE. My music hits, those meme trumpets hit, I go through the curtain and I'm mother-fudging Superman. And there's no one alive that can tell me differently. 
You've added some new moves, some new stuff…
It's just stuff. The heartbeat has to be there. If you want to go back to Roman, he is on the cusp of getting that heart truly beating. People know he is very gifted. His in-ring ability is not in question. I don't care what any critic says. They are just being stupid. He can go. He is an athlete. I don't really know who he is. Like I said, John Cena is easy: goody-two shoes Superman. Easy. A four-year old kid can tell you that. I don't necessarily know the heartbeat of Roman Reigns. As soon as that first heartbeat happens, it's going to challenge me. I'm looking forward to it.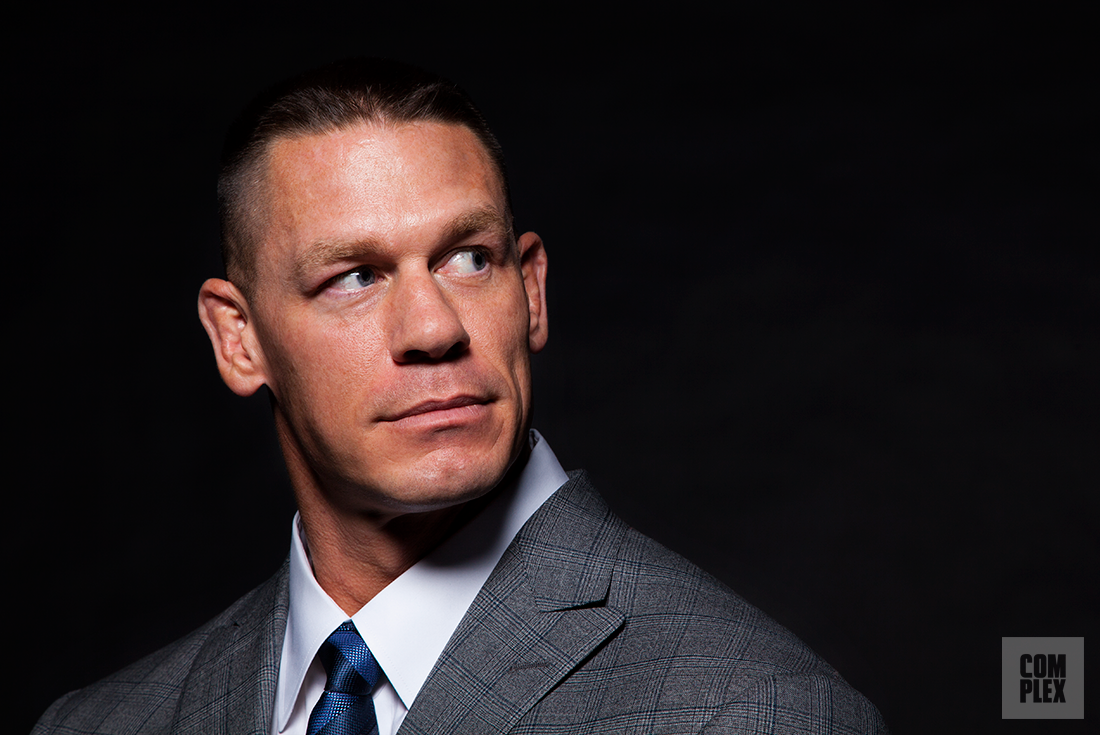 Why are all the inside baseball guys—the "smart" fans on the internet—so critical of you?
It's their job. Amazingly enough, when I was on Velocity on Saturday nights and no one was watching, those guys were like, "Whoa, kid's kinda funny. He got something." As soon as you get any endorsement from the company on your success, it's like an underground band that goes mainstream. It's the same thing. Yes, they develop their music but the original fan, the fan who saw them in the garage, is going to despise them. "I like their old stuff." People constantly say, "Hey man, why don't you go back to the rap guy?" My reply is, "We are TV-PG." You want to see something fail and fail bad? It would be horrible. It would be a failure. 
It's also a lot more believable when it's 25-year-old John Cena rapping and not 38-year-old John Cena. 
One hundred percent agree. It's just people remembering that it was great. I've had 12 year olds telling me to go back to being the rap guy. They weren't even alive then. 
When are you turning heel?
Okay, this is where your inside baseball mind gets put to an abrupt stop. What is the job of a heel?
To make people boo. 
Is that what I do?
Most of the time.
Okay, so that happened in 2005. 
Who have you wrestled the most?
Edge and Randy Orton.
Who was your greatest rival?
I like every single opponent. That's what doesn't make this boring. A lot of guys who get to my odometer are like, 'Ugh, I just got to get it done and get on with it.' I take every new opponent as a challenge. 
From a character standpoint, your feuds with CM Punk were outstanding. It was the ultimate company guy vs. the anti-establishment disrupter. As the company guy, were you offended when he criticized you and WWE in his promos? 
No, not at all. I've had numerous conversations with superstars and when they get to know me as a human being they will confide in me like, "Hey, I may have said some bad things about you or the way you work. I'm sorry." The first thing I say to them is, "Please do not apologize. Do not like the way I work. Do not like my direction." Daniel Bryan was the same way: I don't like you because you are This and I like This. Well, person X/CM Punk/Daniel Bryan, if you are that adamant that passionate about the direction and you are that good, give it a try. That's the thing. As much as someone will tell you, the guy needs to be six feet tall, he needs to have muscles, he needs to have this or that. No one knows what the guy is. We're making general broad estimations on our past success. So a guy like Punk, a guy like Daniel, a guy like Rey [Mysterio], any of those guys, a guy like Edge, can do well if given the proper forum. It just comes down to sustainability: How long can you run and how much passion do you have? I've seen a lot of guys say they're going to do something and then get to a certain point and for whatever reason, Oh, that's it.

"I've seen a lot of guys say they're going to do something and then get to a certain point and for whatever reason, Oh, that's it."
What's your role in the locker room? On the Stone Cold Podcast you told the story about when your main event run was starting, he approached you backstage and was like… 
"When I was here, there was no black curtain [covering the empty seats in the upper deck]."  
And then you discussed the need for motivational reinforcement.
Hell yeah, I wanted to get rid of that black curtain. That was a nice little shot across the bow—and I got it. It was like, "You're working hard kid. You need to work a lot harder."
Do you take that role with younger performers?
I think the industry is forever changing. Steve is of a different era. I can relate more to that than to the way things are now. What I try to do best is lead by example. The reason I do that is because when I look a level up I see Vince McMahon at his age being the first to show up, last to leave, hands on everything, really still so into the product, and he does not have to be. 
Do younger guys approach you in the locker room?
It's tough. I'm in a weird spot in being too old to be cool and too young to go to for advice. It's really weird. For some reason there is a grand canyon divide. I honestly think it has something to do with my age or where I'm at. But I have all these secrets about this that I need to give away. Because if I take them with me and go quietly into the night, what good does that do for the brand? I need to help. I need to teach—or at least tell people, "Hey I did it this way."
Vince McMahon caused a stir in 2014 when he said that young superstars— millennials—weren't as ambitious. Have you noticed a similar generational divide? 
I think our industry has changed a lot, like, a lot. We've changed ratings. We've changed names. We've done a complete two cycle talent change since I've been around. I'm one of the last guys hanging around from that Ohio wrestling class—me and Randy [Orton] and Brock [Lesnar] occasionally. The business continues to evolve. Are things operating in that sweet spot, exactly where I would want them to operate? No, but I got two choices: I can move forward and run with it or I can be a dinosaur. 
You said earlier that everyone is replaceable. Is that something you learned recently?
No. The very first time I was given a match was in Orange County, California, for Ultimate Pro Wrestling. I saw guys that I thought were spectacular just fade off into the night. It's just the way it is, man. This is WrestleMania 32. I've been around since 19. That means there were 18 before I got here and there will be many after I'm gone. 
Do you have a finish line in mind?
When I can't keep up. Talking the folks into a frenzy is certainly an asset to what we do, but you have to deliver. You have to deliver on stages like WrestleMania and beyond. When I can't do that, I'm now taking the brand down, so I'll have to reposition myself. It ain't happened yet though, boss.