Damian Lillard Says 'Real Warriors Fans Aren't Able to Get Into the Games'
The Oakland native reminiscenced about a different culture surrounding the Warriors before this current dynasty and what it'll mean to the city when they move.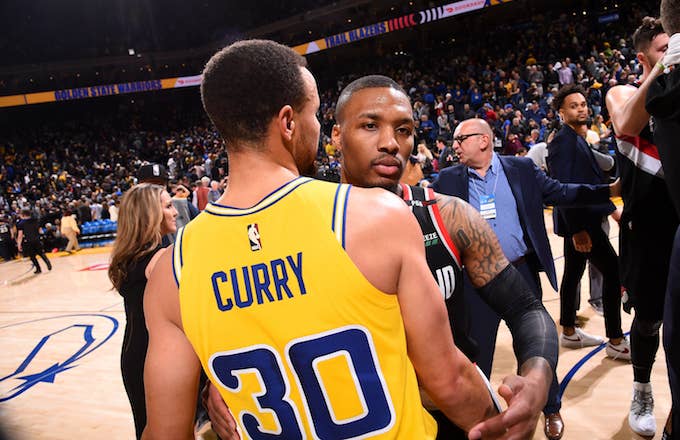 Getty
Image via Getty/Noah Graham/NBAE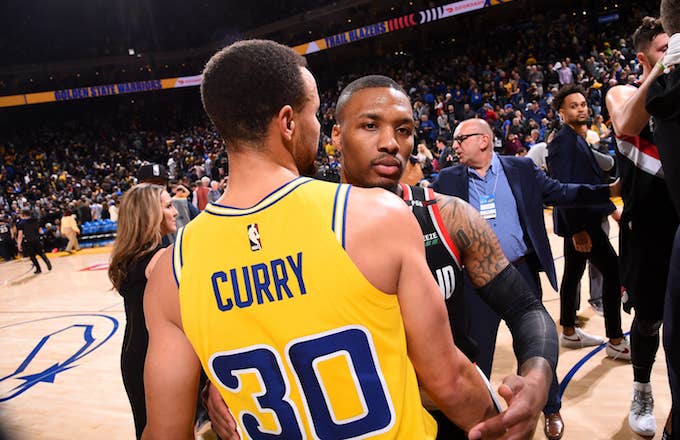 Damian Lillard grew up in East Oakland, California and only Marshawn Lynch rivals the Blazers star in OG status among Bay-area denizens. He spent his childhood at Oracle Arena sneaking into the bowels of the stadium to snack on the media's entrees and ask players for autographs. So, it's only fitting that in his very last game at Oracle Arena, Lillard knocked down the go-ahead three late in overtime Thursday night to give the Blazers a 110-109 win over a franchise that's so incongruent from the one he grew up watching.
Lillard's somewhat surprising NBA stardom, considering he was so lightly recruited coming out of Oakland High School, has only deepened his hometown bond. Never was that more evident than when he was talking to Mark Medina of The Mercury News about his home team's move across the Bay to San Francisco before tipping off next season.
Lillard's words did not just reflect his upbringing in East Oakland. Lillard also has unique perspective about the Warriors' pending move to Chase Center amid frequent conversations with his hometown friends and family members. He has heard from those at his alma mater when he returns to Oakland High School, which both hosts his retired jersey and refurbished gym that he funded. Lillard also has listened to Oakland residents when he has hosted his annual summer barbecue at Brookfield Park that features free food and live music.
Ticket price data supports Lillard's claim. The team's average ticket prices steadily rose throughout the rise of the current dynasty, but jumped over 65 percent—from $47.38 to 79.84—after they won the 2015 title. These days, even when they're on the road, the Warriors are the priciest ticket in the Association. It gets worse when venture capitalist Joe Lacob sets price points.
"It's just crazy to think about it," Lillard said of Golden State's move to San Francisco.