Conor McGregor Sued by UFC Fighter for Attacking His Bus in Brooklyn
After attacking his bus at Barclays Center during an April UFC event, fighter Michael Ciesa is suing Conor McGregor for physical and emotional damages after he suffered injuries that prevented him from fighting at the event.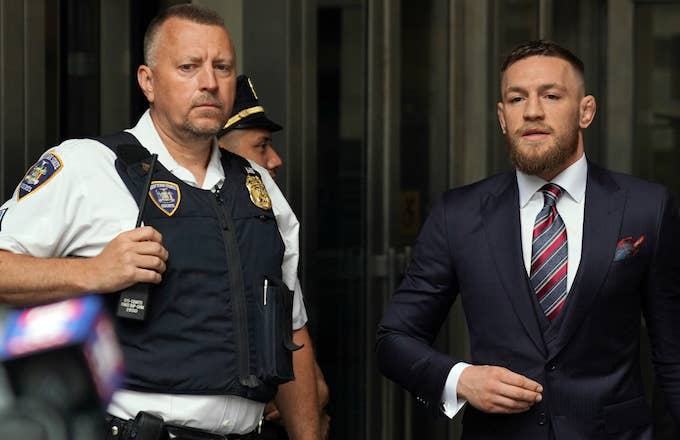 Getty
Image via Getty/TIMOTHY A. CLARY/AFP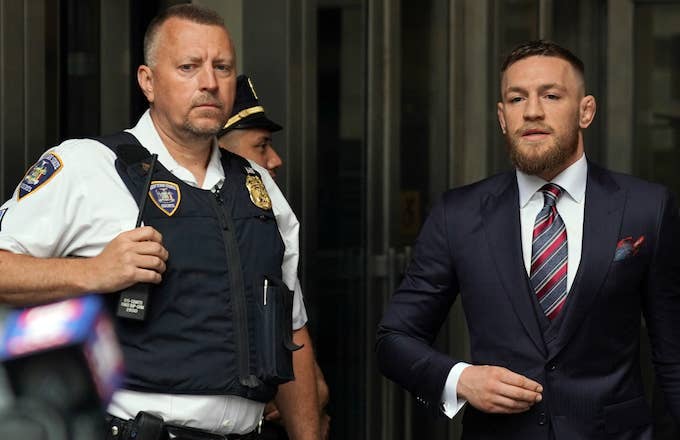 There are more legal consequences for Conor McGregor's rage. After pleading guilty to disorderly conduct for his Brooklyn barrage of a bus at Barclays Center in April, he's facing new legal troubles, according to TMZ. 
Michael Ciesa was one of many UFC fighters on the bus McGregor attacked. When Conor threw a steel dolly through the window of the vehicle, Ciesa suffered cuts to his hands and face.
The injuries Ciesa suffered during Conor and his crew's berserker blitzkrieg on the bus prevented him from fighting Michael Pettis at UFC 223. Now, Ciesa's suing for assault, battery, and intentional infliction of emotional distress. It's not the first time the Irish UFC star has faced a lawsuit, but it's the first with some legitimate gripes.
Along with the cuts, Ciesa's lawsuit alleges "severe emotional distress, mental trauma and/or bodily harm." The Barclays Center isn't exempt from the legal reckoning, either. He's going after them for failing "to engage in proper security measures to protect the plaintiff and other patrons." 
The amount he's seeking in damages isn't included in the documents filed, but he lost out on a big pay day at the event, so you can bet it's a big enough to warrant legal wrangling in civil court. The fallout from the episode continues for McGregor, but it's unlikely to bankrupt him.