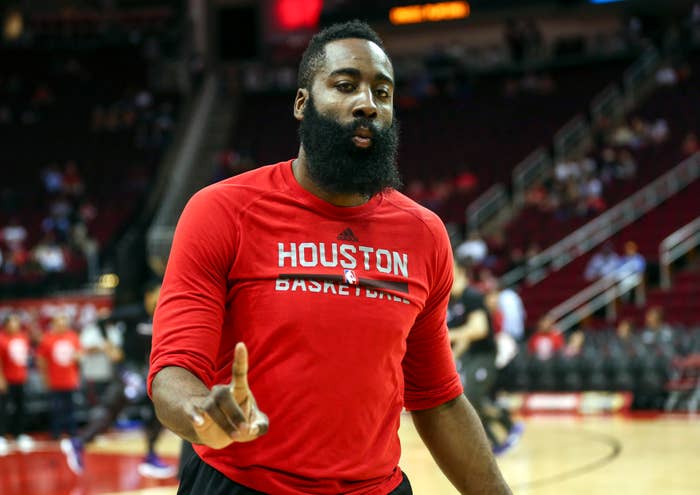 When most people interview James Harden, he's fresh off the court, where—win or lose—he's likely still caught up in what happened, and perhaps not in the best frame of mind to discuss things outside of the game that just ended. We have a suggestion: Catch him when he's fresh off a yacht instead.
"Being on a yacht is always a good feeling," he says, "especially the size this one is. It's pretty dope." There should be plenty of sizable yachts in the soon-to-be 28-year-old Harden's future. Following a season where he averaged 29.1 points, 11.2 assists, and 8.1 rebounds per, leading the Rockets to 55 wins, he signed an extension that made him the highest-paid player in the NBA. Oh, and his Rockets traded for Chris Paul, perhaps the best pure point guard in the game. He's had quite the year.
With Paul assuming some of the team-running duties (and taking the tough backcourt defensive assignments), Harden should expect more of the same next year. He finished second in MVP voting behind former Oklahoma City Thunder teammate and human triple-double Russell Westbrook last year—much to the dismay of Rockets GM Daryl Morey—and, with less of the burden to bear, should have an even better shot at it last year. But when asked his personal goals for next season, he gives just a one-word answer—and no, it's not "yacht."
To coincide with the release of his new spot for Foot Locker, we caught up with Harden while he was on the high seas to talk about his new teammate, whether everyone's just chasing the Warriors, and whether he's finally gotten to talk shoes with Kanye West.
(This interview has been edited and condensed for clarity.)
From the outside we all watched you play point guard last year, stack up assists by the literal dozen, one of the last things we expected was for the Rockets to go out and get Chris Paul. How do you guys think it's gonna work?
Easy. You've got two talented backcourt players, it'll work itself out. We trust each other, we're building our communication, we're building our trust to where it doesn't matter we know we're gonna make the right play. It's gonna be simple.
I know people have been talking about moves with Carmelo Anthony, do you think there will be other changes to your squad before the season starts?
Honestly, that's out of my control. That's up to the front office. Right now we have our guys on the roster, and that's what we're looking forward to—the front office want to make more moves, I'm sure they'll do it.
I wanted to talk about your shoes a little bit—a lot of people saw Lonzo Ball break them out in summer league, did you know he'd do that?
Who?
Lonzo. The rookie for the Lakers.
Oh yeah. No, I didn't know he was gonna do it.
What part of the process are you up to now, I assume you're working on the second one.
I'm actually working on the third one [laughs]. It's continuous man, it doesn't stop, before I designed my first one you don't know how much hard work and dedication and meetings and conference calls and all that good stuff throughout the entire year go into a shoe. We're working on three right now, and it's probably about two years out. It's a process but I'm glad to be part of it.
A bunch of guys have come west this summer whether it's Jimmy Butler or Paul George, what do you think you're gonna have to do this year with the Western Conference getting more competitive?
Try to win as many games? No matter who comes in you've got one team that won the championship and has been in the Finals the past three years. I think everybody's mindset is build up to be able to compete with them.
So do you think everyone is just trying to compete with the Warriors or the Spurs or whoever?
Yeah, for sure. For sure. That's why the league is going that way. Until a team or two teams can match their talent level, no matter who comes to the West....
For a while this summer, at least, you were the highest-paid player in basketball, is that something you ever thought would happen?
Never. Actually, the way that I'm going now I never thought it was going to happen. The focus and dedication that I've had has put me into this situation. Just staying in that gym and eliminating things that don't help me have put me in that position.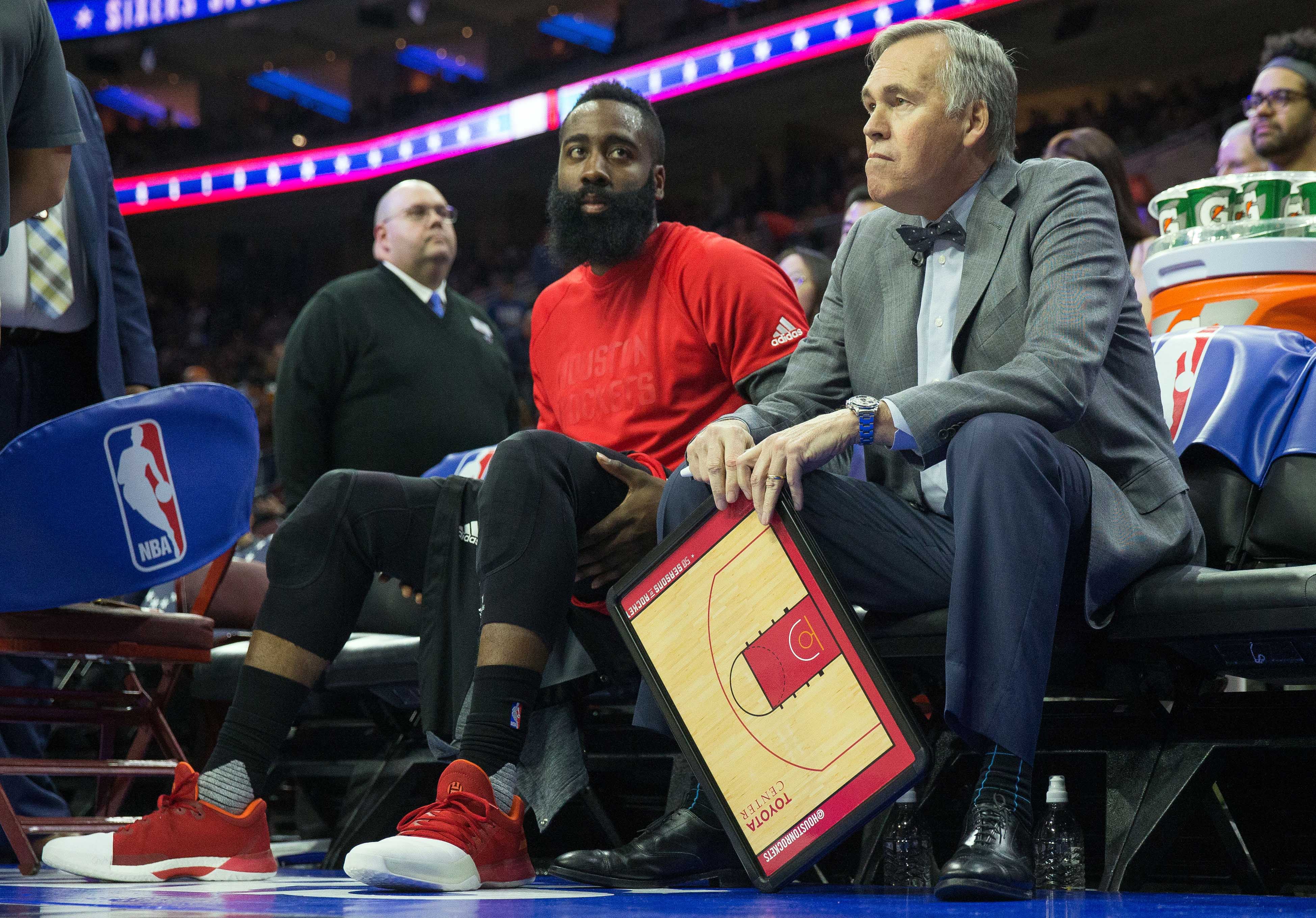 When Mike D'Antoni came in last year, were you able to envision how he would change your game and how he would change how the team plays to that extent.
My game never changed. My game never changed. We had better pieces, skilled pieces that fit our system, but my game never changed. I still handle the ball, pick and roll, and just do what I do. Obviously he gave me the ball initially to set the direction, but as far as being aggressive, still shooting, still looking for my teammates, that hasn't changed at all.
What about next year, as far as personal goals for yourself?
Championship.
Is there anything specific you were looking to add to your own game this summer?
Always. My right hand, switch hand, conditioning, and shooting—being more efficient. And I think adding Chris and a couple other pieces will help that.
I know you'd talked about maybe working with Kanye—have you gotten the opportunity to talk with him about shoes?
No, we haven't. It'll probably happen down the line.
Before I let you go, just wanted to ask you what your favorite record was this year so far?
Wins & Losses. Meek Mill.