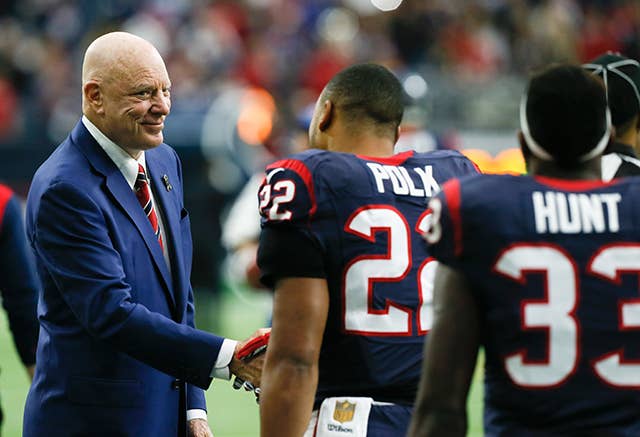 The Houston Texans are the owners of a respectable though not spectacular 3-3 record. In Deshaun Watson they have what appears to be their first starting quarterback who can't objectively be referred to as trash in over a decade. But the team has a problem on its hands that will likely only get worse leading up to their 1:00 pm matchup with the Seattle Seahawks on Sunday. According to an ESPN report published Saturday night, the team plans to stage a unified, organized form of protest as a response to owner Bob McNair referring to NFL players as "inmates."
McNair's original comments came during an October 18 owners meeting in New York. The noted Trump supporter and campaign donor took issue with players kneeling in protest to various racial inequalities during the national anthem saying, "We can't have the inmates running the prison."
The now infamous comments didn't go public until after an ESPN The Magazine piece by Seth Wickersham and Don Van Natta revealed just how tense things got during the closed-door meetings. In the immediate aftermath, Texans wide receiver DeAndre Hopkins and reserve running back D'Onta Foreman were both listed as "Did Not Practice-Not Injury Related." Their absences further fueled rumors that multiple Texans players had to be convinced not to exit the facility in protest.
Friday, McNair issued a formal apology, saying, "I regret that I used that expression." However, various sources from both ESPN and the Houston Chronicle reported that players would reconvene and discuss what further action to take once they resumed a heated practice session that had apparently been halted by news of McNair's original comments.
Texans OT Duane Brown told

@JosinaAnderson

that he anticipates "65-70 percent" of his teammates will kneel today. Won't remove helmet decals
According to an unnamed source, the players met again in Seattle on Saturday and discussed their potential form of protest. The options of kneeling together, raising a clenched fist or peeling the Texans decals off their helmets were reportedly considered.
Sunday's game between the Texans and Seahawks is slated as one of the NFL's nationally televised games to appear on CBS.