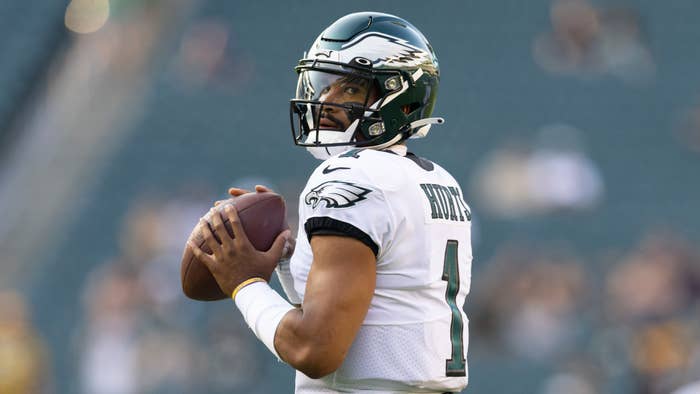 Jalen Hurts is in that mode. Wide receiver Jalen Reagor told reporters after practice last week. Over the phone, Hurts echoes the sentiment. 
"I'm as hungry as ever and I'm excited for what's to come," he says. "I think there's one goal [this season]. Just to win."
It's simply stated and to the point. This is the outlook of the Philadelphia Eagles' new starting quarterback going into the 2021 NFL regular season. The second-year QB was thrown into the fire at the tail end of the 2020 season amid a shaky situation that saw the city's rabid fan base calling for then-starter Carson Wentz to be benched and then-head coach Doug Pederson to be fired. While the record was unimpressive, just 1-3 in his four starts, Hurts showed glimpses of promise with his dual threat playmaking abilities and historic statistical output. With a new coaching regime in Philly and a Heisman Trophy-winning rookie wide receiver in DeVonta Smith now in the mix this year, Hurts will be given the keys to see what he can put together for a full season.
Off the field, Hurts is already seeing some of the perks of being a starting quarterback in the NFL, too. Today, the QB has been announced as the first official ambassador for Eastbay's new Performance apparel line set to debut next month. His two-year partnership with the famed sportswear retailer will see him from various campaigns and release special edition product. To kick off the relationship, Hurts even appeared on the cover of Eastbay's Ausust 2021 catalog.
"It's just crazy and kind of surreal to be on that cover today. I've gotten text messages and I've gotten phone calls about being on the cover  from family and friends back home because they know," Hurts tells Complex over the phone. "They know how much Eastbay was a part of my childhood coming up. It's an exciting time."
We recently got a chance to chop it up with Hurts to learn more about his new Eastbay deal, learning the new system in Philadelphia under rookie head coach Nick Sirianni, his admiration for Cam Newton, and more. Check out our full interview with Hurts below. 
(This interview has been edited and condensed for clarity.)
So preseason wrapped recently. You weren't able to get a ton of reps in the preseason games, but in camp you've been impressing people with the way that you've been playing. In your opinion, what do you feel like you were able to improve on most throughout camp this season?

Coming into this year, new coaching staff, there's a whole lot of new things for the Philadelphia Eagles. For me personally, I think it's just been a mentality of constant growth every day. I think I've gotten a lot more comfortable with the coaching staff and what we're trying to do out there as a team. So that was fun to kind of experience. I've had a lot of different coaches over the years and a lot of different schemes and systems I've had to learn. This training camp has been good for me in terms of getting the system down and getting on the same page as my coaches.
You mentioned the new coach going into the season. How has coach Sirianni been? I don't want to sound cliche, but he seems like a real player's coach.

Yeah. Without a doubt. I think coach Sirianni has been great. I'm excited to go out there and play for him. I'm excited to see him in his new opportunity in being a head coach. I think he's done a great job as far as he's come in with core values and principles that he's instilled into the football team that are very essential for a successful football team. He's trying to connect, trying to hold everybody accountable, competing in everything that we do, trying to have fundamentals and football IQ, too. So, it's been going well.
I wanted to ask you about a specific moment. This is going back maybe a week or so now, but one of the big moments of the camp was that catch that Jalen Reagor had in the end zone. What was your reaction when he came down with that? Obviously social media went crazy, but what was your real time reaction in that moment?

[Laughs] Yeah, you know I honestly immediately squatted. I was like, 'That's a pretty damn good catch.' Then I started thinking like, 'Did he have to go with one hand?' But I laughed. I really didn't too much care cause he scored. I was fine. That just shows the type of player he can be, an exciting player. He's very explosive and has a lot of ability.
Playing in Philly in general, the Philly fans are super passionate, especially for the Eagles. They boo. They cheer. But they've definitely let you know what's going on. Are you ready for that? That fan base, the environment. Are you excited for that?

I'm a pretty passionate player myself. So I'm very excited for it.
That week two home opener at the Linc I feel like it's going to be crazy. Cause you know, with COVID the fans didn't get to really be there last year. I feel like they're going to be extra loud.

I hope they are. We'll need them.
As a fan I'm looking at that Monday night game Week 3 against the Cowboys. Are you excited to participate in that rivalry and add your piece to that rivalry moving forward, being able to play those divisional games? 

Without a doubt. I know it's a big part of this division. I'm gonna take it one game at a time though. When that comes up, it comes up. Right now, we're focusing on taking the steps we need to take and learning from our time we spent together in practice during training camp and preseason. So, we'll cross that bridge when it comes, but I'm definitely excited.
I don't know if you're sort of aware of this, but there's some fans on social media that have taken a liking to an old clip of you before the draft speaking with Steve Mariucci. You tell him about getting "freaky" on the field. One, are you aware of the clip being used with the Missy Elliott music and all that stuff? Two, are we going to see more of Jalen Hurts getting "freaky" this season on the field?

[Laughs] I've heard about it. I've had some friends that have sent it to me joking. But absolutely. We're definitely gonna go out there and do what we do.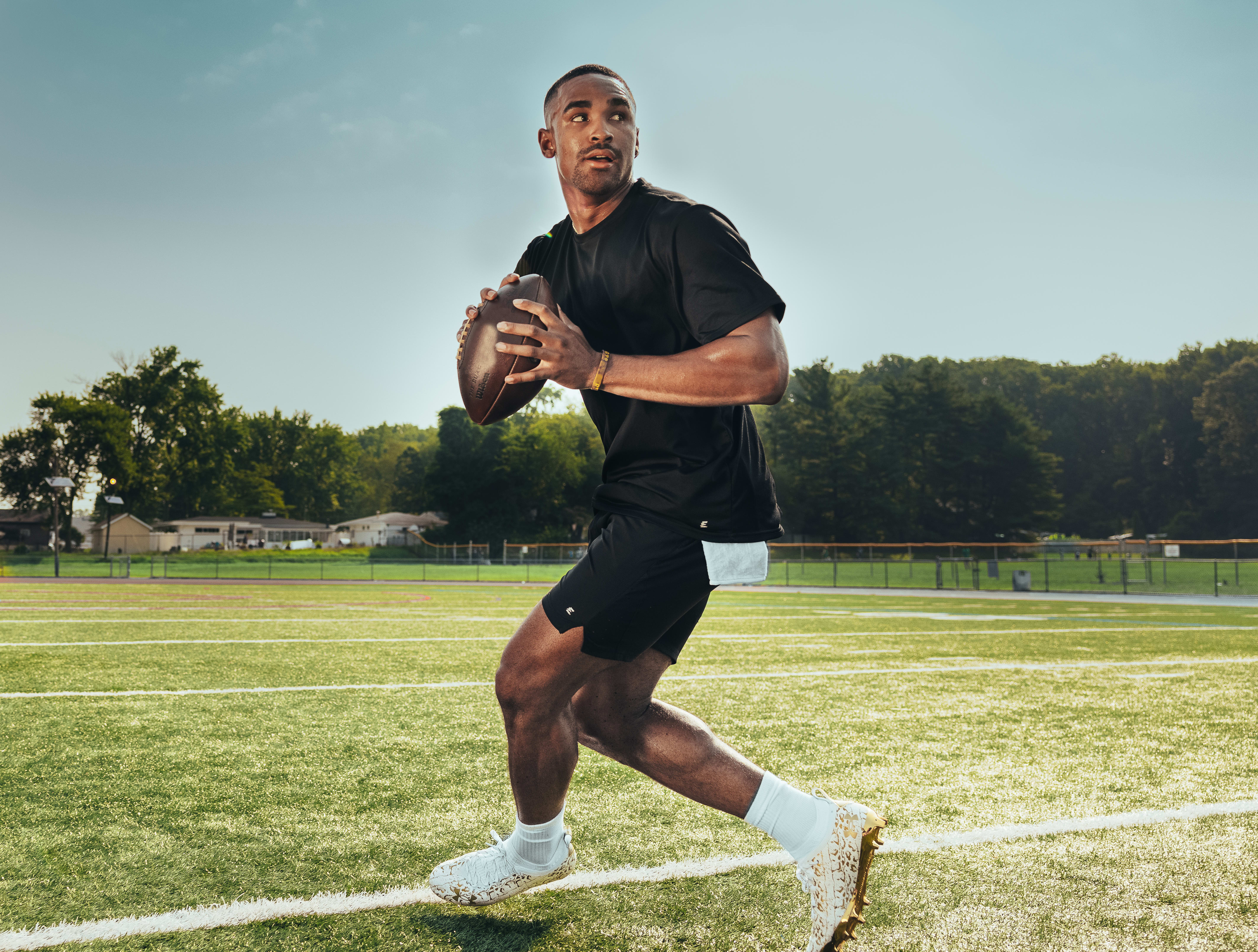 You started the last four games of the season, but it was a bit of a turbulent situation. There were team injuries and then you had the fans pleading to get rid of the coach and bench Carson and all this stuff that kind of went along with that. It wasn't exactly like the easiest situation to get thrown into and execute in. So to that point, can you just sort of speak to where your head was at for that stretch of the season?

I think it was a very unique situation. I don't want to kind of talk about something in the past like that, but you know, the chips kind of fell where they did and everything happened the way it was supposed to. I'm just blessed to have this opportunity moving forward.
I feel like a lot of the fans were eager to see you get that opportunity. Did you take note of that talk and did that motivate you when you finally were able to get that shot on the field to show that you were ready for that moment?

I'm always a self-motivated person. It doesn't take me much to get going. I know how much work I've put in. I know all the things I've done to prepare for the moments and opportunities that I have. Regardless of the time, regardless of what it looks like, I'm going to go out there and play at a high level.
Obviously it's much different this year. How excited are you to have that clean slate this season?

You know, I think the mentality never changes and for all my life I've known that nothing is given to you. You've got to go take it. You got to go get it. I've always believed that. It comes down to the hard work. It comes down to your preparation and doing things the right way. So like I said, it's a great opportunity for me. It's a great time. 
I know you also changed your number heading into the season. You did the same thing when you transferred in college. Is that like a symbolic thing for you? Do you view that as a way to symbolize the new starting point in your career? 

I know it could probably be seen in a ton of different ways, but I just liked how the number looked on me. So I wanted to wear No. 1. How it ended up working out was, coming into the NFL and getting drafted by the Eagles, I wanted "1" initially cause it was the last number that I wore. Our punter was wearing "1", but as soon as he went to the Texans it became available. It kind of automatically switched over because it was already known that whenever it came open, I was going to make that switch. It was just a little sooner than anticipated.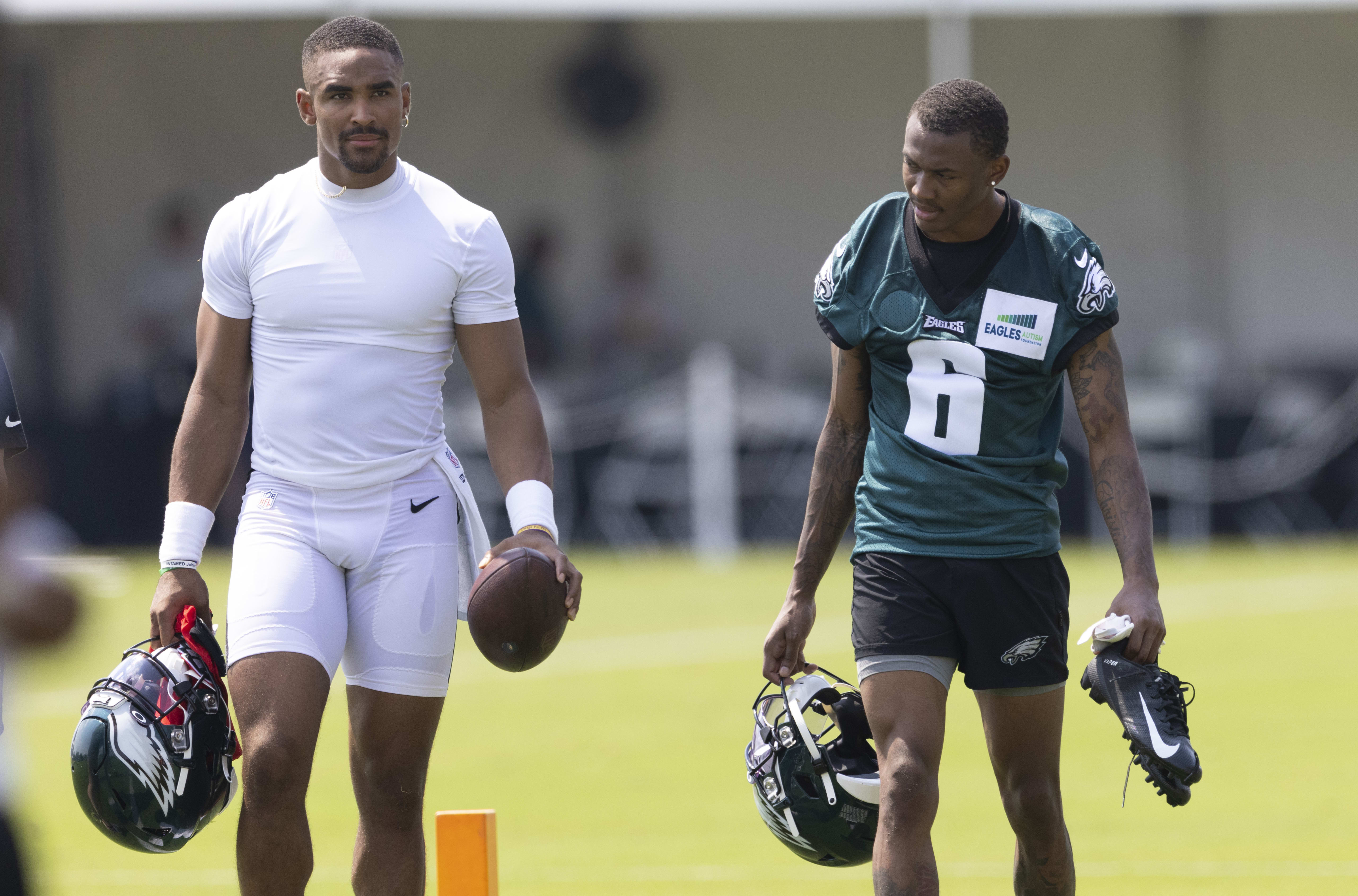 I have to ask you about DeVonta Smith. You and him walked off the field side-by-side last night. You're obviously together a lot in practice. Shortly after he got drafted, you guys were courtside at the Sixers game. Can you just talk about the relationship that you guys have and are continuing to build?

Yeah. Mine and Smitty's relationship goes way back into our college days. It goes back to the long nights you put in work, throwing, working out, running, all the different things. We've always had a great relationship and it's great to see him be a part of the Philadelphia Eagles. Getting back together with him has been great.
What do you feel like you guys can do this year? What type of weapon is he on the field? I feel like if everything is clicking you two could be a new dynamic duo in the league. 

I think he has the opportunity to be a very good player. He has great intangibles just like a lot of receivers in that room. I'm excited for him. I'm excited for the team. I know we put a lot of work in. I'm excited to see what we do.
You have people in the media saying the Eagles may not win many games this year. There are skeptics about you in the starting role. We have seen the team thrive in that underdog role before. Do you have that sort of mentality going into this year?

Yeah, it doesn't take much to motivate me. I've never really kept my eyes on external factors or external words, things that don't matter. I'm as hungry as ever and I'm excited for what's to come.
Is there anything in particular as far as goals or anything going into the season? 

I think there's one goal. Just to win. A lot of things go into doing that. You've got to play the right way, be smart and technical. But you just want to go out there and win.