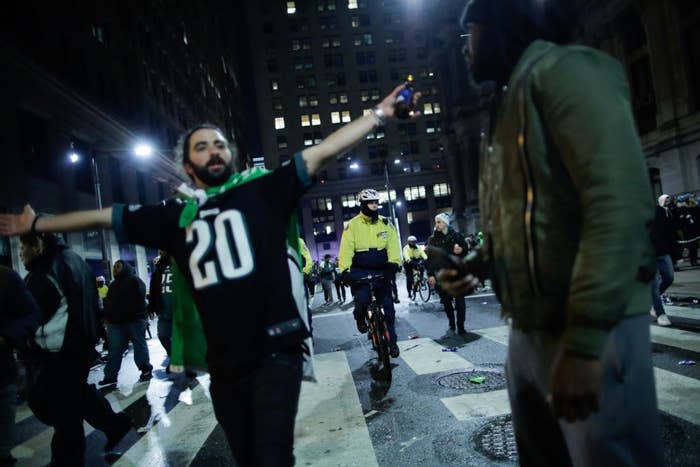 I've waited 28 years for my hometown Eagles to win a Super Bowl. And let me tell you that when it finally happened after a lifetime of disappointment and heartache, it was well worth the wait.
Sunday's 41-33 victory over the New England Patriots in Super Bowl LII was cathartic in a number of ways. Most importantly, it broke a 58-year stretch without a football championship in Philadelphia and gave the city its first-ever Super Bowl victory. But it also served as revenge for a heartbreaking 24-21 loss to the Patriots in Super Bowl XXXIX 13 years ago and vindication after nearly every national analyst picked against them in the rematch.
Admittedly, I didn't have a ton of confidence when about a month ago I booked a flight from Seattle back home to Philadelphia for Super Bowl weekend, but I knew I needed to be in the city just in case this was the year the Eagles finally did it. And even when the Birds punched their ticket to Minneapolis with a 38-7 statement victory over the Vikings, I still had a hard time believing that it would be Nick Foles who would unseat Tom Brady and the Patriots and deliver Philly to the promised land.
When my plane landed in Philadelphia on Friday morning, I was greeted by two "E-A-G-L-E-S" chants and an exuberant rendition of "Fly Eagles Fly" before I'd even left the terminal. The energy in the city was electric all weekend long, but after the final whistle was blown and the green and white confetti began to fly at U.S. Bank Stadium, a lifetime of pent-up emotion was let out all at once. 
We started down Broad Street, tens of thousands of us joining together to march to Center City. Along the way, we sang the Eagles fight song, cursed Tom Brady and the Patriots, and bragged about the size of Nick Foles' package.
The distant glow of bootleg fireworks grew brighter as we approached the epicenter of the madness, City Hall. When we arrived, we quickly discovered that the city had already been overtaken by mob rule. The hydraulic fluid used by city officials to grease up downtown street poles were no match for intrepid Philadelphians, who climbed them before eventually ripping them down completely and carrying them around like trophies. 
And street poles weren't the only things they climbed…
People were hanging out of car windows, riding on top of trash trucks, and generally disregarding the existence of the rule of law and social norms. And while some property was certainly damaged and some beer bottles were most definitely lofted into unsuspecting crowds of people, the vibe was an overwhelmingly positive one. Strangers embraced and cried in each others' arms, police officers shared cigars with passing fans, and some dudes even made it rain with $1 bills for some reason. 
As the night went on, things got a little weird. A man with a didgeridoo nearly got into a shoving match with a cop after refusing to stop playing it in an area the police were attempting to clear out. I walked by a man pissing in the middle of the street, as embarrassed passers-by attempted to avoid eye contact. And a man proposed to his girlfriend, who happily accepted while clinging to a half-empty bottle of Olde English. 
Eventually, reinforcements arrived to break up the crowd, but fans remained on the streets well into the night. 
It's crazy to think that this was just the impromptu pregame before Wednesday's Super Bowl Parade. But if Sunday night was any indication, it might just end up being the biggest and wildest championship parade in American sports history. Pray for Philadelphia and the safety of its remaining street poles.