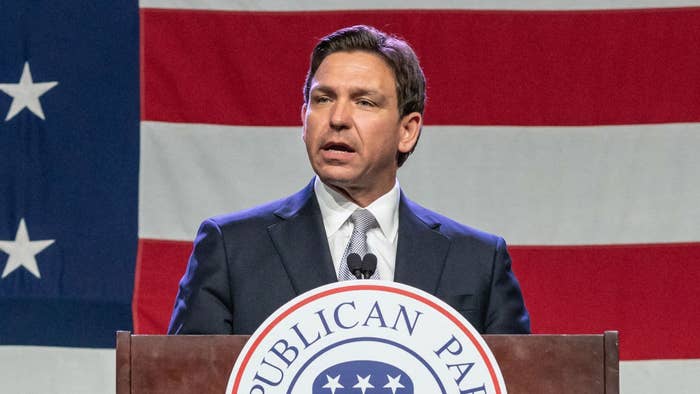 Florida Governor Ron DeSantis has taken aim at the National Basketball Players Association's (NBPA) recent criticism of the Orlando Magic donating to his campaign.
On Friday, DeSantis took to his Twitter to address the outrage after the Magic donated $50,000 to a pro-DeSantis super PAC, Never Back Down, in late June. In his tweet, DeSantis took a shot at the NBA's "protests" and partnership with China.
"It appears the NBA took a break from protesting our anthem and bending the knee to Communist China to chirp about my policies," DeSantis wrote on Twitter. DeSantis' tweet arrived after the NBPA released a statement on Thursday criticizing the Orlando Magic donation and claimed it was "alarming."
"A political contribution from the Orlando Magic is alarming given recent comments and policies of its beneficiary," the statement said. "NBA governors, players and personnel have the right to express their personal political views, including through donations and statements. However, if contributions are made on behalf of an entire team, using money earned through the labor of its employees, it is incumbent upon the team governors to consider the diverse values and perspectives of staff and players."
A spokesperson for the Orlando Magic clarified that the team didn't donate the money to his White House campaign but was a gift instead.
"To clarify, this gift was given before Governor DeSantis entered the presidential race. It was given as a Florida business in support of a Florida governor for the continued prosperity of Central Florida," Joe Glass, chief communications officer for the Orlando Magic, said.
New Orleans Pelicans player Larry Nance Jr. also took to Twitter to call out the team for supporting someone who believes slavery was a benefit for the Black community, despite the Magic player roster being predominantly Black.
"So the Orlando Magic, who have a majority black roster, a black head coach, and a black GM decided it was a good idea to support a man that claims that slavery had personal benefits for the enslaved?" he wrote.
In recent months, DeSantis has implemented contentious laws in the state of Florida, which include prohibiting diversity and inclusion programs at public colleges. In May, the polarizing republican announced his plans to run for president.