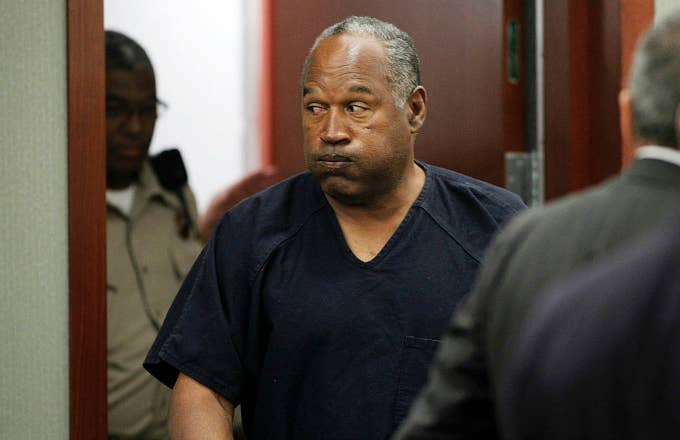 O.J. Simpson exists in a space where you could hear nearly any wild story about him and think to yourself, "Well, I can't totally rule it out." Just this week, in fact, a story emerged that he almost lost out on his chance at parole because he ate a stolen cookie in prison.
An even more ridiculous tale came to light after Cookiegate was averted. The rumor starters at the Daily Mail suggested Simpson's parole was indeed still in jeopardy, due to a primal urge he had while in prison. They claimed a different sort of juice was loose, citing prison sources who accused Simpson of being caught masturbating in his cell by a female corrections officer.
Not satisfied with relying on this source, TMZ did some investigating and got in touch with law enforcement sources of their own. And for those of you rooting for Simpson's parole, there's good news—they say the event in question never happened.
The prison where Simpson is being held, Lovelock Correctional Center in Nevada, even released an official statement on the matter, if you can believe it.
"It is against Nevada Dept. of Corrections policy to release inmate disciplinary history to the public," Lovelock said in the statement. "It is also against policy to release inaccurate information. No official from our department would have released the information in question."
And because you're all curious, TMZ insists their sources have said there's not technically a rule against masturbating at Lovelock, as long as you aren't just whipping it out whenever you please. They're running a prison, not a medieval torture chamber.
All these insane stories only serve to heighten the anticipation for Thursday's parole hearing, where Simpson will find out whether he can walk free later this year. Several national television outlets will broadcast the hearing live, including ESPN, so you can follow Simpson every step of the way. Grab yourself a cookie or two for the occasion.