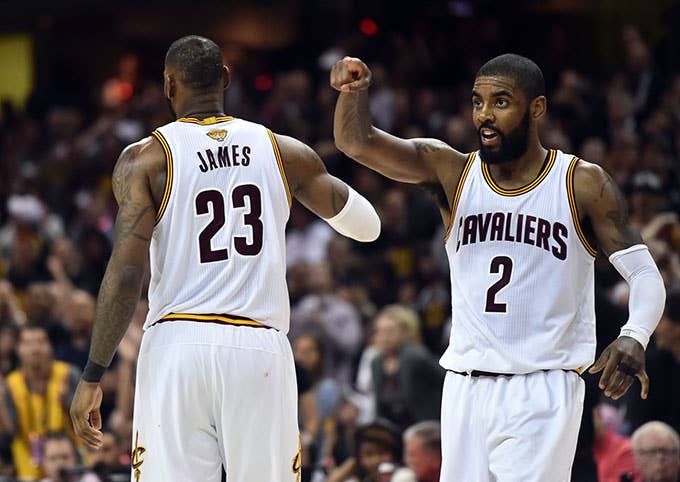 Kyrie Irving'sdesire to get out of Cleveland could have a dramatic impact on the future of the Cavaliers, particularly because they're in an impossible spot with regards to the trade market. A max-level player in the prime of his career is insanely valuable, but few teams are looking to make moves this late in the offseason, especially after a flurry of trades and signings early this summer.
The source of the leak is a point of great debate right now, and if you ask Stephen A. Smith, Kyrie Irving's camp believes the leak comes from a particularly powerful source: LeBron James himself. Here's what he said during a television appearance on Sportscenter over the weekend:
"According to my sources, they believe LeBron James had everything to do with news getting out that Kyrie Irving wants to be traded, because Kyrie Irving and his representation and others met with the Cavaliers a couple weeks ago, and not a word got out until recently."
On the surface, the logic appears pretty faulty. Why would LeBron leak anything regarding Irving wanting to get away from him? It would appear to have two extremely negative consequences for Cleveland, diminishing Irving's value on the trade market and raising questions about the desirability of coming to Cleveland to play with LeBron.
But if you put your conspiracy hat on, could it be LeBron trying to set the stage for larger moves? In a report on Saturday from ESPN's Adrian Wonjarowski, he mentioned there's a "growing verdict": LeBron will pursue a move to the Los Angeles Lakers next offseason.

If that's indeed the case, LeBron could be trying to garner better PR on his way out the door. There have already been reports this offseason about his disappointment regarding the instability of Cleveland's front office, and leaking that one of his co-stars had a foot out the door—regardless of if Irving gets moved or not—would allow LeBron to retain some support if he chose to leave what looks like a chaotic situation from the outside.
Beyond Stephen A. Smith's reporting, there are also hints that people who are friendly with Irving believe LeBron is trying to be the puppet-master here. A Compton socialite who goes by the name Wackstar on social media appeared to fire some shots at James on his IG story, accusing LeBron of lying to the media.
This shouldn't be taken as direct proof, but there is at least some friendly connection between the California native and Irving. Our friend Wackstar has shared pictures of he and Irving chatting on FaceTime in the past, in addition to shots of him alongside both Irving and James.
After the backlash following his move to Miami, there's no doubt James learned a lesson about the importance of controlling the narrative. He did that masterfully when he wrote a letter announcing his return to Cleveland a few years ago, and he could be making some serious chess moves if he is in fact pushing these leaks forward.
But that seems like a pretty silly move for someone who doesn't have a lot of years left in his basketball life. Would he really go out of his way to create more instability for a team that doesn't need it, shedding one of the precious years he has left? He would be decimating Irving's trade value and likely throwing away whatever shot the Cavs have to compete against the Warriors juggernaut, just to come out cleaner in the event that he walks. I don't think I buy that he would do that, even if he's dead set on an L.A. move.
Either way, expect this story to continue raging on until some sort of conclusion is reached. It's hard to believe a team that appeared in three straight Finals together is in such disarray, though at the end of the day, LeBron tends to thrive within the chaos. 
Send all complaints, compliments, and tips to sportstips@complex.com.