While it was originally announced that the Season 2 premiere of VICE TV's Dark Side of the Ring—which is a two-hour episode on the Chris Benoit murder-suicide tragedy that rocked the world of professional wrestling—would air at 10PM on Tuesday, March 24, VICE actually dropped the first part of this episode earlier today on YouTube (you can watch it above).
In this premiere episode, you get the set-up for the horrific downfall that befell the Benoit family. From his rise as a pro wrestling superstar in Japan through stints in the WCW and WWE, viewers get to see how Chris Benoit and Eddie Guerrero became friends, how Chris and Nancy met and eventually married, and how these tragic situations lead to the disturbing end of the lives of Chris, his wife Nancy, and their young son Daniel. Featured in the episodes are those closest to Chris and Nancy, including Eddie Guerrero's widow Vickie, his nephew Chavo Guerrero, Nancy's sister Sandra and son David, as well as former AEW World Heavyweight Champion Chris Jericho, Jim Ross, and Dean Malenko.
We've run through Part 1 of this episode, and wanted to share some of the biggest takeaways from it; from how important pro wrestling was to Benoit to how devastating Eddie's death was, here are the biggest takeaways from the first part of the Chris Benoit episode of Dark Side of the Ring.
"His first job was wrestling, and his last job was wrestling"
That's a quote from Chris Jericho, who grew up watching Chris Benoit on Canada's Stampede Wrestling federation; for guys of Jericho's size and stature, Benoit was a huge influence and more than likely an inspiration. He showed them that you didn't have to be Hulk Hogan to put in work in the squared circle. Jericho shared that the only job Benoit ever had was pro wrestling; he never received a paycheck for any other profession. From high school to his death, his passion was wrestling.
Benoit would punish himself for messing up a move
Jericho also shared that, during one non-televised match he had with Benoit, Benoit messed up how he took a spin-kick during a match, and Benoit "felt like he took it the wrong way," and that "he felt like he exposed the business." Later on, he found Benoit in the back making himself do 500(!) squats because of this minor mistake he made in the ring.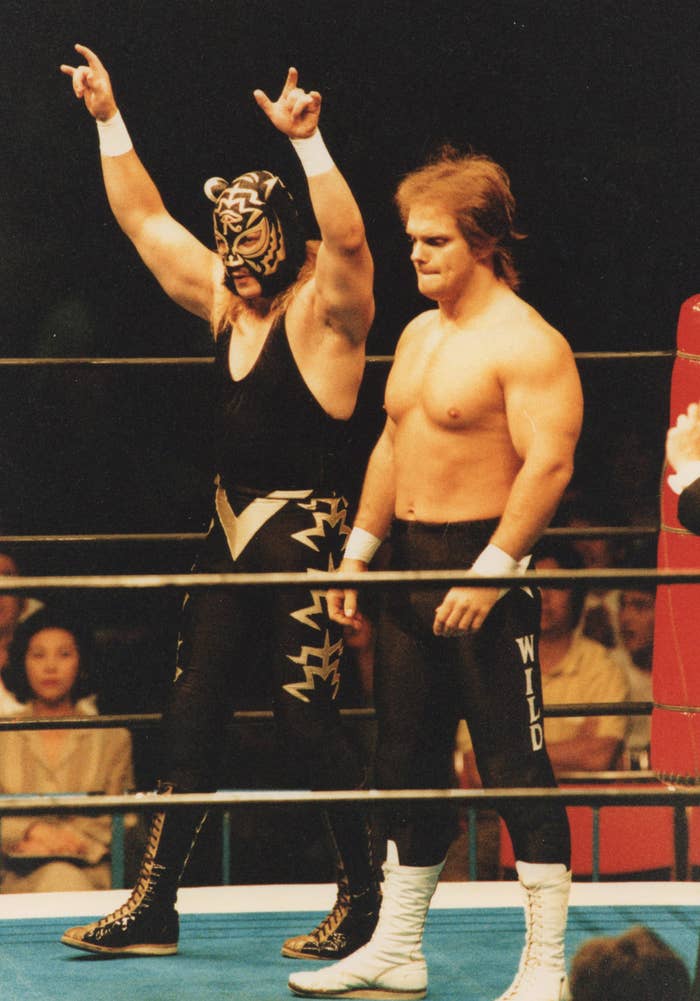 Chris Benoit and Eddie Guerrero met in Japan
Two of the most acclaimed performers at the time, Benoit and Guerrero met while they were both working in Japan (Eddie was wrestling under a mask as the Black Tiger), and they'd really tear into each other in the ring. At first, Eddie's widow Vickie said Eddie thought Chris was a "prick," but their work was impressive and, again, inspirational; Eddie was Black Tiger, Chris was Wild Pegasus, and Jericho says that's why he called himself "Lionheart" back then, to emulate their style. This dedication to the sport is what fueled Eddie and Chris' friendship.
Chris met Nancy during their time in WCW
In one of the most infamous moments in pro wrestling during the '90s, Kevin Sullivan, who was married to Nancy (who was then working as one of the most ruthless managers in the industry, simply known as Woman), was also the "booker," aka the guy who was writing the storylines for feuds taking place in a federation. Sullivan is the one who came up with the angle of Chris Benoit and Woman getting close as characters on-screen; their on-screen affair became a real-life affair, with Nancy eventually leaving Kevin Sullivan to be with Chris Benoit, who became her future husband. The joke was that Sullivan had "booked his own divorce," but like Nancy's sister Sandra noted, it sounds funny until you realize that it isn't at all, especially when you realize that there were deeper issues between Kevin and Nancy that drove her to seek aid from Chris, who was having problems in his own marriage at the time.
The death of Eddie Guerrero really broke Chris Benoit
One of the most heartbreaking moments of the episode was Chavo Guerrero recounting how he found his uncle Eddie had died. Chavo shared that, for some time, Eddie would be passing out while in the middle of conversations with people. During a stay at a hotel during a string of house shows, Chavo was alerted that Eddie never answered his wake-up call at the room. They had to cut the latch on the hotel room door, where Chavo had found Eddie on the floor, passed out and gurgling; Eddie passed away while he was in Chavo's arms. Word is that, while Eddie had been known to have substance abuse issues in the past, the verdict was that he hadn't relapsed; he died from an enlarged heart.
Soon enough, Chris called Chavo, unaware of the situation. When Chavo shared the news, he said Chris "wailed" on the phone. Many recounted that Chris would spend time just sobbing. He was crying during the televised tribute show and was severely broken up while talking about Eddie on-camera.
Jericho said that once Eddie passed, Chris became more of a hermit, and their relationship basically ended. Having to then fly out to Europe after Eddie's funeral as opposed to taking time off to handle his emotions didn't help. Vickie said that while he'd be at work, he'd put on a brave face, but when he was away from work, he's a broken and distant and was said to have been acting different.
Nancy wanted Chris to step away from wrestling during the last year of his life
Jericho said that Benoit told him that every time he'd enter a building, all he would say was that the last time he was there, Eddie was there. Sandra recalled that Nancy felt if Chris continued to be in this environment, it would "eventually harm his well-being."