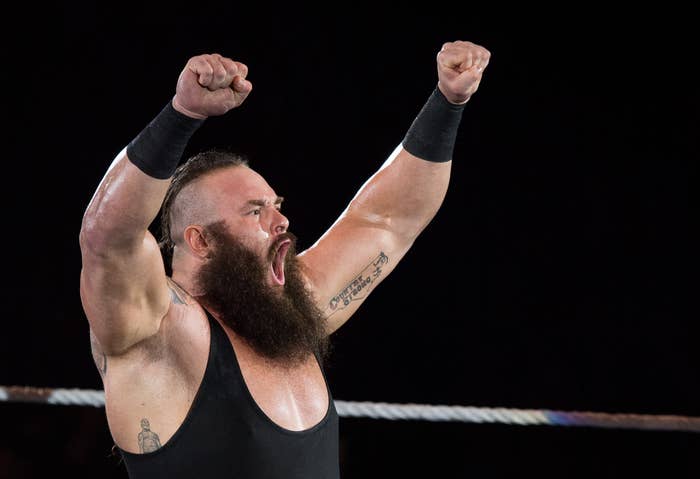 For the last four years, the WWE has been dead-set on turning Roman Reigns into The Man, aka the top dog in the sea of WWE superstars. Throughout that timeframe, there have been a number of issues from his 2016 Wellness Policy violation to general disdain from fans who felt Roman, who only started wrestling professionally in 2010, was undeserving of the massive push WWE has given him. He has the look WWE falls back on for their main star, and comes from pro wrestling lineage (he's one of many members of the Anoa'i family, which features everyone from Dwayne "The Rock" Johnson to Rikishi), so Reigns' time on the top hasn't been a matter of "if," but a matter of "when."
All of that said, in the time that Reigns' push into superstardom has started and stalled on multiple occasions, the WWE has already been cultivating their next big thing in the monster known as Braun Strowman. You may have seen him as the guy who savagely attacked Reigns during their 2017 feud, which involved Strowman lifting the ambulance that Reigns was to be transported out of the arena in, to the astonishment of the millions (and millions) of viewers across the WWE Universe.
For those who are unaware, Strowman (born Adam Joseph Scherr on September 6, 1983), is the real deal. Billed at 6'8", 385 pounds, Strowman is similar to Reigns in that they both come from a football background; where Reigns spent his-pre-WWE days playing football at Georgia Tech (then for the Vikings and Jaguars in the NFL, followed by a stint in the CFL before retiring from football in 2008), Strowman was a semi-pro footballer, evening hitting up the NFL Combine in 2007 before deciding to not pursue football as a profession. What Strowman did do was become a legit strongman.
That's from the West Cary Barbell Festival of Power Strongman Contest back in October of 2011, which based on the YouTube description, Strowman "easily" won. He won the Arnold Amateur Strongman Championships in March of 2012, and moved on to placing fifth overall in the SCL North American Championships that July. Strowman shared with WWE.com that it was Mark Henry (a two-time Olympian, with a background in weightlifting, powerlifting, and strongman competitions) that extended him the offer to try out for the WWE in 2012: "I'd been a huge fan of his for a long time and had met him a couple of times through my strongman endeavors over the years," Strowman said. "To have him approach me and offer me a tryout with WWE was a dream come true."
Strowman didn't start out beating Reigns like he stole something, though; he didn't even start out as "Braun Strowman." After signing a contract with the WWE in 2013, his original name was to be "Braun Stowman," which was an homage to Milwaukee Brewers left fielder Ryan Braun, and before he became a member of Bray Wyatt's mysterious stable known as the Wyatt Family in the summer of 2015, he made some random appearances on WWE live shows, as well as a member of the "Rosebuds" (he can be spotted around 1:26 turning up with the Express).
Strowman made an immediate impact when he officially debuted on the main roster in 2015. While the Wyatts were known to rock sheep masks, Strowman took it up a notch, rocking an all-black sheep mask. While he was nothing more than the enforcer for the Wyatts during their numerous feuds throughout 2015, it was during the 2016 Royal Rumble where, in the words of wrestling journalist Dave Meltzer, the WWE put Strowman over as a "monster" during the match. With the Royal Rumble being a 30-man elimination-style match, Strowman was in pure beast mode, eliminating five superstars on his own, only to be stopped by the brute Brock Lesnar. Later that year, after being moved away from the Wyatts to the WWE's Raw brand as a solo superstar, Strowman really started to dominate the talent thrown at him, sometimes defeating two competitors at once.
The above match was a thing of beauty, especially if you just want to see a mountain of a man beat the piss out of people. Not too many WWE superstars have the ability to destroy one guy while another is hanging on their back. Strowman was whipping his opponents around like rag dolls, and even took flight, delivering a massive dropkick to both of his opponents. This run is what truly set Strowman up for his impressive 2017, one that has made him a favorite of wrestling fans, even when they are supposed to boo him.
The beauty of Strowman's current run is very simple and basic: he's the biggest guy in the room, and doesn't have to say much before beating your ass. He's already a star when he walks into the room based on nothing but his stature; he screams a few words and then does what he came there to do. It's awesome to see, especially when he's allowed to be the raging monster that can pick up a whole ambulance without a care in the world, or beats a man with an array of musical instruments.
On April 8, 2018, Roman Reigns will challenge Brock Lesnar for the WWE Universal Championship at WrestleMania. This will be his third championship match at the WWE's biggest pay-per-view of the year in the last four years. Meanwhile, Strowman will be facing Cesaro and Sheamus for the WWE Raw Tag Team Championship with a partner to be determined. That's awesome for Braun, and whoever might be his partner, as they will get immediate fame just being next to such a hot superstar in the WWE. Ask the WWE Universe if they'd prefer Strowman in Reigns' spot at 'Mania 34, and many would say yes. And sure, there are pros and cons in making that decision, but the evidence is clear: Strowman's the monster people can't wait to tune into every Monday night, and post-'Mania, Strowman's path in the WWE should lead him right to the Universal title. If not, we're afraid for anyone in his path.