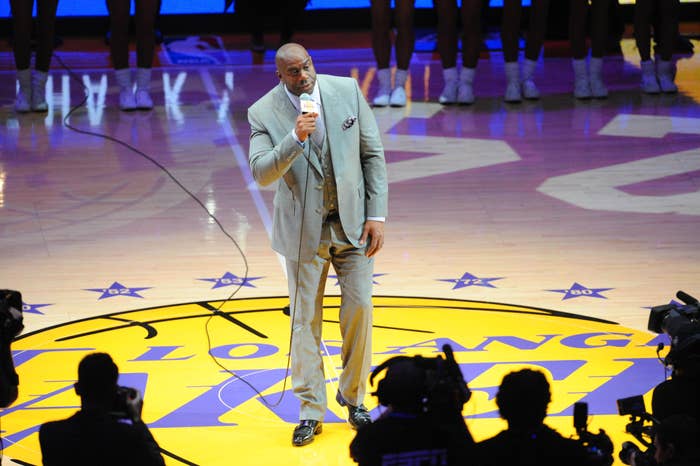 The 2018-19 Los Angeles Lakers have been an abysmal disgrace. There's no clean way to say that. As one of the people who was ready to die on the hill of a LeBron James-led Los Angeles Lakers team at the beginning of this season, I watched the Lakers with more fervor than I had in recent years. I, like most people, had rooted interest in this Lakers team and it's had more to do with No. 23.
But what I really wanted to see was how Magic Johnson was going to fuck it up.
Now far be it for me to ever hate on another black man getting paid and put in charge, and when it comes to black entrepreneurship, fewer people have done it better and for longer than Earvin "Magic" Johnson. He's an incredible businessman, a basketball legend, and an American icon. However, when it comes to actual basketball activities that don't have to do with playing? Eh…not so much.
On the court, the five-time NBA champion, three-time league and NBA Finals MVP has a resume that is nearly untouchable. However, that luster of being a Los Angeles Laker legend has blinded many in Lakers Nation this fact: anytime he's gotten back around the organization in any role he's turned sugar into shit. In the 1993-94 season, Johnson returned to the NBA as the head coach of the Lakers at the urging of then-owner Jerry Buss. The Lakers had a spark when he took over, but then it turned into garbage—Los Angeles finished the season on a 10-game losing streak, and Johnson's final record as a head coach was 5–11. Trash.
Johnson has dropped some of the most memorable dimes in basketball history, but his most memorable pass might be the buck that he's given to LeBron James. And, frankly, LeBron deserves better.
Away from hoops, Magic had the Midas touch. His ventures as an entrepreneur were...well, Magic. Magic Johnson Theaters, Starbucks, a producer of Janet Jackson's Velvet Rope Tour, his phenomenal knack for real estate investments, and his ownership stake in the Los Angeles Dodgers, LA Sparks, and LAFC have all largely been successes. The winning streak ended on Feb. 21, 2017 when Johnson replaced Jim Buss as the President of Basketball Operations of the Los Angeles Lakers.
After a pretty unspectacular run as an NBA analyst for ESPN, filled with pretty safe and tame takes and unabashed Laker loyalty, Magic returned home to seemingly right the ship of the only NBA franchise he's ever known. It's been the opposite of smooth sailing. Since taking over the league's most glamorous franchise he's made many mistakes: He jettisoned current NBA All-Star D'Angelo Russell; let a budding star in Julius Randle walk for next to nothing; let the lure of Los Angeles and easy marketing cloud his judgment with the No. 2 overall pick in 2017 by drafting Lonzo Ball out of UCLA instead of the superior talent in De'Aaron Fox; used the same Hollywood arrogance in assuming Paul George would come to Los Angeles instead of trading for him when they had the chance to; wasted one-year deals on non-factors like Lance Stephenson, Rajon Rondo, Michael Beasley, and JaVale McGee; and most recently nuked the psyches of the team's young core by dangling all of them for Anthony Davis in a trade. Damn, remember those young fun Lakers? It almost seems like years ago at this point. Remember when Ball, Brandon Ingram, and Kyle Kuzma would playfully roast each other on Instagram? Remember when they were the fun baby Lakers that would not just have fun on the court but off the court as well?
But the most egregious sin that Magic Johnson committed this season as an NBA executive is that he's regulated the Los Angeles Lakers to Cleveland Cavaliers level of incompetence by wasting a season of LeBron's prime. Say what you want about Cavs owner Dan Gilbert and the brass in Northeast Ohio, but if he was overseeing a LeBron-led team into "not trying for Zion," people would call for his head. Fans have called for his head for less! It's very easy to blame this lost season of the Lakers on James—to whom much is given much is expected—but this lost season is all on Magic.
When LeBron James was gleefully speaking out about trading his young nucleus in order to acquire Davis, the President of Basketball Operations should've nipped that in the bud. Sure, LeBron has the power, but Magic is in charge. LeBron's openness to trading his young crew did nothing but drive down the value of each player that they wanted. LeBron came to Los Angeles and looked into Johnson's eyes as an equal and that was when Johnson lost the team. If you're going to be the man in charge, be the man in charge. If you want to be buddy-buddy with your star free agent signing, do that…but not as the President of Basketball Operations.
Johnson's feet should be held to the fire more than anyone in Los Angeles. More than LeBron, more than Ingram and Kuzma, more than Ball, more than coach Luke Walton, more than general manager Rob Pelinka, and owner Jeanie Buss.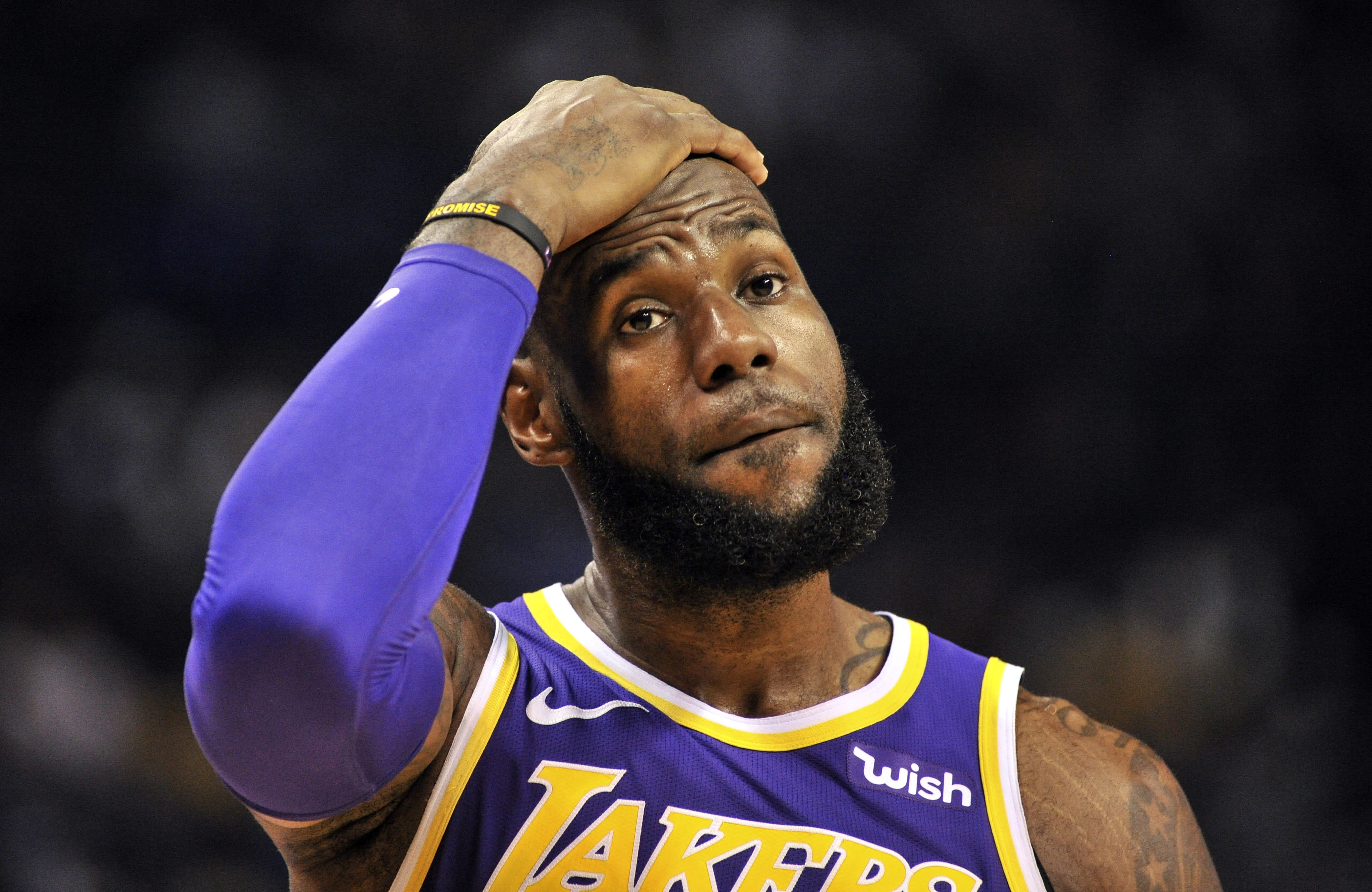 Magic has fucked things up. And it might be too late to right the ship not only for this season, but for seasons to come. In Lakerland pre-LeBron, the Lakers were the most fun and young team in the entire league. The young core was "Showtime" in the Summer League. Roll your eyes all you want at that, but the combination of Josh Hart, Kuzma, and Ball looked like they were going to be a special for years to come. Moreover, the Summer League success carried over into the regular season. Big Baller Lonzo was ready to be the next great point guard to be handed the keys to the Lakers. Ingram was getting Kevin Durant comparisons coming out of Duke. Now, Lonzo can't stay healthy, Ingram is suffering from a possibly career-altering injury shortly after starting to reach his potential, and LeBron's wasted one year of his prime. Never in the history of the NBA has a player put up 28 points, 8 rebounds, and 8 assists a game and had himself on the outside looking in at the NBA Playoffs. Not Mike, not Kobe, not anyone.
There's only so much one man can do, and having a player this good not compete for a championship is a failure of upper management. Period. Magic chose "Showtime." Magic chose names. Magic chose glitz, glamour, and the allure of L.A. over the one thing that got him all of those things in the first place: basketball. The young nucleus of the Los Angeles Lakers once seemed like the most surefire futures in the entire league, and assuming that your future is secure is a folly that many teams have fallen for. The historic Lakers are no different. Franchises like the Kings, Thunder, and yes, the Cavaliers and Heat have committed the front office cardinal sin of assuming future success is guaranteed. There's no quick fix in the 2019 NBA, and LeBron and the Lakers knew this going into the season. Even if LeBron did usurp the locker room with some outlandish trade demands, a respected front office leader would've showed leadership and righted the ship before it got out of control. I mean, isn't that your job, Magic?
All LeBron James has done is what he's always done when it comes to on-the-court production. This embarrassment of a season has reduced The King to load management restrictions when he really should be revving it up for the playoffs. Johnson has dropped some of the most memorable dimes in basketball history, but his most memorable pass might be the buck that he's given to LeBron James. And, frankly, LeBron deserves better.