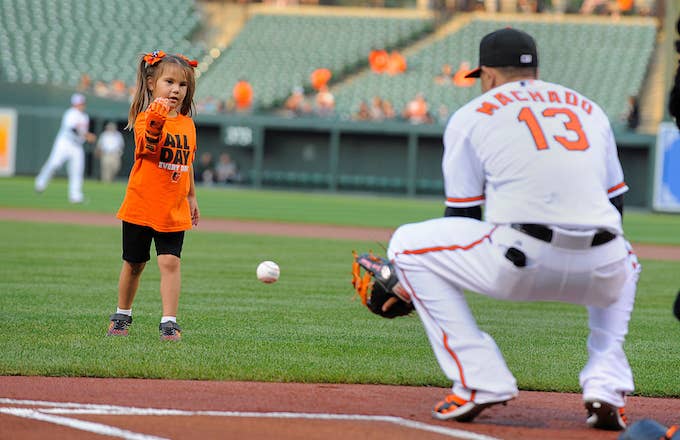 Sometimes, it's nice to remember that good things really do happen to good people all the time. Take, for instance, the case of Hailey Dawson, a 7-year-old girl who was born with Poland Syndrome, a rare disease that caused her to be born without three middle fingers on her right hand. According to a recent profile on her inSportTechie, Hailey is "proud of the way she looks" and "will often present her little hand to high-five her friends, hold their hands or to wave to people." Hailey is also not one to give up, as she "will often try to complete a task with her right hand before relying on help."
Hailey has also never let her hand get in the way of her true passion: baseball. Hailey taught herself to hold and throw a baseball with her custom 3D-printed hand, which was built by the University of Nevada Las Vegas engineering department and is held together with fishing line. And she has put her skills on the diamond to good use by throwing out the first pitch prior to a few baseball games.
Hailey threw the first pitch at a baseball game for the first time a few years ago before a UNLV college baseball game. She has since thrown the first pitch at an Orioles/Athletics game in Baltimore in August 2015 and at a Nationals/Rangers game in Washington, D.C. just last month.
And she has a goal. She wants to throw out more first pitches in all of the various MLB parks around the country. It sounds like that goal might be attainable, too. As soon as word started to spread about Hailey's story this week, a number of MLB teams, in addition to several minor league clubs and college squads, started inviting Hailey to come to their stadiums to throw the first pitch out before games.
Looks like we need to get you to Fenway, Hailey!

Just DM us with your info and we're in! ⚾️
We would love to have Hailey at AT&T Park! Please DM us her info.
Sounds great! Can you DM us Hailey's info, so we can reach out?
We'd LOVE to have Hailey at CBP!

Can you please DM us her information so we can reach out?
We are on board! Send her our way!
We would love to have Hailey visit us! Please DM us her info!
Absolutely! Please DM us Hailey's info. so we can get in touch with her.
Can you make it up to Minnesota, Hailey? DM us your info and we will make it happen!
We love this! Can you please DM us Hailey's info so that we can set something up? 👏👏👏
Hey Hailey! How about throwing out a first pitch at Raley Field? You can start here and cover the minor league circuit too 😎

Please DM us!
That's a strong start, but let's hope Hailey's dream of throwing the first pitch for every MLB team comes true sooner than later. It would add another layer to this already amazing story.