NBA Fans Are Convinced They Found Ref Eric Lewis' Burner Account
A person who identified themselves as Lewis' older brother has since claimed ownership of the Twitter account.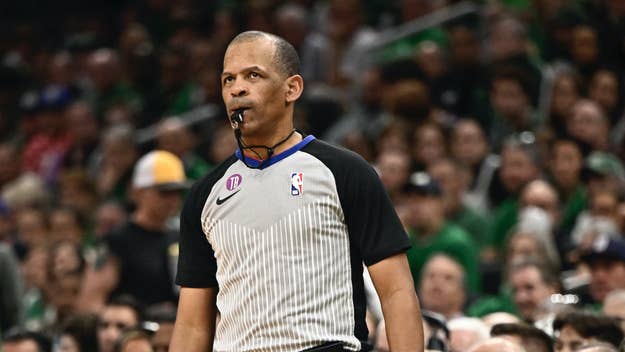 David Dow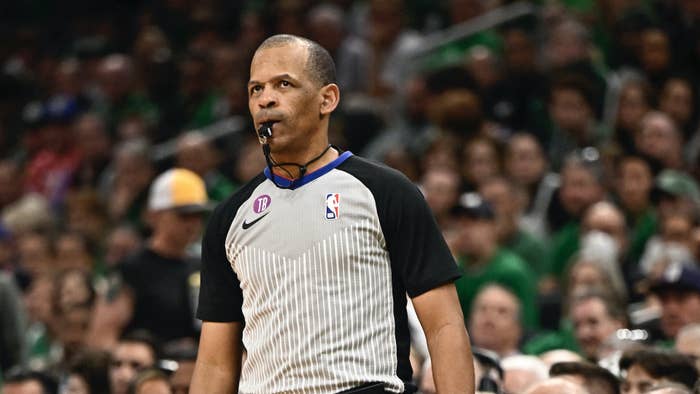 Another day, another NBA burner account scandal.
According to sports reporter Marc Stein, the NBA has launched an investigation into the alleged Twitter activity of Eric Lewis, a 52-year-old referee who has worked in the league for 19 seasons. The fiasco seemingly began Thursday when Twitter user @PabloEscoburner posted a tweet thread that purportedly exposed Lewis' burner account, @CuttliffBlair.
The user posted screen recordings that highlighted the likes and replies of the alleged burner that was created back in 2015. Most of the interactions were highly favorable to Lewis and frequently defended him against criticism, most centering on the controversial calls he made during the Lakers' 2023 NBA Playoff games.
Since the burner allegations began swirling, the @CuttliffBlair account has gone from zero followers to more than 300; however, the person behind the profile has deleted all of their tweets.
According to NBA profile, Lewis has officiated about 1,100 NBA matchups, including six NBA Finals games. While it would be difficult for an average fan to keep track of Lewis' extensive referee record, @CuttliffBlair would frequently demonstrate deep knowledge — suspiciously deep — on Lewis' career. Case in point: One Twitter user wrote LeBron James 0-82 when Lewis officiated; the purported burner replied, "Um memphis game 1," referencing the Lakers' 128-112 win over the Grizzlies in Game 1 of the Western Conference's first round.
As the burner allegations began mounting, a person who claimed to be Lewis' older brother said he was the individual behind @CuttliffBlair.
"Pablo, This is MARK Lewis. Right family (older brother)," a tweet read. "I'm sorry that I put E, in this situation, but this ain't Watergate. You're right, the account WILL be coming down. Twitter should not be this vindictive. Sorry to inconvenience you."
Stay tuned as more information becomes available