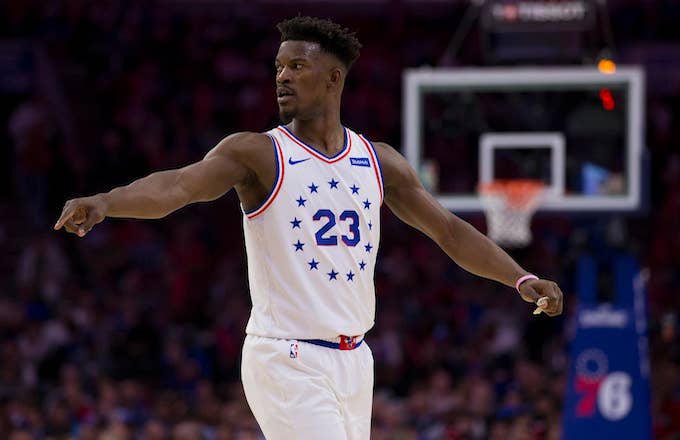 UPDATED 07/01/19 5:25 p.m. ET: Jimmy Butler to the Heat is a done deal, ESPN's Adrian Wojnarowski reports.
Jimmy Butler deal is complete with Heat -- with Clippers added as a fourth-team in trade that also includes Philadelphia and Portland, league sources tell

@ZachLowe_NBA

and me.
Maurice Harkless is on his way to Clippers in the deal, league source tells ESPN.
The Sixers get Miami's Josh Richardson in the deal, too. And ... Jimmy Butler gets his four-year, $142M max deal.
So the Clippers get a future first-round pick to take on Harkless, who is another starting level forward with significant playoff experience to surround -- potentially --- Kawhi Leonard.
In other news, NBC Sports' Tom Haberstroh reports that Butler turned down a 5 year, $190M max contract with the 76ers.
I'm told that Jimmy Butler did receive the 5-year full max offer from Philly and he turned it down to go to Miami.

https://t.co/RqmYcHLD8c
See original story below.
The Miami Heat are close to acquiring Jimmy Butler in a sign-and-trade deal with the Philadelphia 76ers, ESPN's Adrian Wojnarowski reports. The 76ers will reportedly receive Josh Richardson in exchange for Butler, who has agreed to a four-year, $142 million max deal, according to Shams Charania of The Athletic. 
Miami is finalizing a sign-and-trade with Philadelphia to acquire Jimmy Butler, league sources tell ESPN.
Sources: Jimmy Butler is signing a four-year, $142M maximum contract with the Miami Heat.
Butler has been hinting at the possibility of joining the Heat these last two days on Twitter. 
Earlier today, the 76ers agreed to terms to a five-year, $180 million with Tobias Harris, signaling that either Philadelphia preferred keeping Harris, or the Sixers' front office knew that Butler was headed elsewhere.  
A sign-and-trade deal involving Butler is a huge win for the Sixers as the team finds a way to improve their roster by adding Richardson, who scored a career-high 16.6 points per game last season.
Meanwhile, the cash-strapped Heat were able to win the Jimmy Buckets sweepstakes the only way they could.