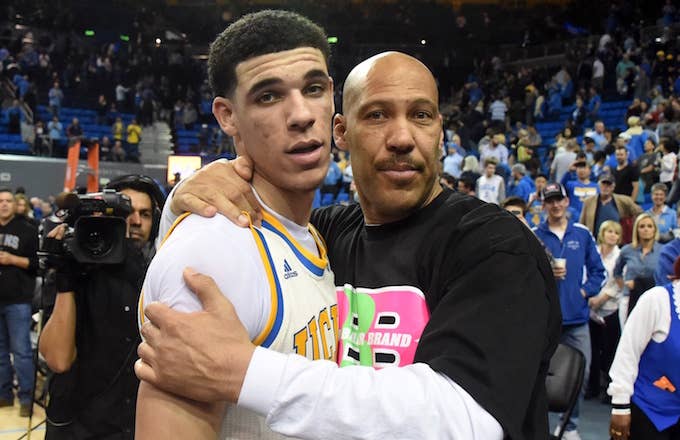 LaVar Ball, father of UCLA Bruins basketball freshman standout Lonzo, has really gone too far this time—and that's saying a lot. After all, this is the same guy who said that his son should go No. 1 in this year's draft because he's "earned it," and claimed Lonzo is already better than Steph Curry.
So, what did he say that could possibly surpass those over-the-top statements? "Back in my heyday, I would kill Michael Jordan one-on-one," he said, in an interview with USA TODAY Sports. "I would just back [Jordan] in and lift him off the ground and call a foul every time he fouls me when I do a jump hook to the right or the left. He cannot stop me one-on-one. He better make every shot 'cause he can't go around me. He's not fast enough. And he can only make so many shots outside before I make every bucket under the rim.''
USA TODAY Sports points out that, before transferring to Cal-State Los Angeles in pursuit of more playing time, Ball averaged 2.2 points and 2.3 rebounds per game during the 1987-88 season with Washington State. If these are type of numbers he put up in his so-called "heyday," there's no way in hell he's beating Jordan. But hey, LaVar is all about trying to speak things into existence. Case in point, LaVar also wants either Nike, Adidas or Under Armour to approach him with a marketing deal for his three sons—Lonzo, LiAngelo, and LaMelo—worth $1 billion. 
"A billion dollars, it has to be there,'' Ball said. "That's our number, a billion, straight out of the gate. And you don't even have to give it to me all up front. Give us $100 mil over 10 years.'' If anyone from Nike, Adidas or Under Armour want to save that MJ laughing GIF for later, go ahead.
It's great that Lonzo, LiAngelo, and LaMelo have such strong support from their father, but there comes a point where you need to tell LaVar to chill out. That time is right now.