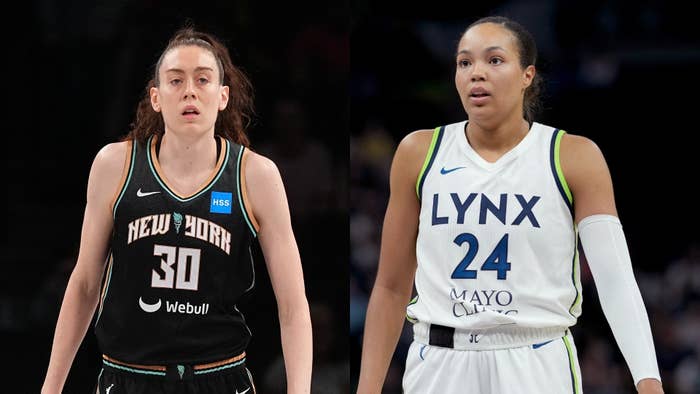 Breanna Stewart and Napheesa Collier are teaming up to start a women's basketball league that would allow for WNBA players to remain in the United States, as opposed to playing overseas during the offseason.
As reported by ESPN's Ramona Shelburne, the league, known as Unrivaled, would consist of six teams playing 3-on-3 and 1-on-1 in Miami from January through March.
"It's the ability for players to stay home, to be in a market like Miami where we can just be the buzz and create that with the best WNBA players," Stewart told ESPN. "We can't keep fighting [the WNBA's prioritization rule]. It is a rule that takes away our choices, which should never be a thing, especially as women, but it is still a rule."
The WNBA's prioritization rule forces players to report to their respective teams by the start of training camp in order to be eligible for the upcoming season. While the prioritization rule was approved by team owners and the players' union in the latest collective bargaining agreement, which was signed in 2020 and runs through 2027, Stewart spoke out against the measure.
"To be able to play overseas at UMMC Ekaterinburg, where basketball is very valued, we're treated really well and able to make a lot of money, it's just hard for me," the 2018 league MVP told reporters last year, per ESPN. "With the prioritization, you're cutting off one of my sources of income and not substituting it."
According to ESPN, Stewart earns $1.5 million per year playing overseas, while the supermax salary for a WNBA player this season was $234,936.
Stewart and Collier are looking to provide the players in the Unrivaled League with pay comparable to their WNBA contracts through private funding and sponsorships.
The prioritization rule was put forth by the WNBA after several players reported late to training camp and a dozen missed the start of the season last year.
Brittney Griner had also been playing for UMMC Ekaterinburg during the WNBA offseason over the last few years but vowed to never play overseas again following her arrest after "vape cartridges" containing hash oil were allegedly found in her luggage at a Moscow airport.
Griner pleaded guilty to an illegal crossing of a customs border with an illegal narcotics charge and was sentenced to nine years in prison. She was released in Dec. 2022, as part of a prisoner exchange between the United States and Russia.