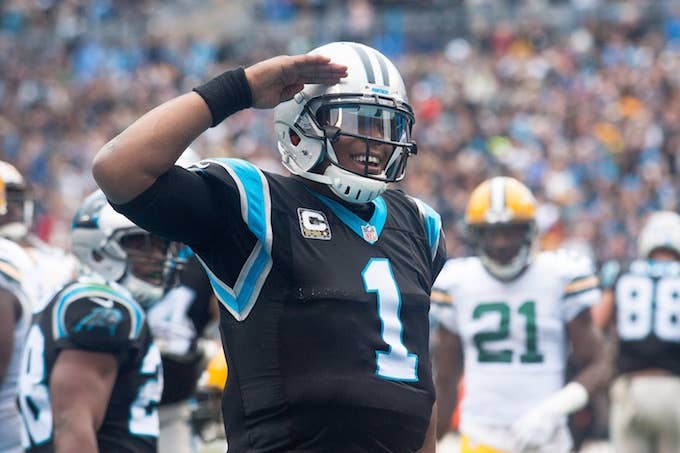 Green Bay Packers fan Mike Dobs rolled up to Bank of America Stadium in Charlotte Sunday afternoon, as many Packers fans did, with a sign in tow. Dobs, whose seats were in the corner of one of the end zones, hung a sign over the wall. It read "North Carolina Cheesehead," and displayed the state of North Carolina covered in green with the Packers logo smack dab in the middle of it.
Well, Carolina Panthers quarterback Cam Newton wasn't having it, and during pregame warmups ran up to the sign, tore it off the wall and handed it off to a staff member.
"It was a Green Bay banner in Bank of America stadium," Newton said after the game. "It just doesn't match. It's just a respect thing."
Dobs, apparently, was not happy about that at all. According to the Fay Observer, Dobs was so upset that his sign was taken that he alerted the police in the stadium to the "theft" and also complained to Panthers' management about it. 
""I was just shocked, shocked,"  when Newton grabbed the banner out of his and his family's hands, Dobs said on Sunday evening.
Dobs apparently hangs the sign, which cost him $500 to make, in his "man room" is his house in Fayetteville, North Carolina. Dobs thinks the sign was destroyed, but said the Panthers are planning on making it up to him. I'm sure they are.
Send all complaints, compliments, and tips to sportstips@complex.com.
[Via fayobserver.com]