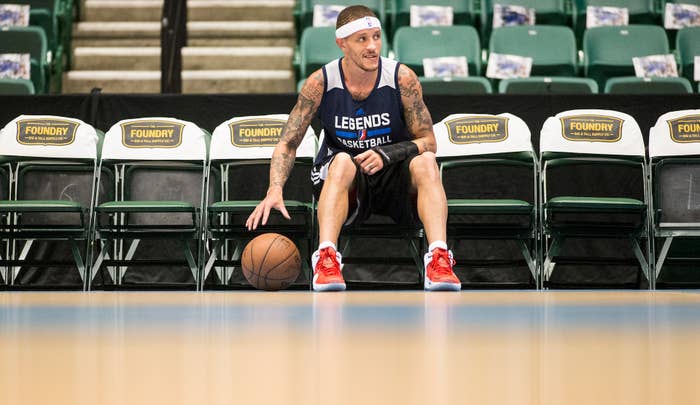 UPDATED 10/25, 3:41 p.m. ET: Delonte West's arrest last week involved homophobic slurs and claims that he was a better basketball player that LeBron James, according to bodycam footage obtained by TMZ. 
After officers say West was yelling and banging on police station doors, video shows officers pointing a taser at him and asking him to comply, before he claims to be Jesus Christ and the President of the United States, as well as says, "I was better than LeBron James, I'm better than [Michael] Jordan." Officers said they were detaining him for "open container and resisting."
See original story below.
After beginning his rehabilitation journey with the help of Dallas Mavericks owner Mark Cuban, former NBA guard Delonte West was arrested in Florida on Tuesday night for allegedly getting into a drunken altercation with Boynton Beach police.
According to TMZ, West was allegedly banging on a Boynton Beach police station's doors at around 10 p.m. when authorities asked him to stop. West reportedly had bottles of beer and vodka on him and was visibly inebriated during the exchange. Once police told the former NBA player to leave the scene and drop his bottles, West initially complied but then started a verbal argument with the officers.
West was then arrested and taken to jail, where he was released around 5 a.m. the following day.
West is currently facing charges of resisting an officer without violence, disorderly intoxication, and having an open container.
Before this unfortunate news, things were looking up for Delonte West and his well-documented recovery. At the beginning of the year, it was reported that he got a job at the rehabilitation center he previously attended.
"Update on Delonte West: West now has a job at the Rebound therapy center in Florida, which is the rehab facility he attended," Shams tweeted. "Dallas Mavericks owner Mark Cuban reunited West with his mother in September and has stayed in close contact."
Cuban came to the former Mavericks guard's aid after images of him homeless circulated on social media last year. Hopefully these latest charges are just a bump in the road to his recovery.