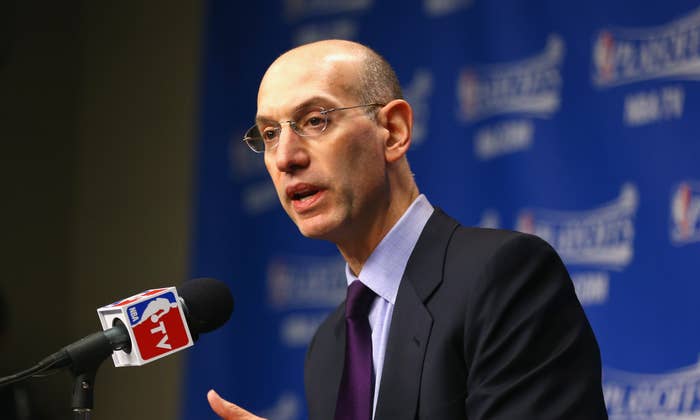 As New York City prepares to roll back some of its COVID-19 restrictions, NBA commissioner Adam Silver questioned certain aspects of the city's vaccine mandate.
While joining ESPN's Get Up on Wednesday morning, Silver said it doesn't "make sense" that unvaccinated home players can't play, alluding to Kyrie Irving in Brooklyn, while unvaccinated away players are able to participate in games in the same arena. 
"This law in New York, the oddity of it to me is that it only applies to home players," the commissioner says in the above clip. "I think if ultimately that rule is about protecting people who are in the arena, it just doesn't quite make sense to me that an away player who is unvaccinated can play in Barclays but the home player can't. To me, that's a reason they should take a look at that ordinance."
The commissioner goes on to say that while he personally believes people should be getting vaccinated and boosted, he wouldn't be surprised if the mandate was revisited and amended.
"So while, again, my personal view is people should get vaccinated and boosted, I can imagine a scenario where Brooklyn, as part of New York City, with a new mayor now who wasn't in place, Eric Adams, when that original ordinance was put into place, I could see him deciding to change along the way and say it's no longer necessary to have a mandatory vaccination requirement, as I said, particularly one that only affects home players," he added.
Irving made his season debut a little over a month ago on Jan. 5 after not playing for nearly half the season due to New York's health and safety protocols requiring players in Brooklyn to be vaccinated in order to play home games. Irving has yet to make his Brooklyn debut this season because of those mandates still being in place. This will surely become a larger issue come playoff time as the Nets are struggling to regain position in the East after recently snapping a 10-game losing streak.