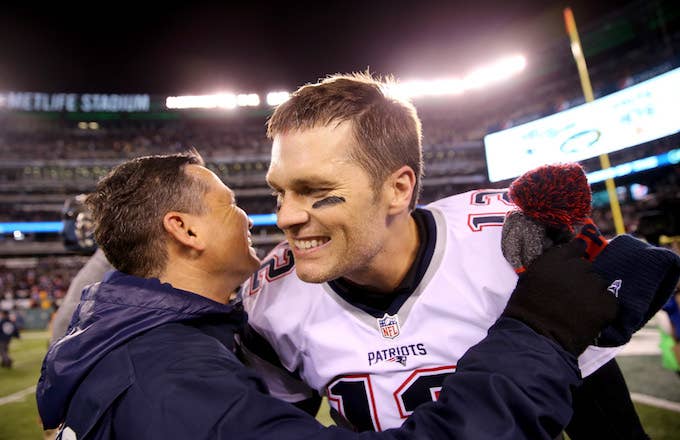 Over the past few days you may have seen grumblings about tensions brewing between Patriots coach Bill Belichick and Tom Brady's personal trainer/guru Alex Guerrero. NFL insider Adam Schefter confirmed that there was an issue last week, though he was unable to elaborate on the extent of it. Furthermore, on Monday, during a radio spot, Brady was asked about this alleged feud and characteristically responded by saying "I don't have any comment on that other to say Alex is a big part of what I do. I am fortunate to have him."
Now, the day after Monday (Tuesday, I guess), it has been reported by The Boston Globe that a few weeks ago Guerrero was banned from the Patriots' sideline. He's also had his team plane privileges revoked, and cannot work with anyone other than Brady in his team office. The Globe adds that Belichick declined to go into detail about the exact reasoning for the decision, but they did say that Guerrero (who's also Brady's business partner and the godfather to one of his sons) gained his own office next to the team locker room, and previously had credentials to stroll the Pats' sideline during home games while also flying on team charters to away games.
Back in 2013, Belichick made it clear that he trusts the advice/treatment methods of the team's training staff over that of Guerrero. Despite that, he allowed players (such as Julian Edelman and Gronk) to participate in training regimens/alternate treatment methods at Guerrero's TB12 Center, which is located just outside of Gillette Stadium.
In 2015, the organization's doctors/training staff reportedly complained to Belichick about Guerrero's expanding role with the team. In the past, Brady's partner was sanctioned by federal regulators after he incorrectly claimed to be a medical doctor, and also promoted products he said could prevent concussions and cure cancer. State investigators also looked into allegations that he practiced physical therapy without a license, though he was later cleared of that accusation.
Despite these shady charges connected to his reputation, Brady (who's still an MVP candidate at 40) says Guerrero has been a major factor in why he's still playing.