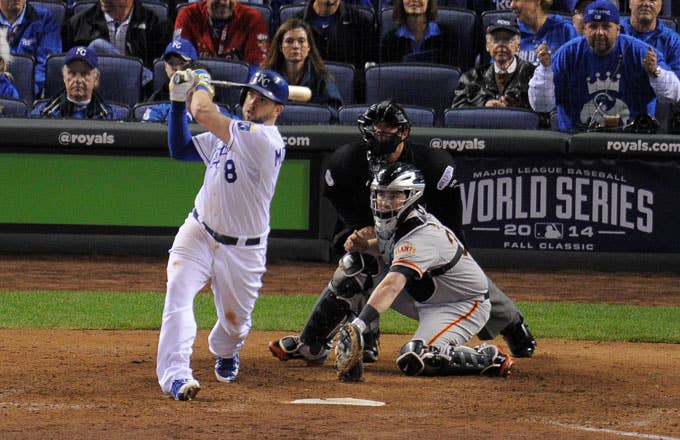 It's hard to write anything about tonight's World Series Game Six after such an uninspiring performance by the San Francisco Giants. If I were to follow their abysmal effort with a similar attempt I'd simply say: Royals win 10-0. But since a few of you might have missed the game, here's a (slightly) more emphatic write-up.
Facing elimination for the first time since their outstanding wildcard game against the Oakland A's, the Royals thrilled a packed Kauffman Stadium home crowd that was punctuated by a seven-run second inning that iced things early. The frame was full of seeing eye hits that ruined any chance of an exciting game:
And after that nobody realistically thought the Giants offense would mount a comeback. But just for good measure Mike Moustakas hit a home-run off of Giants reliever Hunter Strickland to give the Royals a double digit lead. The home run that Strickland allowed means that he's given up more home runs this postseason than Greg Maddux did in all of 1994 (which was a strike season, but it was also in the midst of the "steroid era"). Kansas City's offensive output meant they were able to relax their bullpen, while anybody (including Game One and Game Five ace Madison Bumgarner) could be seen on the hill at some point Wednesday for San Francisco.
Obviously tonight's K.C. victory sets up a winner-take-all Game Seven for tomorrow night, which is the best thing MLB could've hoped for provided the Royals were named the "Yankees" and the Giants were named the "Dodgers."