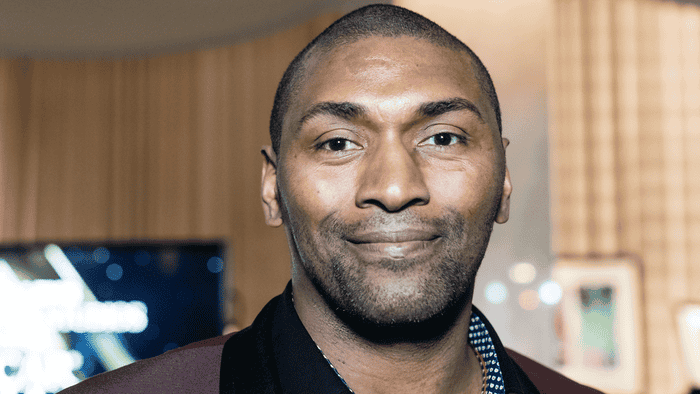 Ron Artest/Metta World Peace/Panda Friend is now officially going by a new name. This time he's dropping the World Peace, taking his original last name back, and hyphenating it with his wife's. Put simply (no, wait, confusingly) he'll be going by Metta Sandiford-Artest from here on out. 
Sandiford-Artest revealed this new switch-up during an appearance on Inside the Green Room with Danny Green, and he said it was to honor his wife, Maya Sandiford. You can hear the name talk starting at the 41:40 spot below:
"My name now is 'Metta Sandiford-Artest.' I actually took my wife's last and added it to mine," he said. 
This would be far less drastic than his original name change from Ron Artest to Metta World Peace back in 2011. In fact, Sandiford-Artest also shared an anecdote about the second thoughts he had when he came off the bench right after making that original change official. 
"The first game that I had with 'World Peace,' I was like, 'This is the dumbest thing ever. I was coming off of the bench at that time, in 2011, and they say, 'Metta World Peace!' And I remember not wanting to take off my warm up," he revealed. "It was embarrassing. So I did think about changing my name back, but then I got used, people got used [to] it."
He further stated that he had contemplated making a(nother) change to call himself "Queensbridge" or "So Hood," but ultimately he opted not to (note that there's still time.) 
He also said that reports from 2014 that stated he switched his name to "Panda Friend" when he went to go play in China were bogus, but that he "just rode with it."  
Anyway, that was a lot of talk about names. Still, use 'Ron Artest' with someone over the age of 30, or 'Metta World Peace' with someone over 20, they'll know who you're talking about.