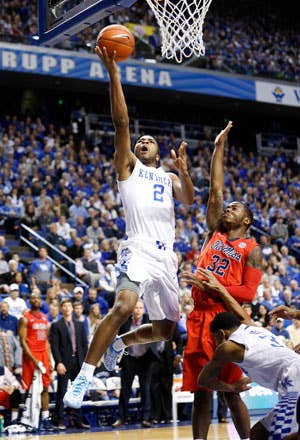 It was a worthy effort, but like so many "upset alerts" Ole Miss came up just short in their valiant attempt to defeat yet-to-be-defeated Kentucky in an SEC overtime clash that concluded mere minutes ago. The final score was 89-86, and effectively ended when the Rebels' Martavious Newby clanged a three-point attempt that would've sent the game into double OT.
On the losing end, the Rebels were led by their guards Stefan Moody and Jarvis Summers, who combined for 48 of their team's 86 points.
On the winning side, the No. 1 Wildcats were led by preseason SEC Player of the Year Aaron Harrison who led UK all scorers with 26 points. UK capitalized on their extreme advantage in free throws (28-of-40 to 19-of-22) and turnovers (18 to 10), which are obviously two enormous categories when it comes to close games.
Kentucky now sits at 14-0 (with Ole Miss falling to 9-5). But the "super team" at least appeared slightly more vulnerable as the contest represented the second straight game that Kentucky won by a single-digit margin (that, of course, is after winning their first 12 games by double digits).
If nothing else, at least the game gave hope to any fan, or team, who thought Kentucky was going to simply stroll through the rest of their schedule from now until early April.
Send all complaints, compliments, and tips to sportstips@complex.com