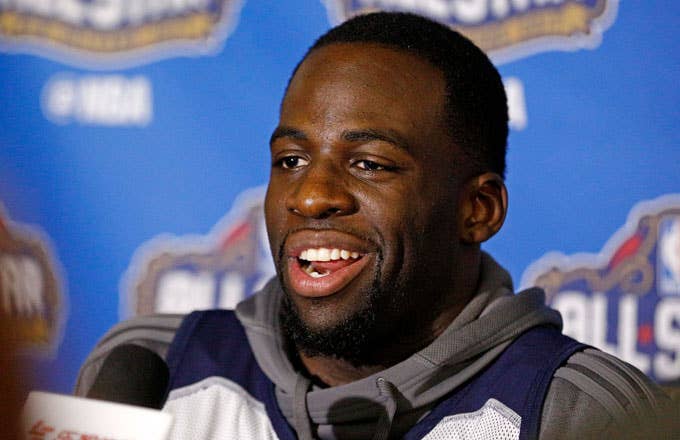 A few days ago Draymond Green dropped some viral trash talk on Paul Pierce by telling him that nobody gave a crap about this being his final season because he's not Kobe Bryant. "You can't get no farewell tour, they don't love you like that. You ain't got that type of love," Green yelled to Pierce during some Blake Griffin free-throw attempts on Thursday night. "You thought you was Kobe? You ain't Kobe."
Afterwards Pierce dropped his own viral slam, by way of this tweet that he posted in the wee hours of the morning immediately after the contest:
That's the type of quote that's just begging for some more context. And on Tuesday, during his Uninterrupted Dray Day podcast, Green provided just that for his listeners. "I said what I had to say," Green said, according to The Mercury News. "And he said no more after that."
Green also said that the trash talk originally began because Pierce was shouting at Green from the bench that he couldn't defend Blake Griffin. Green said that Pierce's words are what caused Griffin to be at the line in the first place. "That got me so excited it probably led to me jumping on that pump fake and getting that foul," he claimed.
From there Green took umbrage with Pierce's claim that he couldn't guard Griffin, and said that Pierce hit him with a claim that drives him utterly bonkers (our words, not his). Apparently Pierce called him a bum who wouldn't be anything if he weren't on a team of All-Stars (feel free to make a note of that prospective NBA hecklers).
"It's nothing personal," Green stated on the podcast. "I don't hate Paul Pierce. But if you gone talk junk, I don't hold anything back when I'm talking junk. If I'ma talk, I'ma talk. And I'ma take it where it needs to go."
Green also flipped it around, and challenged Pierce with basically the same criticism. "People tend to forget he was struggling to to get to the playoffs … then all of a sudden Ray Allen and KG showed up. Let's not forget that," he said. "Just because you were scoring points don't mean you were carrying the team. If you couldn't get anywhere and you couldn't do nothing, where were you carrying them to? … Pierce had had an amazing career. He was a beast. But how far was he carrying those teams? If you weren't carrying them that far, I guess we're in the same boat.
Feel free to listen to the entire thing below...even though we just summed it all up for you:
Guess there's a lot more backstory to these random lines picked up by on-court mics. Who knew?