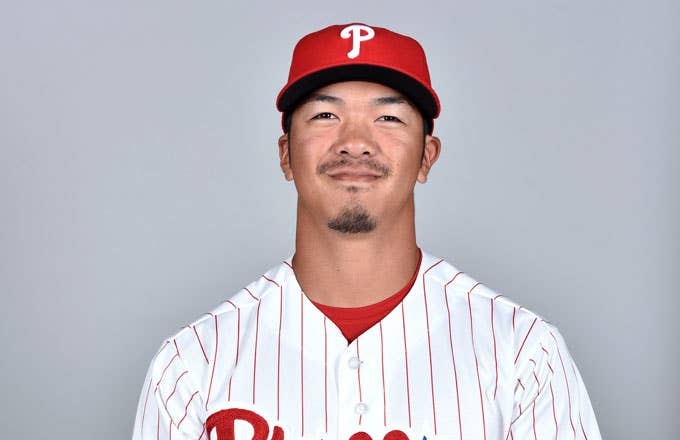 Chace Numata, a 27-year-old minor league catcher who had been playing in the Detroit Tigers organization, died on Monday from injuries he suffered in a skateboarding accident that occurred last week.
Numata was found early on Friday morning in downtown Erie, Pennsylvania after he was spotted by a motorist. He was bleeding from the head and, subsequently, was taken to the hospital.
Surveillance footage recorded around 2 a.m. local time by a nearby insurance business showed Numata riding his skateboard until it abruptly stopped causing him to fall off. "It appears he just fell on the skateboard and landed headfirst on the ground," said Erie police Sgt. David Stucke to the Detroit Free Press. The resulting fall also appears to have rendered him unconscious immediately.
Numata was originally drafted out of his Hawaiian high school in the 14th round by the Philadelphia Phillies. He also played in the New York Yankees' system for a year prior to signing a minor league deal with the Tigers this past November.
This season he played six games at the Tigers' Triple-A level, though at the time of the accident he was on the roster for the Erie Seawolves, which is Detroit's Double-A team.
"The Erie SeaWolves are heartbroken and deeply saddened by the passing of Chace Numata," said a statement from SeaWolves owner Fernando Aguirre. "Chace was a leader, an outstanding teammate, a friend to many, and his personality was positive and infectious. He made everyone he met feel welcome, and he had a very positive impact throughout the SeaWolves organization and the Erie community."
Numata's fellow minor leaguers also chimed in with fond remembrances of their late teammate.
"He's a giver," said SeaWolves outfielder Cam Gibson (who was also Chace's roomate) according to the Free Press. "He'll never ask for anything, but he'll give. Even the small stuff. Me and him will go to Taco Bell at midnight and he forces himself in to pay for it. It's little stuff like that. He refuses to take from people.
"He's always dancing, always joking and making light of everything. He's a bright light in everybody's life. I can't tell you the times he's had heart-to-heart talks with me this year talking to me about what my future holds. Regardless if I'm doing well or doing bad, he's always there. Numi is the heart and soul of this team. He has more heart and more soul than anybody in this entire organization."
"It's surreal," added Erie second baseman Kody Clemens. "It's so tragic."
Teammate and ex-first overall pick Mickey Moniak also tweeted about Numata's passing:
"If you took a poll of the guys, who is your favorite teammate, it would be Chase Numata, 25-0," said the SeaWolves' hitting coach, Brian Harper. "If you took a poll of the staff, it would be 8-0 Chase Numata."
As you can see from Twitter embeds within this post, all three professional organizations that Numata has played for put out statements expressing their sadness at the news of his passing. Additionally, a GoFundMe drive was established a day ago (prior to the news of his death) to pay for his hospital bills, and also to give his family money for travel. As of Monday evening that effort had raised nearly $34,000.