DeMarcus Cousins Says He's Been Called the N-Word by Angry Fans (UPDATE)
DeMarcus Cousins spoke about it to Yahoo's 'Posted Up' video podcast.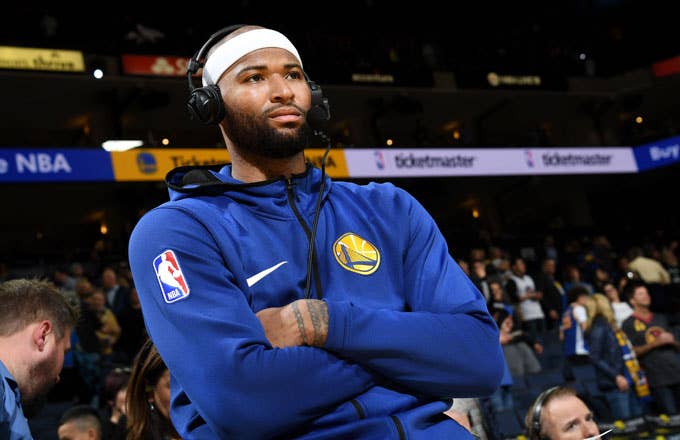 Getty
Image via Getty/Noah Graham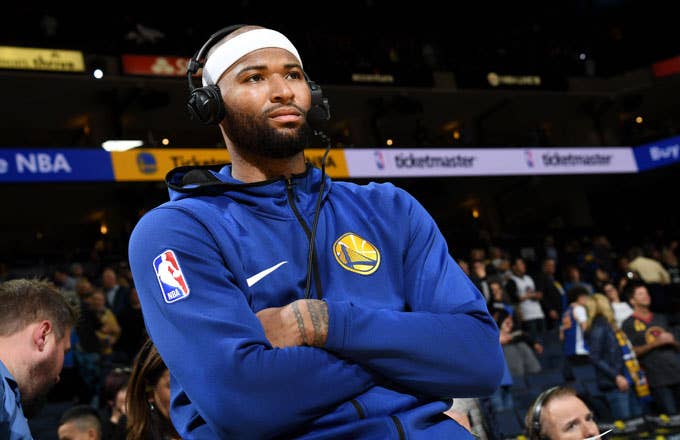 UPDATED March. 28, 10:16 p.m. ET: Yahoo Sports' Chris Haynes reports that an incident involving a fan saying the n-word at Cousins happened at a Jan. 26 game against the Boston Celtics. Cousins notified security and the fan was then reportedly banned for the rest of the current season and all of next season.  
See original story from 03/25/19 below.
A few weeks after a Utah fan was banned for life for a viral (and highly contentious) interaction with Russell Westbrook (who was also fined for that altercation), DeMarcus Cousins is providing a players' insight on what it's like to be on the business end of heckling interactions, including a time he said "Fuck Golden State" to some alleged miscreants...obviously before he played there.
Speaking on Yahoo's Posted Up video podcast, via Chris Haynes, Cousins said that he had been called the n-word by fans in a few instances. He said that, in those instances, he had told the league what had happened, but that he was still reprimanded.
NBC Sports adds that Cousins has paid fines to the NBA on four different occassions for swearing at fans.
"Oh, I've been called n****r," he said to Yahoo. "And it's crazy because this has happened to me on a few occasions. I reported it to the league, and, you know, I may have said whatever I said back and I was still punished for it. But obviously it became a bigger issue when it was Russ [Westbrook], and he was still fined for it. I don't really understand it. We're the product. We push this league, so I don't understand. When does our safety, when does it become important?"
When asked what city this had happened in, Cousins refused to name names because he didn't want an entire fan base to be judged by one person's actions. Regardless Yahoo, citing a league source, said one such case happened in Sacramento, where Cousins played for almost seven seasons.
"I don't really want to [name cities or teams], because I'm not really trying to put a label on an entire fan base," he said. "There are ignorant individuals in every city. I'll just put it like that. … [The league] tells you to ignore it, or whatever the case may be, but how many times am I supposed to ignore that. Me coming from where I come from [Mobile, Alabama], they lucky all they got was a response."
Previously, back in 2010, when he was a Kentucky Wildcat, Cousins had his cell phone number leaked to a number of Mississippi State fans who reportedly bombarded it with voicemails and texts full of racist and anti-gay slurs.
At that time ESPN reported that Cousins handled it by eventually fielding calls (including one during an interview).
"It started right after the [the game Saturday night]... and I got called the n-word, some BS," Cousins said. [...] "I'm going to change it after the game, I want to see what they have to say." Asked for his reaction by reporters he stated, "It kind of made me mad in the beginning, but now I'm answering the phone having conversations with them."
Anyway, in response to this most recent instance, the NBA released a general statement that said:
"While it would not be appropriate for us to address any specific conversations we have with individual players, we review all situations involving alleged fan misconduct. If we confirm the misconduct, appropriate measures are taken directly with the fan in question."