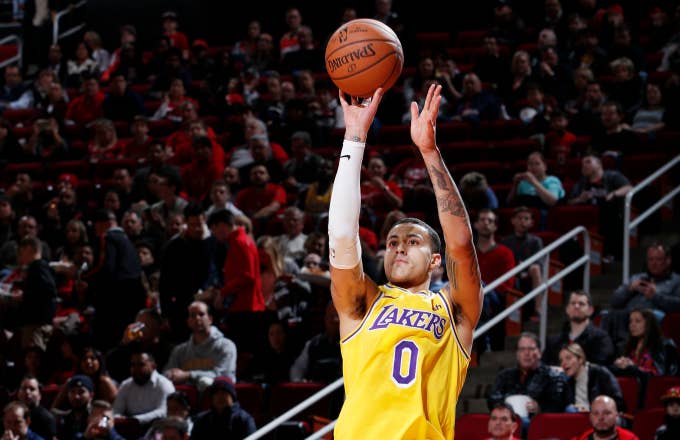 While some players in the Lakers' locker room are bracing themselves for a big change, Kyle Kuzma let it be known that he is not concerned by Anthony Davis and the trade rumors surrounding the organization. 
Since Davis requested to be moved from New Orleans, talks began to swirl around the idea of Los Angeles moving pieces of their young core to create a package that will entice the Pelicans. One the talented players that people think Magic and Rob Pelinka will lobby is Kyle Kuzma. But instead of taking offense for being pegged as replaceable, Kuzma finds comfort in the drama.
"This is my first go-around with that type of stuff, but it's always a good thing, trade rumors," Kuzma said when asked how the trade talks have impacted him. "That's what everybody always says. It means you have value and it means you're going to be in this league a long time because people want you."
"For us, it's all about controlling what you can control. At the end of the day it's a business," he continued. "You can't control your destiny in this league. But you can control your work ethic and how great you want to be. You can be great anywhere."
The fact Kuzma is solely focused on being great is what makes him an important conversation piece during trade talks. In his two years in the NBA, Kuz has surprised the league with his athleticism and skills. Not only can he be a helpful wing defender, but he is also an electrifying scorer. In fact, he is one of just five players this season to score 40 points in just three quarters. Although being wanted by multiple franchises will ensure the longevity he welcomes, Kuzma lets it be known that it doesn't matter where you're playing if you can hoop.
"I couldn't care less, honestly," he said before reiterating a previous point. "Control what you can control. You can play basketball anywhere."