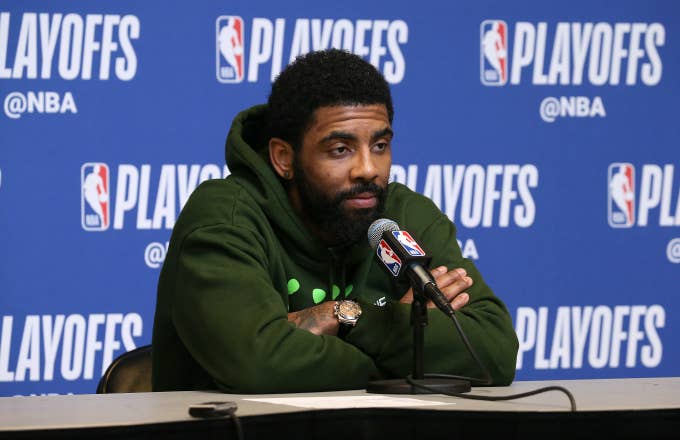 With free agency approaching at high speeds, Danny Ainge and the Boston Celtics are still hopeful that they can keep Kyrie Irving if they are able to acquire disgruntled big man Anthony Davis. 
According to The Athletic's Frank Isola, the Celtics are thinking of putting together a trade package that they hope will entice New Orleans into letting go of Davis. This comes after the Pelicans won last night's lottery, securing the no. 1 overall pick and generational talent Zion Williamson. Despite the pending addition of this electric talent, it has been reported that Davis' trade stance has not changed and he wants to contend for a championship next year. As a result, league sources say Boston feels they can keep their elite point guard from swimming away in the free agency pool if they make a trade for Davis.
Those are high hopes. After trading away a lottery pick to Memphis, the Celtics don't have much to offer other than Jayson Tatum and other role players. This puts the franchise in threat of losing all the pieces they built. With insiders "convinced" that Kevin Durant will join the Knicks this summer, it is a possibility that Irving will follow suit. Like Boston, the Knicks are also looking into trading for AD, but they are in a better position to do so as they have the third overall pick. It is speculated that the Knicks could draft Zion's best friend and college roommate RJ Barrett with their pick and try to send Barrett to New Orleans to join his former teammate along with other pieces in exchange for Davis. If this happens, New York could have Davis, Irving, and Durant, essentially "winning" this year's draft.