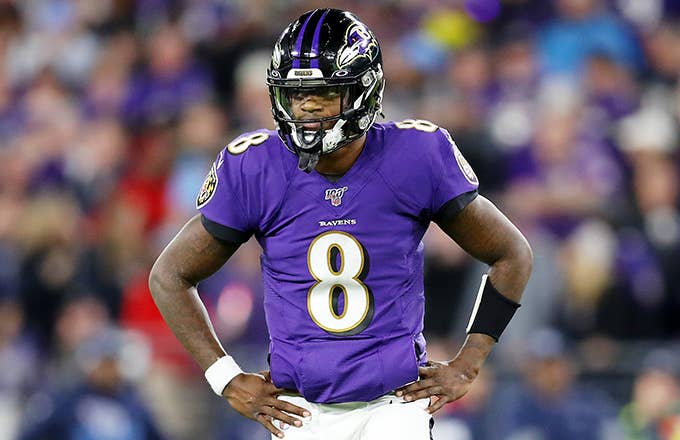 The Baltimore Ravens led by Lamar Jackson played against the Tennessee Titans. Unfortunately, the result of Saturday night's game was 28-12, allowing the Titans to advance and face the winner of Sunday's Kansas City-Houston game.
While fans watching the game weren't happy with the result, some are quick to blame Drake for Jackson's performance.  He finished the game with 365 yards, one touchdown and two interceptions.
If you aren't familiar with the Drake curse, it happens when he associates himself with a team or player and then they usually have bad luck. In the past, Drake has reached out to teams like the Golden State Warriors and the University of Kentucky Wildcats. When he wore an Alabama sweatshirt in 2019 on his IG Stories, the team lost 44-16.
The Drake curse is REAL and you can't tell me otherwise.
Add the Baltimore Ravens to the list of teams victimized by the Drake curse lmao
However, because of Drake's influence, some could argue that it helped the Raptors win an NBA championship. So maybe he's not entirely a bad luck charm.
Other people just had funny things to say.
Tennessee became the first No. 6 seed to defeat a top-seeded opponent in the playoffs since 2010. The team heads to the AFC Championship game for the first time since the 2002 season. Meanwhile, the San Francisco 49ers defeated the Minnesota Vikings, 27-10. The 49ers return to the NFC Championship Game, facing the winner of the Packers-Seahawks game.
You can read more from Ravens fans, below. Until next year?
Truly devastating. But! Watching Lamar and this Ravens team all year was one of the great joys of my life. I got to share it all with my dad. I made new friends. I cherished every second of it. A special team that will always have a special place in my heart. Onto 2020. 💜🖤
Everything from drake wearing ravens clothes to Derrick Henry walking in like he owned the joint pointed to the titans winning. Ignored the signs. I should not do this anymore
Drake really cursed the Ravens you hate to see it
Raven fans had legit reason to be concerned but Raptors won title last yr so Im not sure Drake curse is a thing 😂😂😂😂😂😂😂😂😂😂

https://t.co/EY2ZGAwWaA
Madden and Drake curse hit the Ravens lol