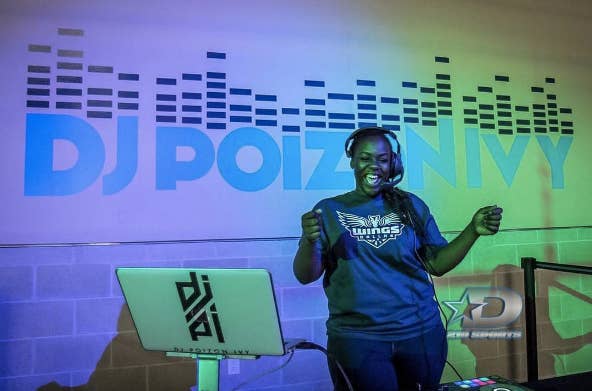 Skylar Diggins just might bust a freestyle here and there. Dirk Nowitzki vibes to "Draco." And if we're talking about balling, the WNBA goes just as hard as the NBA. These are just a few things Poizon Ivy has learned as the in-arena DJ for the Dallas Mavericks and the Dallas Wings.
Born Ivy Awino in Nairobi, Kenya, the 27-year-old has also learned that rocking a crowd of 20,000 people is more intricate than one might assume. "A lot of people don't know that I'm pretty much the in-arena sound director, like the musical director per se, because I don't just play music," she tells Complex. "A lot of teams do it different ways, but I'm the sole person responsible for audio in the AAC [American Airlines Center]. So a lot of teams have a team of me, like three or four people who do what I do, but I control all the in-game prompts."
This means she doesn't just bump the hottest records. She has to understand the game, anticipate the plays, and select the best asset to complement the action.
"I can tell when somebody's about to throw an oop to Nerlens [Noel]. And I can feel it, I can see it coming down the court, so I might go for a charge. Or I might go for a different kind of sound effect so that when he dunks it, it'll hit."
And if she's being honest, sometimes she antagonizes as well. "Say there was a fight, I might go with Jeezy 'Lose My Mind,' the instrumental, 'cause it's real hard and heavy, or Machine Gun Kelly, 'Wild Boy,' something like that.," Ivy explains.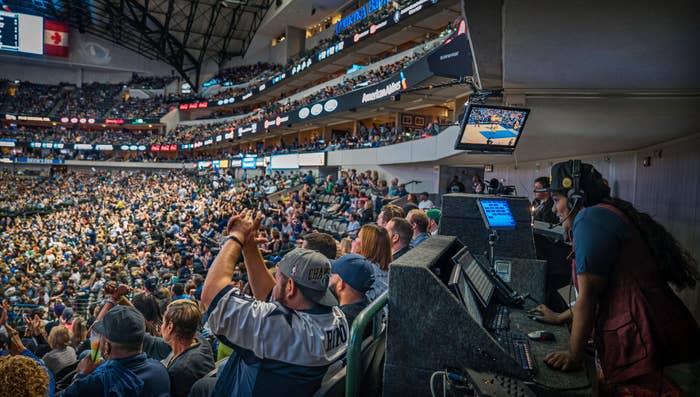 But this foresight all comes from Ivy being a student of the game. As a little girl in Nairobi who often found herself playing with the boys, tapes of the Chicago Bulls were all she could get her hands on. "I swear to goodness I thought the NBA was the Chicago Bulls," Ivy says with a laugh. "We would watch them over and over, to the point where—you know how if you watch a tape over and over it would skip?—that's my early memory of loving ball."
When she moved to Dallas, Texas, at the age of 9 she learned that not only was basketball bigger than the Bulls, but there was a team right in her backyard. At 12, she saw a commercial for a basketball camp where the team picked its ball kids, and Ivy knew if she could get herself to that camp, she'd make it in—even though the cutoff age was 13. That's when Ivy learned something else that would carry her through her career: "I was like six months out of being 13, so I just asked and applied anyway. So my lesson to everybody out there is: Rules are meant to be bent and sometimes broken."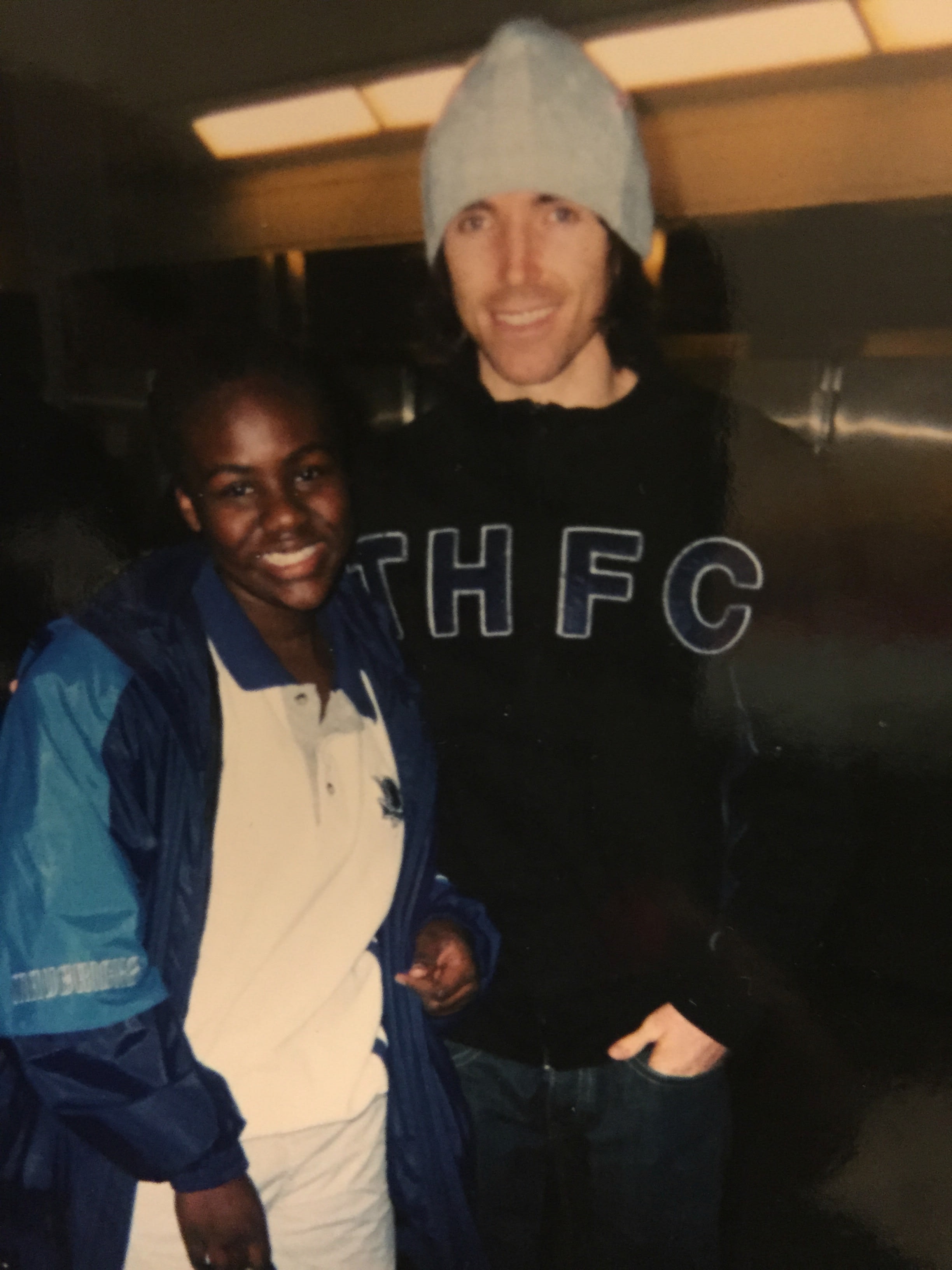 Ivy was a ball kid for the Mavs from ages 12 to 18, looking up to larger-than-life figures like Steve Nash and Mark Cuban. After she graduated from Marquette, alongside classmates including Jimmy Butler, Wesley Matthews, and Jae Crowder, it was those contacts she cultivated as a youngster that helped her land her current position. So for Ivy, game day is a full circle moment in the best of ways. "I don't like calling people my 'boss,' but I'm OK saying I work for Mark Cuban," she says, calling the team owner and self-made billionaire her hero.
"Once I started with the Wings I just reached out to the Mavs with a cold email, like, 'Hey, this is what I'm doing, this is who I am, don't know if y'all remember me. Do y'all have an opportunity?' At first the answer was no, and I was like, that's cool, OK…I really was just looking to learn in a bigger setting. And then in the summer, I got a call like, 'Hey we might actually need you.'"
Being a full-time DJ is a hustle, and Ivy is an expert at creating opportunities for herself. Back in 2014, she became the DJ for Skylar Diggins' "Shoot 4 the Sky" Basketball Camp Tour in a similar way.
"A question that I always ask myself is, How can DJ Poizon Ivy contribute to or be a part of this?" she says. "And so I literally just cold emailed and said, 'I don't know if y'all have a DJ, hell, I don't even know if basketball camps have DJs, but y'all should, and I should be the DJ.'" And no, Skylar doesn't mind if Ivy spins some Drake records.
A classically trained cellist and pianist, Ivy saw the turntables as one more instrument she wanted to master. Back at Marquette, she asked one of her frat brothers if she could borrow his. "The next day he showed up and dropped them off and told me to figure it out—and that's all she wrote," says Ivy, who majored in corporate communications and minored in advertising. She taught herself how to mix, gaining exposure on the radio in Milwaukee and moving on to clubs and main stages. She's spun for brands including Atlantic Records, Red Bull, and Adidas, as well as for nonprofits and events like Snoop Dogg's Youth Football League and Obama for America.
Ivy joined the Wings as the in-arena DJ for the WNBA's historic 20th season in 2016. And as she wrapped this year with the Mavs, stumbling through a few rookie mistakes—"The running joke all season was please don't play defense on offense. I did it twice, but it was so short that nobody caught it."—she didn't take particular pride in the fact that she's the first black female DJ in the NBA. She has her heart set on smashing higher ceilings.
"Actually my dream job was to be the first female commissioner of the NBA," says Ivy. "I was lucky enough to have a brief conversation with Commissioner Adam Silver during All-Star at a service project. We were talking and I told him, 'Yeah I wanted your job.'"