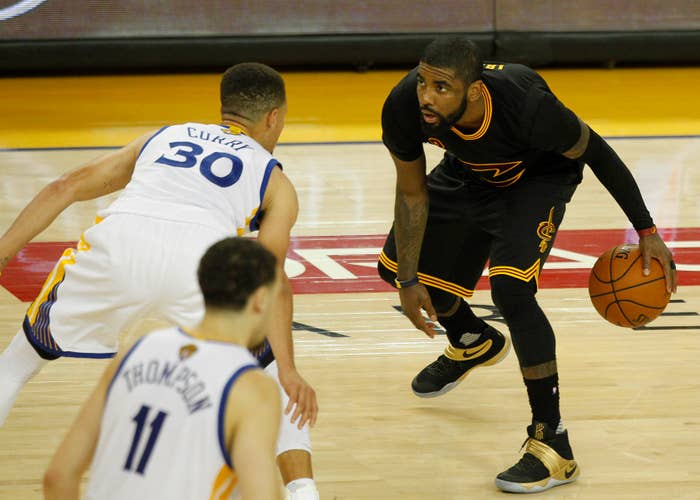 This is an unprecedented time in sports. While there are far greater issues in the world with COVID-19 changing life as we know it, sports fans have been left with nothing to watch or root for.
The NBA last played a game on March 11, and it doesn't look like they'll be picking things back up for months, according to ESPN's Adrian Wojnarowski. That's obviously a huge bummer, but it does give fans the chance to go back and watch the classic games. And if you've been on Twitter lately, NBA fans have been going crazy over replays of old NBA Finals games. Luckily, if you're a YouTube TV subscriber, the streaming service added every NBA Finals game from the 2000 Finals though the 2018 Finals. You can also watch all of these games through your NBATV subscrition on League Pass, which is free right now. 
In that time there were some amazing games. There was a lot of LeBron James—the dude played in NINE (!!) NBA Finals during that stretch—a good amount of Kobe Bryant, plenty of the Splash Brothers, and so much more. 
It's no fun having no new basketball for who knows how long, but watching some classics might be a good way to pass the time and cure that basketball itch. Here are some of the most rewatchable NBA Finals games of the past two decades. 
Kobe Moments
Game 4 2000 NBA Finals—Shaq fouls out and a hobbled Kobe dominates OT
In the days after the Pacers beat the Lakers in Game 3, Lakers guard Ron Harper gave a great interview in which he laid on his back on the media table inside then-Conseco Fieldhouse and looked up at the roof. 
"It's a nice roof, lots of interesting beams, but no championship banners. And they're not going to get one here either, unless they steal one from some other team," Harper said. 
That's how the broadcast on NBC opened up the game. Legendary. As mentioned, the Pacers took Game 3 from the Lakers, a game that didn't feature Kobe Bryant because of a bad ankle. Game 4 was a much, much different story. 
This can sort of be looked at as a moment where Kobe Bryant became Kobe. Shaquille O'Neal was still the best player on the Lakers—as he was the entire time the two played together—but this game sort of showed what Bryant could be. 
O'Neal fouled out, and that enabled Bryant to go into takeover mode. He scored on three straight possessions in overtime to pull the Lakers to the win and a 3-1 series lead before they ultimately took the crown in Game 6. 
Game 7 2010 NBA Finals—Ron Artest helps Kobe earn his fifth ring
Watching this game right now feels a bit eerie for obvious reasons as Kobe Bryant earns his last title in the last Finals matchup between the NBA's most storied rivals—Lakers-Celtics.
Truth be told, Bryant wasn't great in this game, finishing with 23 points on 24 shots. Boston defended him pretty well but had trouble with the artist formerly known as Ron Artest. He had 20 points, including the biggest 3-pointer of his life with around a minute left to ice the game to secure Bryant finished his career with more titles than Shaq did.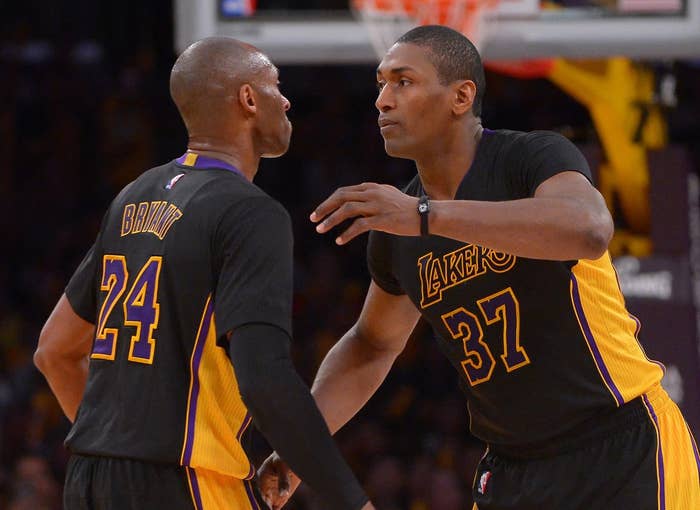 One of the most famous things from this game was when Artest took to the podium following the win and thanked his therapist. 
All-Time Great Comebacks
Game 2 2011 NBA Finals—Dirk goes crazy to get Dallas the win
Everything was going well for Miami in the first year with LeBron James, Chris Bosh, and Dwyane Wade. They were up 1-0 in the Finals and it looked like they would be cruising to a win in Game 2 at home. 
With 7:14 left in the fourth quarter, Wade knocks down a 3-pointer right in front of Dallas' bench that put the finishing touches on a 13-0 run. He stands there for a bit, admiring his work and the fact that his second title seems to be getting closer and closer with each passing second. 
After the Mavs called a timeout, they closed the game out on a 22-5 run, taking Game 2, and totally flipping the momentum of the series. 
Game 4 2008 NBA Finals—Boston's 24-point comeback
The Celtics went into Game 4 with a 2-1 series lead over the Lakers after winning the first two games in Boston and dropping Game 3 in Los Angeles. The Lakers punched Boston in the mouth early with a 35-14 lead after the first quarter, and it looked like things were going to be evened up in the series. 
The Celtics had other ideas; they went on a 23-3 run in the second half after trailing by as many as 24 points to take a commanding 3-1 lead in the series. 
Who knows how things would have played out if the Lakers would have been able to hang on and win. Maybe Bryant finishes his career with six rings? Maybe the Celtics never win a title with the big three of Paul Pierce, Kevin Garnett, and Ray Allen? We'll never find out, but that 23-3 run was the most important sequence in this series for the Celtics. 
Game 3 2006 NBA Finals—D. Wade arrives
Wade was in just his third NBA season when he won his first title, and this game was a coming out party of sorts for him. The Heat were down 0-2 to Dallas and trailing by 13 points in the fourth quarter when Wade's takeover began. 
After a pedestrian first two games, Wade exploded in Game 3 with 42 points, including 15 in the fourth quarter to help overcome that deficit. Dirk Nowitzki had a chance to tie the game up at the line in the game's final seconds but split a pair of free throws. 
This game is a pretty easy reminder of just how crazy athletic Wade was early in his career. It's easy to forget after injuries took their toll throughout the second half of his career, but the 24-year-old version of Wade was almost always the most athletic guy on the court, and there's no question of that during this game. 
One-Man Shows
Game 1 2001 NBA Finals—The Iverson Step-Over
The 2001 Lakers were one of the greatest teams of all-time. There's very little debating that. This was the peak of Shaq and Kobe. In this postseason they went 15-1 on their way to the title, but that one loss was legendary. 
Allen Iverson went for 48 points in the overtime win in Los Angeles, but the part of the game that everyone remembers was the step-over of Lakers guard Tyronn Lue during overtime. Even though Iverson finished his career without ever winning a title, this was the closest moment he had to being on top of the NBA, and it's one everyone thinks of when his name is mentioned.  
There's something magical about watching a team that's outmatched going up against one of the best teams of all time. Philly had no chance at actually winning this series, but watching Iverson go bananas against Shaq and Kobe will never get old.
Game 1 2018 NBA Finals—LeBron dominates before JR Smith becomes a meme
In a way, this one is just like the Iverson step-over game. The Cavs were no match for the Warriors, but this game is better remembered for JR Smith becoming a meme than LeBron dropping 51. Who can forget the image of James with his arms out at Smith as time has expired in regulation with the game tied? 
The reason that was able to become a meme—other than 80 percent free throw shooter George Hill throwing up a brick—was because LeBron had played one of the greatest games of his career. James finished with 51 points, 8 boards, and 8 dimes in the overtime loss. While Cleveland was behind the eight ball from the start against the Warriors at the peak of their powers, there was no coming back from this. It's unfortunate that LeBron at the peak of his powers had this moment. 
The Warriors Blew a 3-1 Lead
Game 5 2016 NBA Finals—LeBron and Kyrie bring the Cavs back to life
It's rare that two games from the same series could live up to being on this list, but just like the 2013 Heat-Spurs Finals, this game deserves it.
Everyone knows what a classic Game 7 was. Fresh off an unnecessary shot to James' groin, Draymond Green was suspended for Game 5 which helped open the door to the Cavs coming back from down 3-1 series deficit against the greatest team in NBA regular season history. Once that door was cracked open, LeBron and Kyrie Irving busted it down with arguably the best two-man performance in a Finals game. 
They both put up 41 points, and even though Irving knocked down the go-ahead 3-pointer in Game 7 five nights later, this was his masterpiece. He was 17-of-24 from the floor and made Klay Thompson look helpless at times despite playing terrific defense. 
Speaking of Thompson, he was a flamethrower for much of this game. One of the reasons Golden State kept it close in the first half was because it felt like he couldn't miss. In the first 24 minutes he looked just like he did in his legendary Game 6 of the Western Conference Finals against Oklahoma City a few weeks prior. 
Game 7 2016 NBA Finals—Iguodala to Curry, back to Iguodala, OH, BLOCKED BY JAMES
Okay, so this game wasn't the most well-played, I get that. The stretch from the moment Thompson's layup fell through the net with 4:39 remaining in regulation until LeBron's superhuman block of Andre Iguodala's layup with 1:50 might be the most unwatchable rewatchable stretch in NBA Finals history. After that, there has never once been a good excuse to NOT watch Irving rip out the hearts of the Warriors with his three over Steph Curry, and then watch Kevin Love complete the best dance of his life on the following possession. It's all perfect.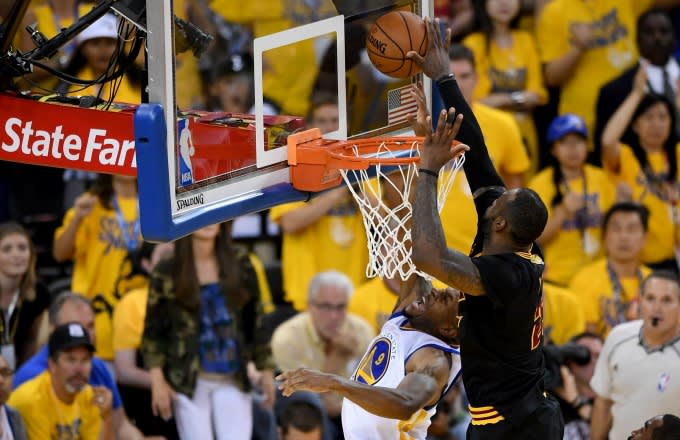 This game was the NBA's two biggest titans, at the peak of their powers, deciding which way the NBA was going to go for the foreseeable future. It's crazy to look back at almost four years later to think of how much this game changed in the league. 
The Warriors went 73-9 in the regular season and were trying to cement themselves that night as the greatest team in league history. James was trying to win his hometown its first championship in 52 years. So, yeah, there was a lot on the line in this one. 
The Best Basketball of the Era
Game 6 2013 NBA Finals—"BANG!" goes Mike Breen
The two Finals series that defined the past 20 years were this one and the 2016 Cavs-Warriors bloodbath. While the latter was probably more influential in today's game and filled with storylines, the former was unquestionably better basketball.
This game will forever be remembered for Ray Allen saving Miami's hopes of winning back-to-back titles with one of the five biggest shots in NBA history and it should be. But lost partly because of that moment is the fact that that was such an incredible game from start to finish (as was basically the whole series). LeBron was actually pretty pedestrian for the first three quarters, and then had a really strong fourth before Allen drilled the three that tied it. 
Game 7 was another thriller between these two teams. LeBron was incredible with 37 points and the jumper in Kawhi Leonard's eye to ice the game with time running down. That put the Heat ahead for good, and gave the trio of Wade, Bosh, and James its second and final ring together. 
Honorable Mentions
Game 3 2017 NBA Finals—Kevin Durant hits the dagger over LeBron James
Game 5 2005 NBA Finals—Robert Horry hits five 3s against the Pistons
Game 2 2015 NBA Finals—LeBron James wills the Cavs to a win without Kyrie Irving and Kevin Love
Game 5 2012 NBA Finals—LeBron James wins his first ring
Game 1 2019 NBA Finals—Pascal Siakam arrives on the scene