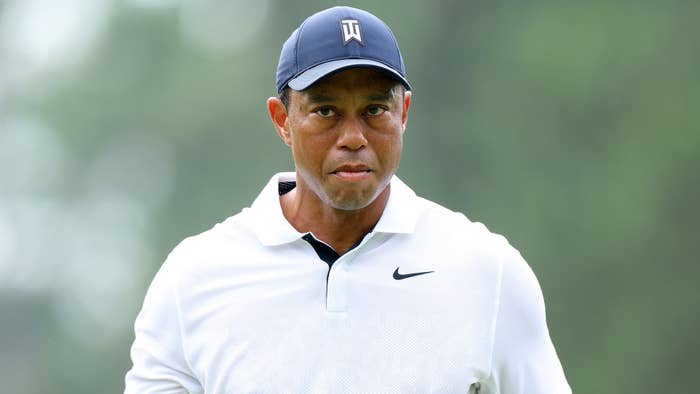 UPDATED 7/19, 7:42 a.m. ET: Tiger Woods' former girlfriend, Erica Herman, has dropped her lawsuit.
According to a court documents-citing report from the New York Post, Herman has dropped her $30 million lawsuit against Woods' estate. Days earlier, the report adds, Herman filed another appeal in response to a judge throwing out a separate suit in which she's aiming to rescind an alleged NDA.
Per a related filing, Herman has dismissed her October-filed complaint "pending resolution of the appeal in Herman v. Woods."
See original story from 5/18 below.
Tiger Woods' ex-girlfriend will have to comply with a nondisclosure agreement that she supposedly signed and settle her lawsuit outside of court.
The Associated Press reports that Erica Herman filed a lawsuit against Woods, where she sought millions and also accused the professional golfer of sexual harassment. The judge dismissed Herman's efforts to rescind the 2017 NDA by alleging sexual harassment, saying her claims are "vague and threadbare."
"Herman has had the opportunity (to) provide factual specificity for any claim relating to sexual assault or sexual harassment, however, she has not done so," the judge wrote.
Herman has doubts about whether or not she actually signed the NDA, and said she doesn't remember the agreement Woods' attorney presented in court. Regardless, the judge said there has been adequate evidence to prove Herman and Woods negotiated an NDA in 2017.
The judge said that because Herman can't recall whether she signed the NDA, an arbitrator will have to be brought in. The judge also ruled that private arbitration will be required to resolve the millions that Herman is seeking.
Herman sued Woods and his trust for $30 million and also accused him of sexual harassment. She accused him of pursuing a romantic relationship with her while she was still employed at his Florida restaurant, The Woods Jupiter. She alleged that he made her sign an NDA or face unemployment.
"Tiger Woods, the internationally renowned athlete and one of the most powerful figures in global sports, decided to pursue a sexual relationship with his employee, then—according to him—forced her to sign an NDA about it or else be fired from her job," court documents filed earlier this month read. "And, when he became disgruntled with their sexual relationship, he tricked her into leaving her home, locked her out, took her cash, pets, and personal possessions, and tried to strong-arm her into signing a different NDA. ... A boss imposing different work conditions on his employee because of their sexual relationship is sexual harassment."
The former couple dated from 2017 to 2022, and Herman filed the lawsuit earlier this year after they parted ways. Herman has contended that due to a new federal law, agreements like their NDA are invalid when sexual harassment or abuse is involved.