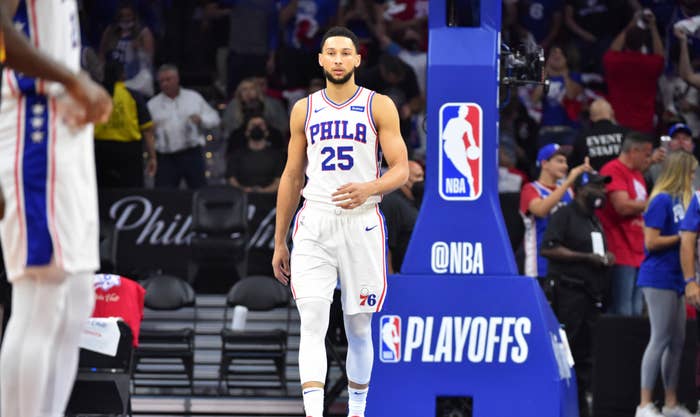 Ben Simmons has been widely criticized for his performance in this year's NBA playoffs, after he had the worst free throw percentage in playoff history for a player with a minimum of 70 attempts.
And it appears it'll be a while before some people let him forget it. On Monday, the Philadelphia 76ers point guard posted a new set of photos on Instagram showing him on and off the basketball court. In one photo showing Simmons getting work in, someone who goes by the username @worldwidechad commented, "he really acting like he was about to shoot in that second pic."
But Simmons wasn't having it firing back with a comment of his own. "Ya lips look like ya got stung by a [bee] nutty professor ass," he wrote, using the bee emoji instead of the word.
Though the 76ers ended the regular season atop the Eastern Conference, they were eliminated from the playoffs by the fifth seed Atlanta Hawks. "We lost, it sucks, I am who I am, it is what it is, it's not easy to win...first thing I'm going to do is clear my mind and get my mental right," Simmons said following the loss.
Simmons has since taken muh of the blame for the loss, and the expectation is that he'll be traded before next season begins. One person who came to Pippen's defence was Scottie Pippen, who blamed Simmons' poor performance on head coach Doc Rivers. "I watched a lot of games that Doc shouldn't have had him in, in the fourth quarter," Pippen said. "If I give you a deck of cards and I give you a deuce of heart and a deuce of diamond, and we playing Spades, why you keep grabbing those cards when you know you're gonna lose in that category? This kid been this way the whole time and Doc brought him in and set him up for failure."