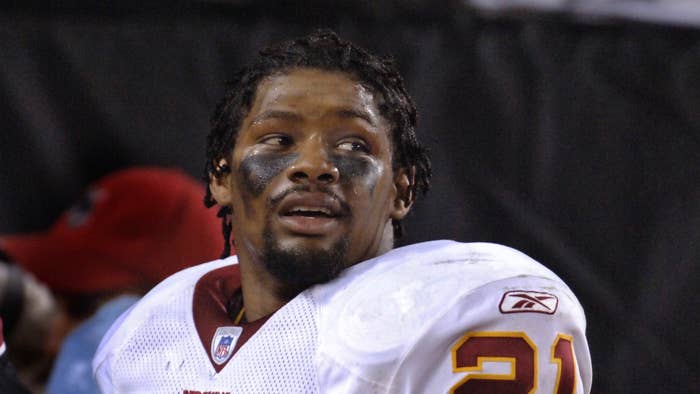 The Washington Football Team faces mounting backlash over the timing of Sean Taylor's jersey retirement.
It wasn't until Thursday that the franchise confirmed it would retire Taylor's No. 21 jersey ahead of Sunday's home game against the Kansas City Chiefs. Many fans were quick to slam the team over the seemingly abrupt announcement, as they were left with very little time to arrange their attendance. But it appears it wasn't just fans who were left out of the loop. Taylor's younger brother, Gabe Taylor, claims he didn't learn about the ceremony until just a few days ago.
Gabe, who currently plays for Rice, made the claim during a Friday interview on 106.7 FM The Fan: "No, I have not heard about it for a while," Gabe told the hosts. "I found out probably, I'll say like four days ago."
In wake of the backlash, WTF President Jason Wright issued a lengthy apology to fans, admitting the team made a mistake by providing such short notice for the ceremony, which coincides with Washington's Alumni Homecoming.
"What we wanted to do was make good on something we know was long overdue. Of all the football traditions, retiring numbers is especially symbolic and deeply reverential," he wrote. "So, prior to the season, we put a plan in place to retire the jerseys of some of the great men who helped build this historic franchise. Bobby Mitchell and Sean Taylor are the start of what we hope will become an honored tradition here as it is in many other places."
He continued: "…But we screwed up the execution and, as a result, we realize that we hurt many of our fans deeply. And for that I and we as an organization are sorry. We thought that saving the news for a game week reveal was the best way to focus the message on Sean and his legacy. We didn't realize that so many of you wanted to make a trip to FedExField to be present for this moment – a true lack of understanding of what you, the lifeblood of this franchise, needed to mourn our collective loss and celebrate Sean's legacy."
The ceremony will take place nearly 14 years after Taylor's death. The 24-year-old safety joined Washington in 2004 and remained with the team until his death three years later. Taylor suffered gun shot wounds during a burglary at his Miami home in late November 2007. He died shortly after in the hospital.