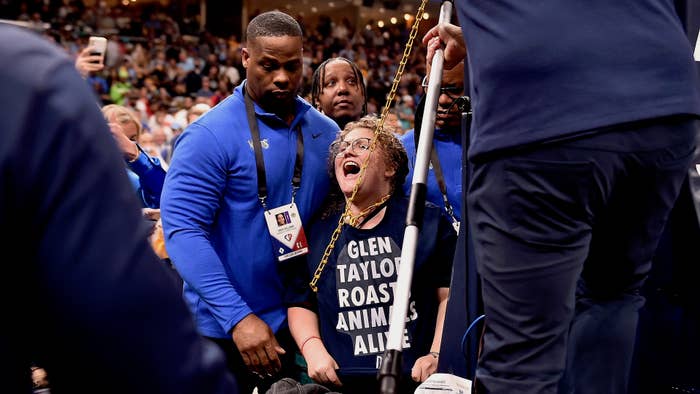 Saturday's playoff game between the Minnesota Timberwolves and Memphis Grizzlies was briefly paused after a spectator chained themself to the basket stanchion as a form of protest.
According to Sports Illustrated, the incident took place during the second quarter, when an animal rights activist threw what appeared to be flyers or confetti on the floor and then secured herself to the goal. Referees immediately stopped play while security at Memphis' FedExForum confronted the protester and proceeded to carry them out of the main arena, prompting the crowd to erupt in cheers and applause.
The protester was reportedly arrested for trespassing and disorderly conduct.
The demonstrator was donning a T-shirt that read, "Glen Taylor Roasts Animals Alive"—the same slogan that was donned by another protester who interrupted Tuesday's game between the T-Wolves and the Los Angeles Clippers.
On Saturday night, an organization called Direct Action Everywhere (DxE) shared a press release claiming responsibility for both protests. The animal rights network said the demonstrations aimed to raise awareness about its investigation into Rembrandt Enterprises, a large chicken egg factory owned by Glen Taylor, who purchased the Timberwolves in 1994.
DxE claims its "investigation exposes the reality behind a recent mass killing of 5.3 million chickens following an outbreak of 'highly pathogenic avian influenza' at the Iowa-based egg farm.
"Yet despite the animal welfare and public health issues, this business model is not just permitted but actively funded by the federal government," the press read. "Taylor received $11.3 million in USDA subsidies when this same site had an HPAI outbreak in 2015, and is set to receive millions more for this one."
Timberwolves beat the Grizzlies, grabbing Game 1 with a 130-117 win.