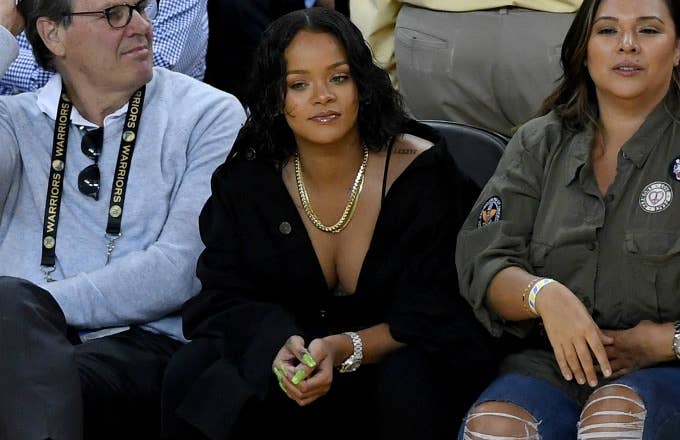 But Rihanna has also gone out of her way—especially in recent weeks—to show an unwavering support for LeBron as a fan. During Game 1 of the 2017 NBA Finals between the Warriors and Cavaliers, she sat courtside to support the "King," and she even tried to get under Kevin Durant's skin in an effort to help LeBron and Cleveland win.
It didn't work, but after the game, Rihanna let everyone know that LeBron is still the best player in the world in her eyes:
On Monday night, Rihanna kept it going by sending LeBron a message on social media after watching the Cavaliers lose Game 5 of the Finals to lose the series. She got wind of this Lion King-inspired video that media company Cycle released:
And she used it to create an IG post of her own that featured the hashtags #LongLiveTheKing and #KingIsStillKingBitch along with the original Cycle video, which featured appearances from her, LeBron, and KD:
Rihanna also shared this photo on IG featuring the Crying Jordan'd version of her infamous LeBron suntan lotion photo:
On a related note, KD was asked about Rihanna on Monday night as he left Oracle Arena with his NBA Finals MVP trophy in hand. He said, "I ain't going nothing to say," when he was asked a question about his Roc Nation affiliate.
But he later added, "Love you, girl, but I got to do it. Gots to do it! You understand me?"
No response from Rihanna to that yet, but it's probably coming. Or maybe she'll just wait until the first Cavaliers/Warriors game next season? Whatever the case, this whole Rihanna/LeBron/KD thing was a fun wrinkle in a fun series. We can't wait to do it all over again next year.