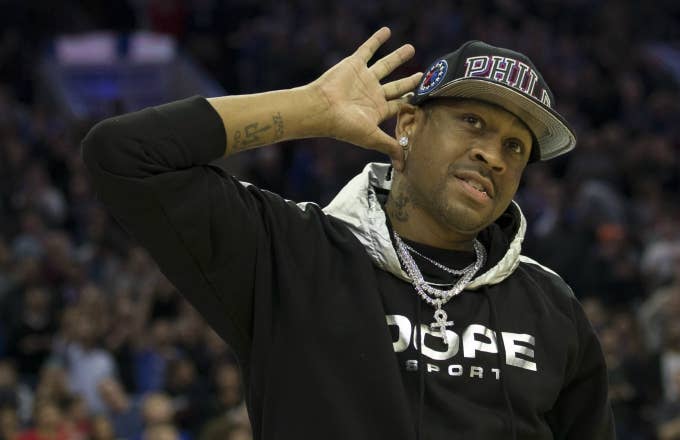 The inaugural Allen Iverson Roundball Classic took place back in April 2017. It featured 24 of the best high school basketball players in the nation taking part in a three-point contest, slam dunk contest, and All-Star game in Allen Iverson's hometown of Hampton Roads, Virginia. And it was such a successful event that AI will once again be hosting the event this April.
This year, the event will feature Shaq's son Shareef O'Neal, internet sensation Mac McClung, and 26 other high school basketball stars. Team Loyalty will be coached by former NBA star Stephen Jackson and Wesleyan Christian Academy head coach Keith Gatlin, while Team Honor will be coached by former NBA star Larry Hughes and Christian Brothers College High School head coach Justin Tatum.
The rosters for the two teams will look like this:
TEAM LOYALTY: Brandon Williams, Immanuel Quickley, David McCormack, David Duke, Jr., AJ Reeves, Nassir Little, Darius Bazley, Moses Brown, Shareef O'Neal, Isaiah Mucius, Kevin Porter, Jr., Jalen Carey, Franco Miller, Jr.
TEAM HONOR: Ayo Dosunmu, Javonte Smart, Nazi Reid, Elijah Weaver, Anfernee Simons, Courtney Ramey, Gabe Brown, Mac McClung, Reggie Perry, Landers Nolley, Luguentz Dort, Aaron Wiggins, Brandon Slater, Louis King, Tyler Herro
"These guys are the future," AI said in a statement put out in conjunction with the release of the rosters. "I'm proud to have every single one of them here."
The 2018 Iverson Classic Weekend will get started on Thursday, April 19 with a three-point contest, slam dunk contest, and more. The Iverson Roundball Classic All-American Game will take place on Saturday, April 21. The location for this year's event is expected to be announced shortly along with ticket information. You can get more info on the event here.