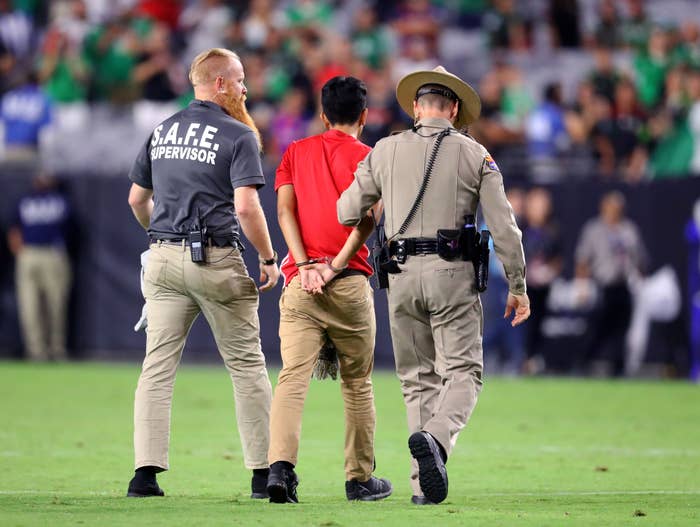 It was in the fifth inning of what would become Jake Arrieta's second career no-hitter last April when the thought popped into Dylan Cressy's head.

The Indiana University student and die-hard Cubs fan had traveled two hours from Bloomington to Great American Ballpark in Cincinnati to see the Cubs take on the Reds. As Arrieta was destined for a night he would never forget, Cressy was plotting for a night that he would never forget either: If Arrieta got a no-hitter, Cressy resolved, he was going to do something wild to celebrate.

Once Arrieta sealed the deal on the no-hitter, witnessing history wouldn't be enough for Cressy—he had to become a part of it. So he made a run for it. What followed was 15 seconds of euphoria—and a night in jail.

"After the game I handed my phone, keys, and wallet to my best friend and told him I would see him from jail tomorrow," says Cressy.

Cressy dashed from his seat on the first base side, leapt over the wall, and ran to celebrate with the team. It was the most surreal 15 seconds of his life, before he was apprehended by security.

"At first I'm embraced by Kris Bryant and [Anthony] Rizzo arm and arm, and then I knew I had to work around and congratulate [Arietta] for being the man," says Cressy. "And then I got around to Jake, gave him a bit of a noogie on top of his ball cap, told him 'you're the man Jake.' He responded 'Thanks man.'"
Once security came to him, he complied—which probably saved him from getting body slammed. And so ended his 15 seconds of fame.

A lot of fans think about doing what Cressy did, but few ever do—and for good reason. Sneaking onto the field might sound like fun, but it usually comes with a criminal trespass charge, a night in jail, and a lifetime ban from the venue. In Ohio, for example, running onto a professional field is punishable by up to six months in prison and a $1,000 fine.
Some jurisdictions, however, are even harsher. New York City passed a law dubbed the "Calvin Klein" law after a bizarre incident where the fashion designer wandered onto the Knicks' court and whispered something to Latrell Sprewell. This law carries penalties of up to a year in jail and fines of up to $25,000.
Outside of the legal ramifications, the danger of running onto the field or court can be physical. A 17-year-old Phillies fan was tasered after running onto the field of Citizens Bank Park back in 2010.
The lifetime ban is perhaps the greatest of these deterrents for die hards. Even Cressy said that he would have never risked doing this at Wrigley Field.
"If this were to happen at Wrigley, I wouldn't take the chance of being banned from my favorite place on earth," says Cressy. "It was just coincidental and perfect that it happened in Cincinnati, Ohio."
While it's safe to say he won't be going back to Great American Ballpark anytime soon, Cressy says he has been to Wrigley Field 13 times this year. He's become somewhat of a celebrity in the Friendly Confines too, saying he's recognized by fans at about half the games he goes to. They sometimes even pay for his beer.
Most might see running onto the field as an attention-seeking practice, but not all trespassers fall into that category (although most do). In reality, there are three types. Cressy personifies the adrenaline-laced type. Partially in the moment, partially premeditated, and fully fueled by adrenaline.
The second types are the "true fans"—the principled trespasser. Cavs fan James Blair certainly fits this category. He's most notorious for running onto the Quicken Loans Arena court in 2013 to greet LeBron James. He wore a shirt that said "We Miss You, 2014 Come Back."
Blair didn't run on the court for attention—he didn't even know if anyone would see him. 
"I didn't care if nobody else in the arena saw it," says Blair. "I didn't care if it didn't get out of that place and only the people there knew about it. My only goal was for LeBron to get a message directly from me that night."
He got his point across to James, and security got its point across to him seconds later.
"I don't do it because of the views or whatever, I just do it because my body tells me, my brain tells me I need to do it to live longer. So I just do it to give me that rush."
"I tapped [LeBron] and obviously he looked really surprised when he turned around and saw that there was someone on the court," says Blair. "And being the history of what happened in the past, I'm sure people thought 'Is this dude gonna do something crazy to LeBron?'"
The security guards probably had the same thoughts in their mind. Remember, this is back when LeBron was enemy No. 1 in Cleveland.
But Blair was impressed by how James handled himself.
"As [security] tried to get to me, I just went with them. I wasn't trying to resist or anything," says Blair. "And then LeBron came over and put his hand up to hold onto the security. And as we're walking, he gave me a high five and a little hug and patted me on the head and said 'I respect that.'"
Security took Blair away and he was eventually taken to a nearby jail—where he spent the night and the next day. While Blair was locked up, unbeknownst to him, he was becoming a viral sensation. He was first informed by a prison guard.
"I honestly didn't even think they'd show it on TV, so all that was a huge surprise," says Blair. "I thought they'd turn the camera off. The guards were talking about 'Oh they're talking about you on WorldStar. Oh they're talking about you on SB Nation.' And I had no access to any of that, so I didn't know what's going on."
When Blair finally got to his cell phone after he was out of jail, he couldn't use it for about four hours after he got out because it was blowing up. His email and Twitter were connected, and as he gained about 8,000 Twitter followers in one night, received an email just about every second.
LeBron even tweeted Blair after that game:
The third type of trespasser—and this constitutes the vast, vast majority—is the attention seeker. Few ever actually get this attention, since most telecasts refuse to show the streakers, but that doesn't stop people from being stupid.
Perhaps nobody embodies this characterization better than YouTube star Vitaly Zdorovetskiy. He ran onto the field at two of the world's biggest sporting events: the 2014 FIFA World Cup Final in Brazil and the 2016 NBA Finals in Cleveland. He tried to get on the field for the Super Bowl too, but was blocked by security on two separate occasions.

But Zdorovetskiy has a YouTube channel with 1.9 million subscribers, so he has a platform to get the attention that dozens of streakers never receive.
"The adrenaline was amazing man, I get high off that stuff," says Zdorovetskiy. "I don't do it because of the views or whatever, I just do it because my body tells me, my brain tells me I need to do it to live longer. So I just do it to give me that rush."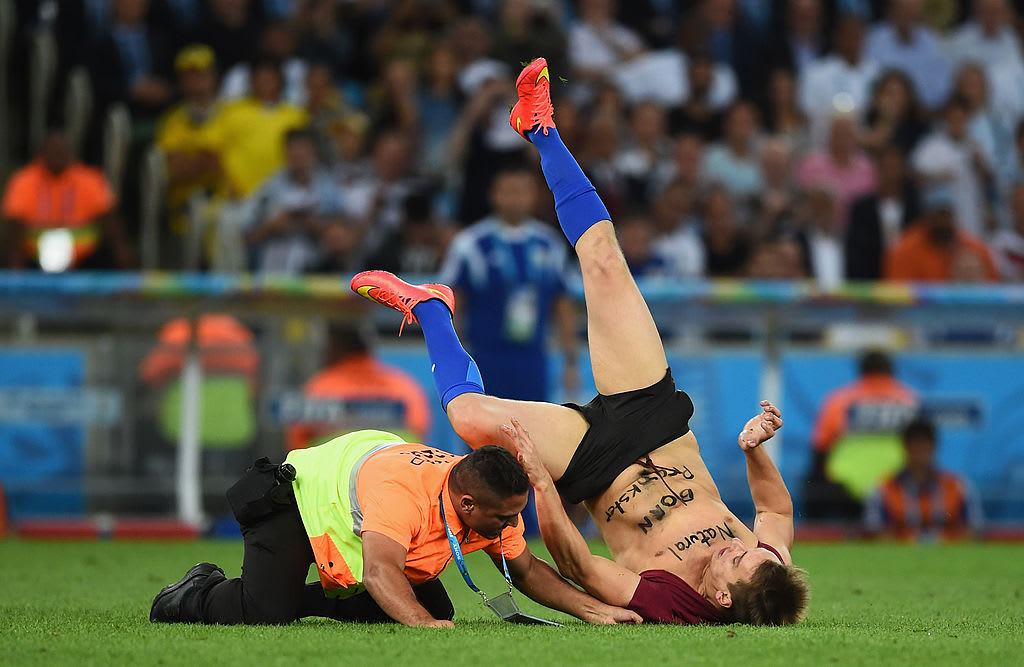 When Zdorovetskiy ran onto the court at the NBA Finals he wrote "Trump Sucks" on his torso, and the moment went viral.
The standard-issue end for trespassing on the field is almost always a night in jail. This seems like a steep price to pay for 15 seconds of fun. But some people don't mind doing this if it means a run of their lifetime.
"I knew for sure I'm probably gonna get kicked out, maybe fined, probably banned so I weighed all the options," says Blair. "And obviously knowing the repercussions I could receive I said 'You know what, this is what I want to do. This is how I can send a message to him.'"
Blair was only given an undisclosed fine after that, which was paid by his friend and former Browns offensive lineman Jason Pinkston.
Cressy's night in jail—albeit not ideal by any means—was not as bad as he thought it would be.
"It was the most fun I never want to have again," Cressy said.
The inmates took kindly to him.
"I was crackin' [the inmates] up," he says. "I was decked out in Cubs gear. The cops at the jail were super cool. I actually had some infield dirt in my shoe, and the inmates shook my dirt in a plastic bag and it became a momento."
Cressy, who had no priors, did not have to pay a fine, and the night in jail was the extent of his punishment. He said that the judge who heard his case was at the game the night before, and saw the event in person. This may have made her sympathetic to the events of his case.
"If I was a 14th-century poet, I don't think I could have scripted it any better," says Cressy.
As for Zdorovetskiy, he said he spent a night in jail in Rio after the World Cup and at the NBA Finals. There were no long-term legal ramifications after either, but said security was rougher in America than it was in Rio. He was banned from all NBA games this past season, and is banned from Quicken Loans Arena for life.