Steph Curry Regrets Not Boycotting 2014 Playoff Game Against Clippers Amid Donald Sterling Saga
Steph Curry regrets that the Warriors didn't boycott a 2014 playoff game against the Clippers prior to the NBA's lifetime ban of Donald Sterling.
Getty
Photo by Noah Graham/NBAE via Getty Images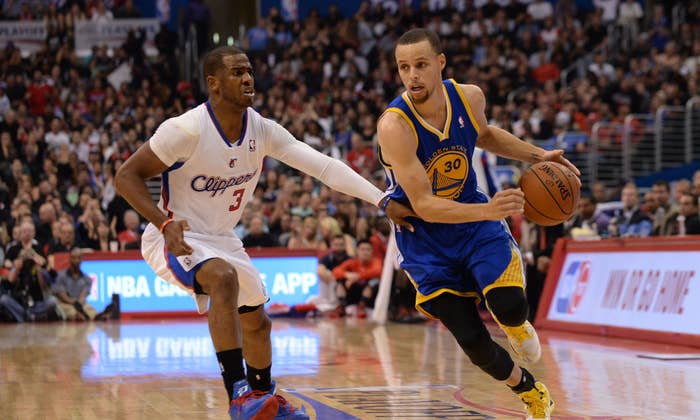 Eight years after the Donald Sterling saga rocked the NBA, Steph Curry still regrets that the Warriors didn't boycott their 2014 first-round playoff series against the Clippers.
In a new interview with Rolling Stone, Curry expressed regret how things went down that postseason. Back in April 2014, Sterling's downfall occurred in the middle of the Warriors-Clippers series, as TMZ unearthed tape recordings of the then-Clippers owner making racist comments to his mistress. 
Ahead of Game 5 of Golden State's first-round matchup with Los Angeles, Curry and his teammates were prepared to walk off the floor in protest should Sterling not be punished in due time. However, hours before the tip, the Warriors decided against a boycott when NBA commissioner Adam Silver announced his decision to hit Sterling with a lifetime ban.
"One of my biggest regrets is not boycotting the game," Curry shared. "That was a moment to leverage beyond anything we probably could have said."
While speaking with USA Today in 2014 on the heels of Silver's ruling, Curry explained the team's decision to not boycott Game 5. "It was kind of a wait-and-see situation," Curry said. "We wanted to know exactly what kind of sanctions (Silver) was going to hand down. We had our opinions on what they should be and kind of a level of acceptability."
Elsewhere in his conversation with Rolling Stone, Curry went on to share his thoughts on the backlash NBA players receive for doubling as activists when it comes to certain social issues.
"We get attacked as athletes sometimes when you don't want to say something — 'I need to get more educated,' there's all these lines that people use," he explained. "It kind of seems like you're soft or like you're equivocating or avoiding whatever the situation is. Honestly, in that moment, yes, I could have been a lot stronger on a point of view, but I wasn't prepared to do that at the time, so I don't regret that."
Read Curry's wide-ranging interview with Rolling Stonehere.