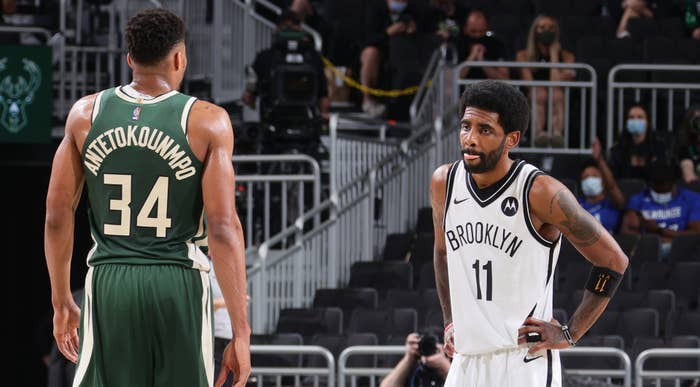 Kyrie Irving believes the Brooklyn Nets were well on their way to an NBA title in 2021 before the point guard got injured in the team's second round series against the Milwaukee Bucks.
Kyrie suffered an ankle injury when Giannis Antetokounmpo landed on his foot in Game 4 of the Nets Eastern Conference semifinals matchup with the Milwaukee Bucks. The Nets were leading the series 2-1 when the injury took place.
Two years later, Kyrie took to Twitter to respond to an account which posted a screenshot of Giannis landing on Irving's ankle. 
"One of the most disappointing and painful moments of career," Kyrie wrote. "If I don't get hurt that series, every single one of us on that Brooklyn team/bandwagon would be Champions. No fucking doubt about it."
It isn't the first time Kyrie has appeared to blame Giannis for costing him, Kevin Durant, and James Harden the 2021 NBA title.
In the middle of the 2021-22 NBA season, Kyrie brought up the injury when discussing the Nets failure to win the championship during the previous postseason.
"And then I'm going up for a shot, and Giannis comes over, and his foot," Irving said before using his fingers to make air quotes, "just happens to be in the way."
That year def marked the Nets best shot a title, and well, we all know what happened ever since.