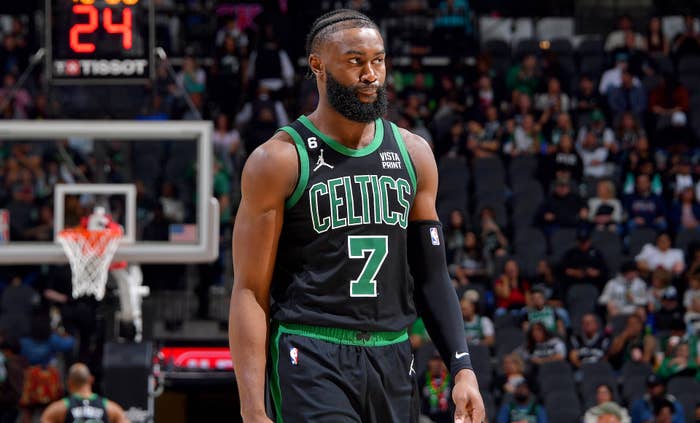 With his contract set to expire following the 2023-24 NBA season, Boston Celtics guard Jaylen Brown has shed light on his long-term future with the organization.
During a new interview with the Ringer's Logan Murdock, the two-time All-Star was asked whether he plans on re-signing with the Celtics.
"I don't know. As long as I'm needed. It's not up to me," Brown shared. "We'll see how they feel about me over time and I feel about them over time. Hopefully, whatever it is, it makes sense. But I will stay where I'm wanted. I will stay where I'm needed and treated correct."
When asked whether he'd prefer to play alongside superstar teammate Jayson Tatum, Brown once again remained noncommittal about what's next.
"I just enjoy the time that you have now," the 26-year-old explained. "If it's your whole career, it's your whole career. If it's not, it's not. Some of the greatest players of all time haven't finished with their organization. Michael Jordan retired a Wizard. As much as we like it here and enjoy being here, you see where life takes you. You see how the process goes. All you do is really focus on what's in front of you right now, to be honest. But I don't really know or want to answer that question because that type of stuff makes Celtics fans speculate and go crazy. Especially right now, I'll just say we'll get there when we get there."
Selected by the Celtics with the No. 3 overall pick in the 2016 NBA Draft, Brown signed a four-year, $106.3 million extension with Boston in 2019. Over the past two years, Jaylen has transformed into one of the best wings in the league, hitting his peak this season while averaging a career-high 26.7 points and 6.9 rebounds per game.